Pumpkins on the front porch. A certain crispness in the air. Have you been to a local apple orchard, or a harvest fair? Fall is the time of bounty and a special gala celebration of colors as Mother Nature presents her grand finale before hunkering down for a quiet winter. It's a time of year with some wonderful foods. Not just all things pumpkin, but fresh apple cider with those hot donuts dusted with cinnamon sugar. Soups and chilis taste amazing on a chilly day, and ovens start working overtime as the cold temperatures encourage baking and people start contemplating holiday menus. Thanksgiving brings out the perfect combination of loved ones and fantastic food.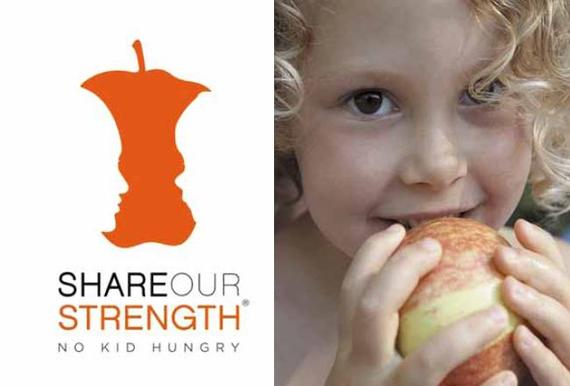 Unless. Unless you are part of the 49 million households in the US alone suffering from food insecurity. Here in the US, a world full of grocery stores and restaurants, 15.8 million children are going hungry. Thinking about hungry children is heartbreaking, especially here, but the problem is so much bigger than that. Hungry children don't do well in school. The teachers report put together by Share Our Strength says that 3 out of 5 teachers in the K-8 range have students that consistently come to school hungry. Share Our Strength's No Kid Hungry programs combine connecting needy families with programs that offer food assistance and trains adults on how to make simple, healthy meals that let them stretch their food budget further. They even sponsor a Save Summer program that helps kids with free meals when school isn't in session. They have a food truck program that will take meals to places like housing complexes and libraries, places where kids can congregate.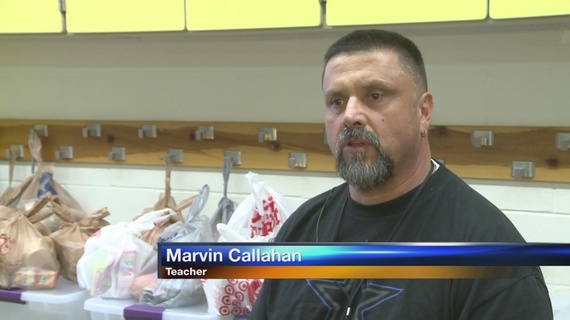 I recently found an article here at Huffington Post about Marvin Callahan, a teacher in New Mexico who wants to see his students succeed. He is using his own money as well as getting community support for his "backpack program." Over 60% of the kids in his elementary school qualify for free meals, but that means that lunch is the last meal of the day for many of them. Overnight is hard enough, but what about weekends? "It's hard for me to go home some weekends when the kids are saying, 'I don't want to go home because I don't have anything at home,'" says Marvin. "We decided we were going to do something. We got some people together, discussed how we were going to do this, and got some ideas together about what a backpack program would look like." So now the community works with some of the retired teachers and they put together backpacks with easy to fix food for the children to get them through the weekend. Feeding America has a similar program through many of their food banks and their website offers a search to let people find a local food bank to support.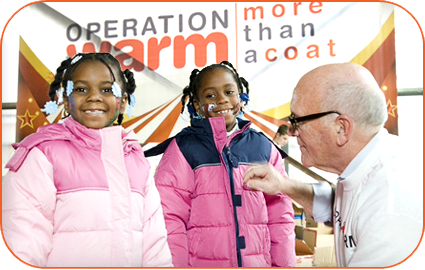 Hungry children get sick more often. Operation Warm partners with foundations and manufacturers to provide children with brand new coats, providing not just warmth, but some pride and excitement as well. They have a long time partnership with Coats for Kids, which has the same mission.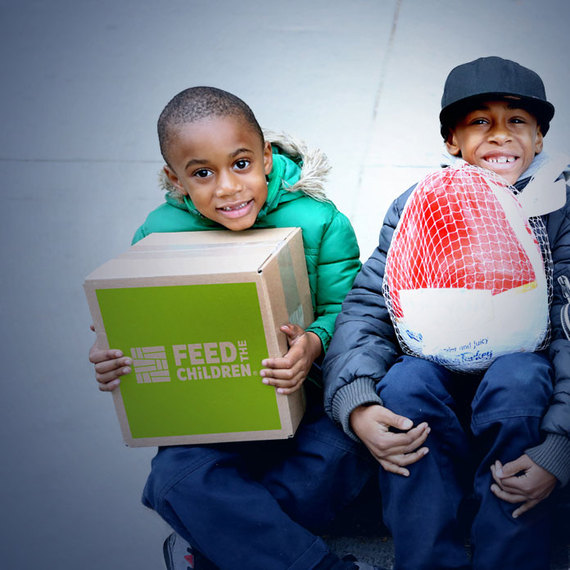 As you sit at a full table to give thanks for the many blessings in your life this Thanksgiving holiday, please consider those who may have fewer blessings but who deserve the opportunity to grow up and have their own turn at making the world a better place. Would you like to share your Thanksgiving blessings? Feed the Children is taking donations to help US families, but your local shelter would be just as grateful for another caring set of hands.