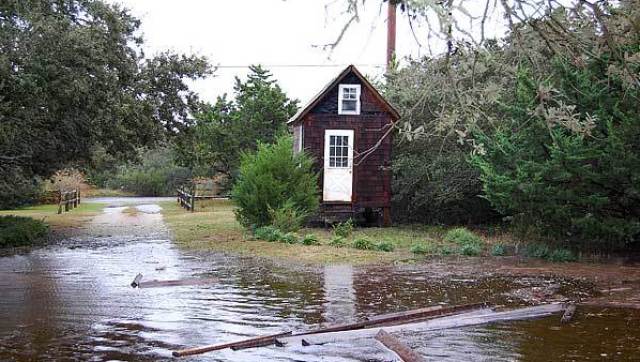 Sometimes no matter how much you plan, the unexpected may thwart your wedding plans. Take for example the historically massive and destructive hurricane Sandy, which hit the East Coast from Virginia to Connecticut on Monday and Tuesday. If Sandy (a.k.a Frankenstorm 2012) threw a wrench in your wedding plans, here's what you can do.
If Your City Or Venue Has Been Affected...
Assess The Situation
The most obvious first to-do is to get a status update from all of your wedding vendors. You may have to go with an alternative venue or even vendor (if for example, your florist can no longer do the arrangements due to the storm). If a particular venue or vendor can no longer carry out plans, ask them to recommend someone who can. TheKnot.com started a Hurricane Sandy Wedding Facebook group to help couples who need to make last-minute changes to their wedding due to the weather. (Wedding planners and TheKnot.com events team are monitoring the board and are on-call all week to help.)
Re-Read Your Contracts
In some cases, a wedding venue or vendor contract will include a natural disaster clause, meaning you may not be responsible for the entire bill if you end up having to move the wedding date. This isn't always the case however, so read the fine print. If you decide to keep the wedding date but end up having to go with a different vendor or venue, you will more than likely end up losing your deposit in the very least (they are often nonrefundable).
Decide Whether To Move The Date
Figure out whether your vendors might be willing to work with you on another date for the party. Usually, if you can get everyone on the same page, you should be able to negotiate a new day for the party. You'll also want to check in with your very important guests (close family, bridal party) to make sure that the new date works for everyone.
If You Decide to Cancel Or Move the Wedding Date...
Consider Having The Ceremony Anyway
Think about it: All you really need to get married is a marriage license, a justice of the peace or officiant and a couple witnesses (all of which you probably already have). Even if you can't have the full-on reception party, you can still get married. Downsize the ceremony and relocate to your living room or reschedule the ceremony for hours or even a day or two before your intended wedding day. Then plan a party with your family and friends for later.
Schedule the Reception Party for Another Date
Sure, it's not what you planned for, but that doesn't mean it won't be just as good. Sit down with your wedding vendors and settle on a new wedding date. Maybe you move it to a less common day of the week this fall when they're all available (like Friday or Sunday). Once you've settled on a new date, spread the news. Put the date front and center on your wedding website, send out new save-the-dates (via email) and have your bridal party and close family tell all of your guests.
Oh, and relax: Even a hurricane can't change the fact that you're getting married!