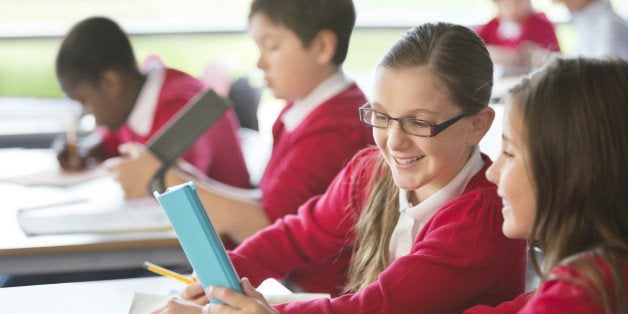 Teacher-bashing has become a commonplace and (for some reason) even an acceptable practice among parents of school-going children. Somewhere along the way, parents and teachers went from being on the same team -- respected caregivers and educators of children -- to enemies at war. The degree to which parents should be involved has even become a topic of discussion. When studies claimed that parental involvement may be overrated, academics were quick to point out the research flaws that negate such studies. The type of parental involvement seems to matter; homework and projects done by parents seems to impede learning, while transparent communication between parents and teachers facilitates it.
Transparent communication ensures that parents and teachers have the common goal of providing the best educational experience for children. When parents make the effort to build a strong relationship with the educators in their child's life, it is a clear demonstration of the high value placed on education.
1. Attend Open House or Curriculum Night at the School
Every school hosts an event during the first few weeks of school inviting parents to visit the classroom, peruse the curriculum for the year and meet the teacher. Instead of dropping the "How's my little Tommy doing?" question, use this meet-and-greet to get to know the teacher -- the adult who spends eight hours each day with your child. Connecting on a personal level will provide a solid foundation for which your parent-teacher relationship can be built on.
2. Communicate Your Concerns in a Timely Manner
Little Tommy tell a rather 'interesting' story at the dinner table? An unpleasant exchange of words leave you uncomfortable? An unfair unit test? Whatever it is, you are better off picking up the phone and talking to your child's teacher than (a) waiting until parent-teacher interview to say something, or (b) not communicating at all. Communicating your concerns in a timely manner helps the teacher resolve the issue. First, a timely phone call suggests the importance of your concern. Second, bringing your concerns to light helps us recall recent events accurately -- instead of weeks or months later.
3. Join the PTA
With everyone's busy schedules, it is certainly challenging to commit to the school PTA. So much so that PTAs have a bit of a reputation to be stay-at-home mom territory. Not true. Many PTAs around the country have an open door policy. You can come to as much or as few meetings as you like. It is another opportunity for you to connect with the teacher community at your child's school, ask questions, and communicate concerns.
4. Request a Particular a Teacher
Parents know their children best. While administrators try their best to match students and teachers during class assignments, things don't always turn out great. Teacher requests are generally acceptable if:
there was a poor student-teacher experience in previous years
there was a poor parent-teacher experience in previous years (sometimes with a sibling)
after several months of irreconcilable differences between student and teacher despite administrative intervention
However, it is generally not acceptable to request a teacher based on hearsay. As a matter of fact, such a request sends a negative implicit message to your child. Remember, just because another parent made a passing comment about Susie's trying year in Mr. X's class does not mean your child will not enjoy exceptional learning experiences in the same teacher's class. Every child is different. Keep an open mind and a positive attitude -- you may be surprised.
5. Keep Things in Perspective
Keep the big picture in mind; while we all strive to build perfect experiences for our children, the world we live in is far from perfect. Your child might have a less than amazing Grade 5 year, and that's okay. She'll probably still be the first female President. Despite your best intentions, there still may be some issues over the course of the year. Know that it isn't the end of the world. We are raising our children to learn more than just Math and English. We are raising them to learn the social intricacies of the world. A world that involves working with coworkers that annoy, team members that don't contribute, and (of course) bosses that we don't always click with. Keep things in perspective -- learn and grow from it.