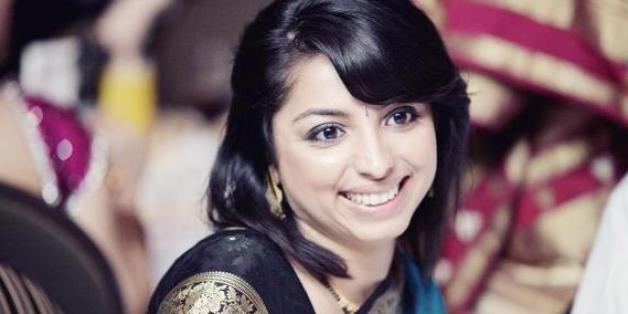 The minute I step through the large glass doors, the familiar scent of incense greets me. I know my way around. I slip off my coat and shoes, and make my way up the stairs. My bare feet stick to the cold stone floor. I have been here hundreds of times, but never like this. Never alone.
The priest at the Mandir (temple) has begun his sermon. He speaks in English. Thank God, I think to myself. At least I'll understand what he's saying.
You see, I am white-washed. As much as I hate the use of the colloquial term, it is unfortunately the quickest way to describe me. I was raised in Canada by my immigrant Indian parents. They did everything to expose me to my culture, but very little of it stuck. I much preferred Hollywood movies to the four-hour Bollywood musical films. I chose "Western" pop and R&B over Hindi tracks. And, despite the weekly Hindi classes, every question asked in Hindi by my parents was, much to their disappointment, answered in English.
I wasn't the only one. I had met so many other first-generation Canadians growing up. We knew enough about our culture to answer questions, and nothing more.
It wasn't until I got married and began thinking about starting a family of my own that I saw a problem with being so culturally illiterate. So many questions flooded my mind, and the answers were nowhere to be found in the slew of books that flooded my bookshelf. Even Google failed me.
How would I teach my children about Indian culture, their religion and the language seeing that I knew so little myself? Would they still call themselves Indian? How important was it to preserve these traditions, anyway? After some introspection, it was clear to me that it was important to me. Despite being white-washed, I wasn't ready to let go of it all. I wasn't prepared to raise a child whose cultural identity was completely void of his Indian heritage.
And, that's how I found myself at the Mandir, climbing the steps alone. I spent every Sunday of my childhood there with my family. Always against my will. But, for the first time, I was here on my own accord. I didn't know where else to start. The way I saw it, I was here to continue what my parents had started: understanding, accepting and embracing my cultural identity as an Indian.
It has been nearly two years since I took those first steps towards a journey of self discovery. My weekly visits to the Mandir were just the beginning. Since then, I have been asking the elders in our family questions about cultural practices, family traditions and religious rituals. The Bhagavad Gita has found its way on my bookshelf. I am exposing my son to the different spices and flavors that are a part of Indian cuisine. And, he looks forward to the Hindi and Marathi songs his grandmothers sing to him over Skype.
The pregnancy books tell you about the many changes motherhood will bring on. After childbirth, expect to be a changed woman: physically, emotionally and psychologically. Then, there are the articles that tell you all the things that the pregnancy books don't. But, no one told me about this. I never expected motherhood to ignite this journey to find my cultural identity. None the less, it is a pleasant surprise.
Anjali Joshi is a contributor at MasalaMommas, Bay Area Parent, and blogger at The Adventures of a New Mom. This post originally appeared on MasalaMommas.