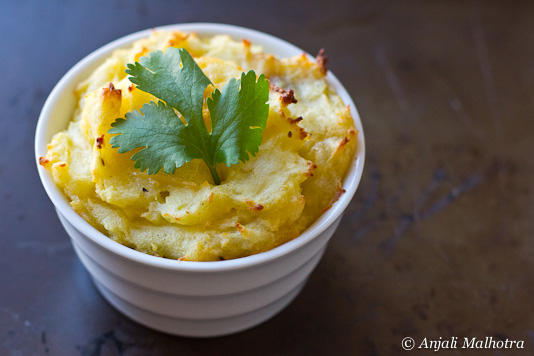 I vividly remember the moment my fork sliced through layers of pillowy potatoes and savory minced lamb as I ate my first shepherd's pie.
I was 11 years old, visiting my friend, Pia, when her mother asked if I'd like to stay for dinner. I had eaten steak and potatoes before but this was an entirely different world of textures and flavors. For hours I described in detail to my parents each tasty nuance of this magical new 'Indian' meal I had just eaten. But when they stared blankly back at me, I began to realize something was amiss.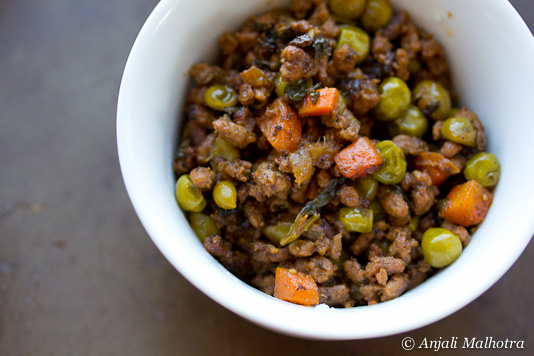 Since Pia's mother was Parsi -- a person from a small ethnic community of Indians that immigrated from Persia -- I had assumed that the dish her mum had made was an Indian-Parsi dish; different from other Indian dishes I was used to, but nonetheless still Indian. Turns out I was too mesmerized by the delectable bites I carefully assembled on my fork to realize that what I was eating was an Irish, and not an Indian, dish.
It didn't take long for my father, who had lived in England, to realize my error or to begin his subsequent string of affectionate teases that all ended in "it's Indian!"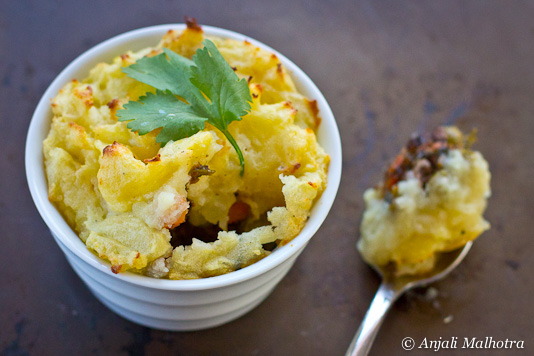 For the upcoming St. Patrick's day, I've decided to try out a recipe I've been tossing around in my mind for a spicy shepherd's pie that is indeed - Indian! I combined roasted garlic mashed potatoes with my favorite Indian spicy ground lamb dish called keema. The peas and fresh cilantro were not only tasty but added the requisite green color for the Irish holiday.
While gathering the ingredients for the recipe, I noticed how similar whole cilantro leaves look to shamrocks -- the three-leaf clovers that are the symbol of Ireland and the plant that St. Patrick used to explain the Holy Trinity to the Irish. As a nod to the holiday and to add another Indian twist to the recipe, I garnished each pie with a shamrock-looking cilantro leaf.
Wishing you scrumptiously spicy St. Patty's day,
Anjali
Click here for photographs of each step and a printable list of ingredients & directions.

RECIPE: INDIAN SHEPHERD'S PIE
INGREDIENTS for potato topping:
7 whole garlic cloves with skin
1 tsp olive oil
1½ lbs potatoes; washed, peeled and cut in halves
½ cup half & half
3 tbsp butter
salt and pepper, to taste
¼ cup Parmesan for topping
INGREDIENTS for meat filling:
2 tbsp olive oil
1 medium onion, finely chopped
2 garlic cloves, finely chopped
1 inch ginger, peeled and finely chopped
2 green chili, finely chopped (optional)
½ tsp red chili powder, like cayenne powder (optional)
1 tsp cumin seeds
1 tsp cumin powder
1 tsp coriander powder
1 tsp garam masala
1lb organic ground lamb or beef
1 cup green peas
1 cup carrots, peeled and chopped
1 cup fresh cilantro, washed and finely chopped
1 lemon, juiced
1 cup water
DIRECTIONS
Place garlic cloves on baking tray or aluminum foil, drizzle olive oil and roast in oven at 350 degrees until garlic is soft on the inside. 20 mins. Allow to cool.
Squeeze out the soft garlic pulp and set aside. Discard papery skin.
Fill a large pot with cold water. Add a pinch of salt and the halved potatoes, and bring to boil. Cook until the center of the potatoes can be easily pierced by a fork. 30 mins.
Drain potatoes and place back in the pot. Add garlic pulp, butter, half & half, salt and pepper. Stir and mash using a potato masher until potatoes have a smooth creamy consistency. Add more butter and milk if necessary. Set aside.
Heat oil in a wide medium-sized pan over medium heat. Add onions and fry until they are translucent. 5 mins.
Add garlic, ginger and green chili and sauté until the onions begin to brown. 10 mins.
Add ground meat, salt, cumin seeds, cumin powder, coriander powder, red chili powder and garam masala. Stir frequently, breaking up the meat and combining the spices, until the meat is well browned. 5 to 7 mins.
Add ½ cup water, cover the pan and cook on a low simmer. 15 mins.
Stir in peas, carrots, fresh cilantro, lemon juice and the rest of the water. Cook covered on a low simmer. 10 mins.
Preheat oven to 350 degrees.
Fill each ramekin with the meat filling about ¾ of the way and top off with a couple of heaping spoonfuls of creamy mashed potatoes. Sprinkle a little shredded Parmesan.
Bake uncovered ramekins in the oven until the potato topping is a crispy golden brown. 20 mins.
Garnish with shamrock-looking whole cilantro leaves. Serve with a fresh salad and your favorite Irish beer.
Preparation time: 20 minutes
Cooking time: 1 hour 30 minutes
Number of servings: 8 ramekins
Note: The recipe for keema was adapted from Madhur Jaffrey's book, Indian Cooking.