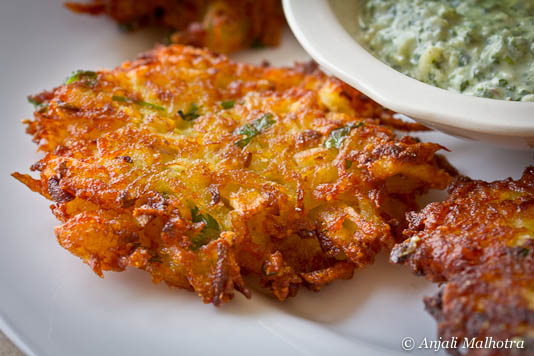 This time last year, I was asked to make latkes with my own spicy twist for a Hanukkah party hosted by some friends. I was honored and immediately said "Yes!" even though I had never eaten or cooked a latke before.
Latkes are crispy fried pancakes made of shredded potatoes and onions. These aren't your typical pancakes. They have crunchy exteriors that give way to luscious layers of smooth, creamy, potato goodness. They are often served with sour cream or applesauce, and are traditionally eaten by Jewish people during Hannukah.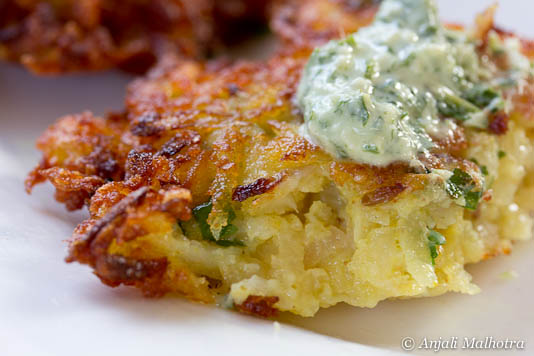 Raised in a Hindu home, in a Catholic school, in a Muslim country, and now married to a man with Jewish ancestry, my only religion is food. How could I say no? And so, I was about to go from never having made a latke to making sixty in a week.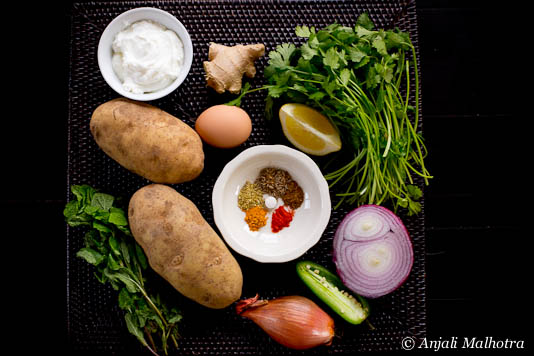 A quick Google search for an authentic latke recipe garnered more information and passionate discussions than I had expected. I was enthralled, and slightly intimidated, by the strong opinions that people had of every single aspect of what makes a good latke. Should one use flour or matzo meal? Little or lots of oil? Shred or grate the potatoes? Bake or fry? I read, tested and combined different recipes since I was determined to make a latke that would make any bubbie proud (Yiddish: grandmother).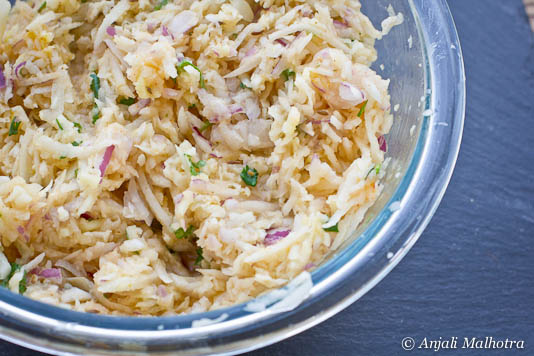 During this recipe search, I stumbled across excellent tips on how to make a perfect latke but also what NOT to do. The coolest tip? Shredded potatoes tend to turn a dull brown when they are exposed to air. Mixing them in a bowl with a dissolved tablet of vitamin C turns them back to a bright creamy color without imparting any citrus flavor. Magic!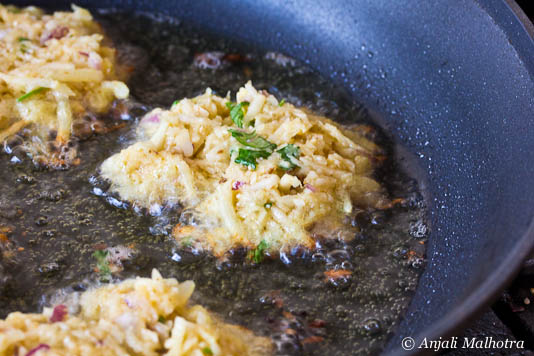 Confident with a latke recipe, I surveyed my spices. I immediately thought of one of my favorite Indian street foods, aloo tikkis - fried patties of spiced mashed potatoes and onions. As a kid, I devoured handfuls of these potato patties every year we visited my grandparents in New Delhi. After a little bit of experimenting - Voila! A spiced latke was born that would make any bubbie proud; including mine.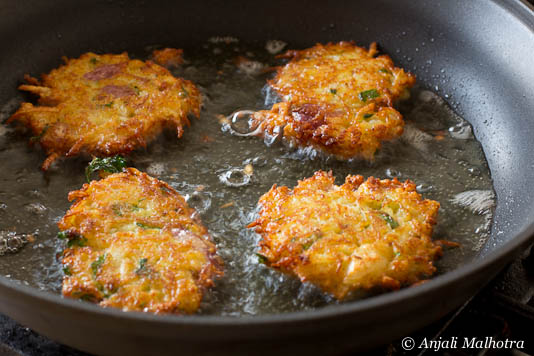 As I sprinkled cumin into the potato mix, I started to think of all the bubbies sighing "oy vey" in disbelief. But then I remembered that I want to live in a world that embraces a mingling of traditions, and how sculpting my own path to that perfectly spiced latke meant more than just mixing potatoes with spices. I learned more about the Jewish part of my husband's culture and his childhood, and my willingness to embrace both brought us even closer.
Brace yourself, bubbies of the world. Today it's spiced latkes, tomorrow it's curry matzo ball soup!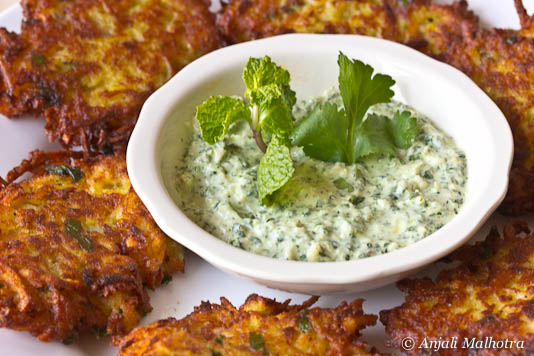 Next up, the sauce for the latkes. The sweetness of applesauce would not work with this recipe and I like to improvise too much to serve just plain sour cream. I wanted the latkes to be sumptuously dressed for the occasion. So, I decided to pair them with a cilantro mint yogurt chutney often served with kebabs.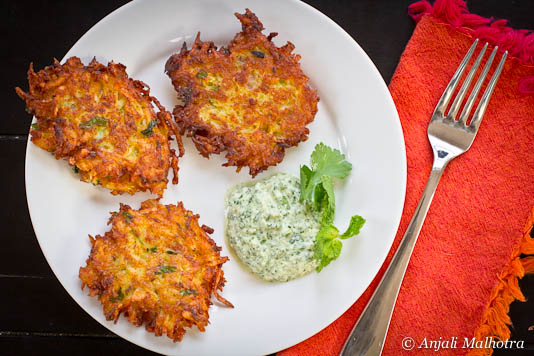 I'm happy to say that the guests at the party loved them! I can't wait to make these for my mum-in-law the next time she visits. I hope these latkes give her much nachas (Yiddish: happiness/pride).
Wishing you happy holidays and a spicy Hanukkah!
~Anjali
Click here for the recipe for the Cilantro & Mint Chutney and more Perfect Morsels.
Ingredients
2 tablespoons of hot water
1 tablet vitamin C
1 lb of russet potatoes (approx 3 or 4)
1 medium red onion
½ an inch fresh ginger
¼ cup fresh cilantro
½ teaspoon salt
1 teaspoon cumin seeds
½ teaspoon cumin powder
1 teaspoon coriander powder
½ teaspoon turmeric
½ teaspoon red chili powder
1 large egg
1 tablespoon matzo meal
3 cups canola oil
Directions
Dissolve vitamin C tablet in hot water in large mixing bowl.
Peel potatoes and shred using a food processor or box grater. If using a food processor, shred potatoes using the shred blade and then pulse using the regular blade for a quick second. This gives the potatoes a creamy texture.
Place shredded potatoes in bowl with vitamin C and mix.
Peel and shred onion. Place in bowl with potatoes and mix.
Finely chop ginger and cilantro.
Add ginger, cilantro, salt, cumin, coriander, turmeric and chili to bowl and stir.
Lightly whisk egg and add to bowl and mix.
Add matzo meal to bowl and mix.
Place oil in a 12-inch frying pan (or cast iron skillet) on a moderately high heat until hot. Add a small shred of potato to oil. If it sizzles, it is hot enough.
Scoop a heaping tablespoon of potato mixture into oil and lightly flatten using the back of a ladle. Add more scoops but make sure not to overcrowd the pan.
Fry until one side is golden brown; approximately 2 minutes.
Flip and cook until golden brown and crisp; approximately 1 minute.
Remove latkes from the oil and place on plates with paper towels to drain oil. Serve warm with the chutney below.
Repeat from step 10 to use all potato mixture.
All text and images are the copyright of Anjali Malhotra.