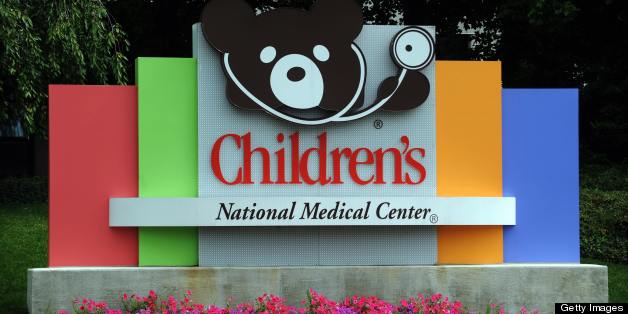 My Kidville Bethesda staff and I recently had the privilege of entertaining children during a "Patient Play Day" at Children's National Medical Center. Located in Washington, D.C., Children's National is a provider of pediatric care for more than 360,000 patients a year, and is a "proven leader in the development and application of innovative new treatments for childhood illness and injury." They offer a mix of out-patient and in-patient services to children of all ages in areas such as pediatric emergency, cancer, neurology and orthopedic surgery.
Many patients at Children's National live in the hospital for days, weeks, or months -- often longer. Some are outpatients but cannot risk going to children's enrichment facilities and play areas because of their weakened immune systems. These kids were unable to come and play at Kidville, so we brought Kidville to them! We put together a variety of art projects that appealed to children of all ages. The patients decorated fun hats, created colorful bandanas and painted watercolor masterpieces. They enthusiastically sang along to "Old McDonald" and read "Brown Bear" aloud in unison.
According to the American Cancer Society, "music therapy may be a beneficial addition to the health care of children with cancer by promoting social interaction and cooperation." We were able to see firsthand the positive impact that our Patient Play Day had on these children, as they laughed and played with our staff and each other. It was extremely gratifying for our Kidville team and, more importantly, a fun-filled afternoon for the children.
After our event, we discussed with Volunteer Services the many ways that we could support Children's National going forward. We will be holding a toy drive at Kidville to fill the Children's National toy closet, which rewards children who reach specific milestones or are released after living at the hospital for an extended period of time. We are coordinating a Kidville team to fundraise and participate in the inaugural Children's National Race For Every Child this October. A Kidville staff member was so moved by her experience at our Patient Play Day that she is pursuing volunteering at the hospital on weekends and evenings.
Our Patient Play Day lasted just a few hours but the laughter, happiness, and personal gratification that resulted from the event lasted much longer. Throughout the event, music filled the hospital atrium while smiles radiated the children's faces. And, for that brief moment in time, the children were transported out of the hospital and into Kidville!