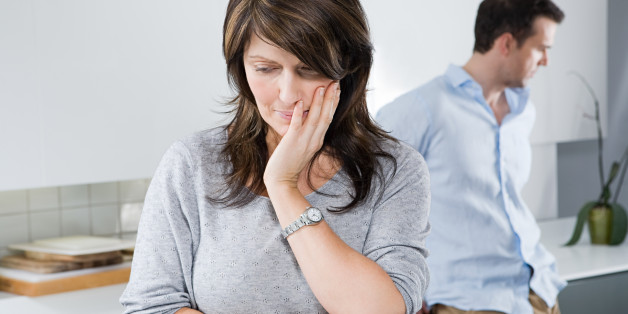 We interviewed happily married women for our book, Love For Grown-Ups (a relationship guide for women who want to meet and marry and are over the age of 35). For some of these women it was a second marriage. When we asked them about how their previous marriages ended, we found that some of their marriages ended when they discovered their husband was cheating with another woman. We asked them what they experienced and how they handled this very difficult situation. We wanted to share with you some of ways they coped and offer you their suggestions.
What it does to you
Finding out your husband is cheating on you is one of the most painful experiences of a shared lifetime. It rocks your very foundation. It is humiliating and embarrassing. The hurt and the anger seem unbearable. Your memories can't be trusted.You question your own judgment and you lose faith in your ability to make decisions.
Some tips for getting through the rough times
It's going to hurt for a long time. Just knowing this, is a way of handling the pain. Keep in mind that even though you may never forgive, eventually the pain will ease.
Talk to your girlfriends. Feeling embarrassed about what's happened isn't uncommon. So choose the girlfriends who have empathy and will be supportive. They're the good listeners. Don't pick the ones that fuel your rage.
Make an effort to look your best. Even if you don't think you'll see anyone, put on your make-up. Cosmetics are women's armor.
Take a break from your own feelings. You need to distract yourself. Try watching a favorite old movie. Get a massage or a manicure. Take an aerobics class. Buy a new dress but whatever you do, don't do something radical like changing your hair color. And please, nothing is ever solved by eating, so don't turn to ice cream for soothing -- take a walk instead.
Try writing down everything you're feeling. Do it over a period of time. Sometimes it helps just to air the experience by seeing it in black and white. It won't change the outcome but it will give you a therapeutic release and it may help clarify what you plan to do.
People to avoid
"On some level, you must have known" is a phrase you might hear. You were in a permanent loving relationship; of course you assumed your marriage was OK. Why should you have questioned it? It's like saying "blame the victim". Your not knowing about an adulterous relationship wasn't your "fault." Then there are the people whose attitude is "Boys will be boys". That's not helping you; it's the same as saying what he did was OK. It's difficult when family friends want to talk to you about the situation. Don't defend yourself or let them perceive you as a victim. You need courage, not just sympathy.
You need time to heal
Therapy may offer you some help. Couples counseling may be suggested, but we heard that at this particularly sensitive time you need to be able to freely express your feelings in private. Consider seeing a therapist on your own. You have to learn to navigate again. You have been living a lie and it's important that you understand the basis for a trusting relationship. A little further along you may want both of you in couple's therapy, but do some individual work first. And remember, bitterness is terrible to experience but it doesn't last.
A word about the kids
The kids will side with you initially. They may even feel the same anger you feel toward their dad. But, they will eventually want to re-establish a relationship with him. Don't fight it, even if you think it isn't going to happen, it's in the cards! So be careful not to continually bad mouth dad (yes, we know how hard that is). You're in terrible pain and you have no control over it, but turn to girlfriends for support, not your children.
To divorce or forgive
We can't offer any suggestions or advice on this subject. Our suggestions are based on interviews we did with women who divorced and who had re-married (successfully). If you are contemplating divorce there are many things to be considered. You will be making decisions that will mean life-time changes. We wish anyone who is in this position good luck and courage in making that decision.
Ann Blumenthal Jacobs, Patricia Ryan Lampl and Tish Rabe are relationship coaches and authors of Love for Grown-ups: The Garter Brides' Guide to Marrying for Life When You've Already Got a Life, a guide based on interviews with women who married over the age of 35. The book tells you how to find Mr. Right, marry and find life-long happiness. The Garter Brides are a sisterhood of women who all got married later in life. They offer tried and true advice on how to have the love and life you want.