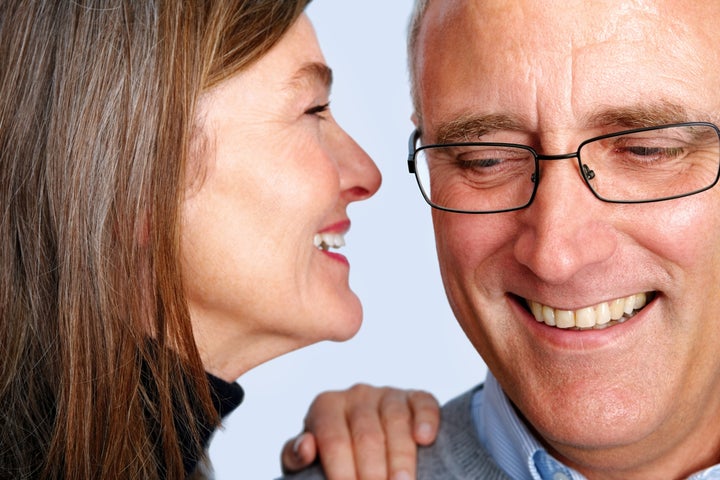 You've fallen in love and you're pretty sure he feels the same way. Nothing is etched in stone and you're not sure if you have a future together, but you hope you do. When we interviewed women for our book "LOVE FOR GROWN-UPS: The Garter Brides' Guide to Marrying for Life When You Already Have a Life" we heard stories about women who had assumed intimacy in a relationship too early. It can be a painful lesson, and we want to share some of their experiences with you.
Everyone has a private life that is really "private". You're both a little older -- divorced -- and you both have had life experiences. There are some things you may feel you need to tell him if the relationship is going to be a permanent one -- but is it? Personal problems like being in Alcoholics Anonymous or suffering from bi-polar depression may be more common these days, it's not that easy to bring this up casually in conversation; it requires thought as to what time in a relationship is the right time to tell him your secrets.
Women sometimes make the mistake of thinking that if they tell a man something intimate, it will create a bond between them. Nothing could be further from the truth. The bond must exist first so that you feel you can trust the individual with the information. Only you can determine the right timing and you'll have to ask yourself some tough questions. If the two of you broke up (yes, that's a possibility), would you feel embarrassed or concerned that he has this information? Do you think he will be discreet and won't blab to his friends and family? Do you think he'll feel comfortable knowing personal details about you?
Some things are self-evident. If your child is autistic, that's generally something that is out in the open. If you have an aged parent living with you, that is too. If it's something that's going to affect your day-to-day life with him, he should be told. You don't want to be into a full blown relationship and discover that he's panicky and plans to run because you have the BRCA gene and your mother and aunt have breast cancer.
If your secret relates to your kids, you have to let them know you're going to tell him. They need to understand the depth of your feelings for him and your reasons for taking him into your confidence. If it is your child's "secret," you need your kid's permission to tell it -- and that may take time and understanding on your child's part. (i.e. He was caught shoplifting and spent time doing court ordered community service.) If it is your story, it doesn't require your kid's permission, but it is a courtesy to let them know.
When it's time to tell him something truly personal and important to you, pick the time and place carefully. Rehearse what you're going to say and be prepared to answer questions. Also be prepared for his being in shock at the unexpected news. He may feel hurt that you waited so long to tell him. Don't feel guilty. It's your decision, but don't worry. If you've reached the stage where you're telling him family secrets, you already know that he loves you and you love him. Feel reassured in that love and know that he probably has details about his life he'd like to share with you too!
How long would it take for you to feel secure enough in your relationship to share family secrets?
Ann Blumenthal Jacobs, Patricia Lampl and Tish Rabe are the authors of Love for Grown-ups: The Garter Brides' Guide to Marrying for Life When You've Already Got a Life, a relationship guide for women over 35 on how to find Mr. Right, marry and find life-long happiness. The Garter Brides are a sisterhood of women who got married later in life and wore the same garter at their weddings! They offer tried and true advice on how to have the love and life you want.