I am on a quest for the Holy Grail of Handbags. Whereas some women may prefer to pay attention to their children, I instead, for the past three months, have obsessively scoured websites and stores in search of The Perfect Tote.
My hunt began when I could no longer suffer the fashionistas' scorn of carrying my laptop around in its AOL-issued briefcase. I love my job, but let's just be candid here: The AOL briefcase-issuing department consists of a bunch of tech guys who don't understand why I don't just use a tablet or write my stories on an iPhone. By the way, they don't issue cool cases for those either.
Thanks to the good nature and free shipping (in both directions) policies of Nordstrom and Zappos, I have bought and returned dozens of totes. My husband has returned so many bags in person that he claims the guy in the returns department of our local Nordstrom greets him by name when he walks in. I'll allow it's possible.
On Sunday afternoons, I have been known to visit the Celine tote -- the "It" bag of the season -- which my local Nordstrom keeps on display high up on the pedestal that it so richly deserves. It's way beyond my reach (and price range), but I like to take it down and stroke its soft leather and when no one is looking (a rarity at Nordstrom, which under the guise of good service has now assigned a saleswoman to watch me fulltime) I like to sniff it. It just feels and smells so rich; you know what I mean? There are some evenings that I spend so much time staring at its photo online that I start to see a quirky face, not unlike people who see the Virgin Mary's image in a snowdrift. Can you see it?
Several of the totes I've ordered have been Celine design rip-offs. J.Crew has a tote that a fashion site said was pretty similar, so I ordered it. I think it's pretty similar maybe if you squint hard. It went back because the tote handles were so small I could barely slide my arm through them. Note to self: Don't order any more totes with 5-inch handles. Note to J.Crew: A better rip-off would be greatly appreciated.
I flirted briefly with totes in bright blue and even one in hot pink -- you know, the hot colors of the season. They went back too; what was I thinking? I want a statement bag, not a flash-in-the-pan one-night stand with bright colors. Trust me, by September, no one outside of the crazies of Miami will be wearing lime green.
And then without warning, the bag of my dreams walked into the office. It came in on the arm of a new Science editor and our first exchange went roughly like this: "Hi, I'm Ann and I need to see your bag -- hand it over."
It is a Kate Spade tote with handles the length they should be. It was statement red, not this season's coral. It had leather I wanted to touch and sniff. It was my bag. And it belonged to another.
Herein lies the rub: I can't find it anywhere. The experts here at Stylelist say it was probably a previous season's bag -- confirmed by its owner who bought it at a half-price sale at a Kate Spade outlet. I found something close in black, which is making its way to me right now.
But I turn to you, Stylelist readers, help me find this bag. The black one, well, we know it can go back.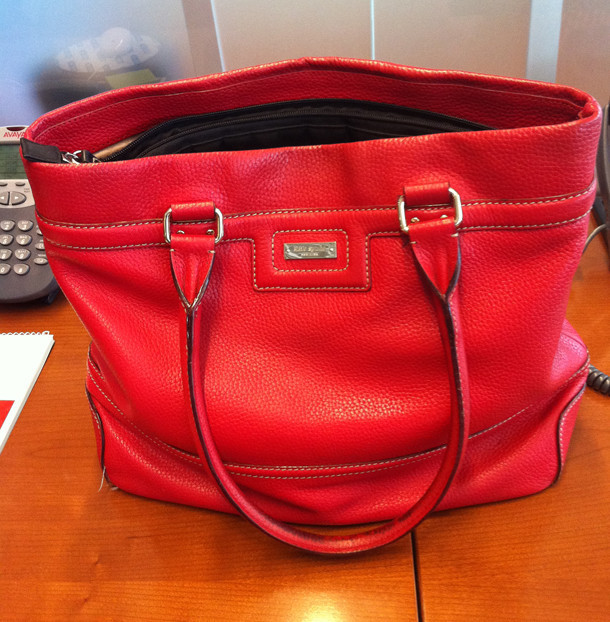 The new Science Editor's Kate Spade bag.