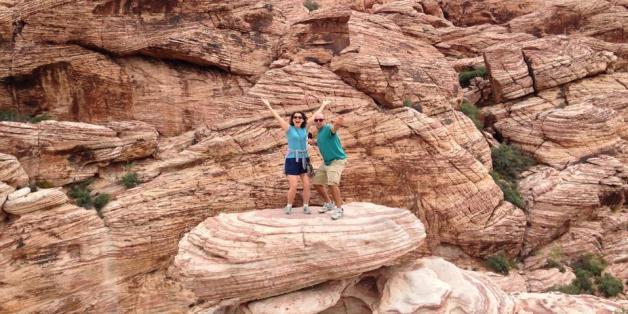 Last week, my husband and I found ourselves on vacation, only there was no Mickey Mouse, no kiddie rides, no kiddie pool and no 5:30 dinners. My. Husband. And. I. Went. Away. Kid-Free... To Vegas. Why on earth would we do such a crazy thing? For four reasons: 1) It was our 10-year anniversary; 2) It was fall break at the university where I teach; 3) We've already done Disney World and Sesame Place with the kids; 4) We've had a rough couple of years (health stuff) and we felt we needed a break and a change of scenery. If not for all of these reasons, we may not have done it, but I'm so grateful that we did.
Las Vegas ended up being the perfect spot. It's probably true what people say, that three nights is enough time in Sin City, but only if you stay in the heart of the strip. We didn't. We stayed south of the strip, and we ventured outside Vegas too. Sure, we hit the casinos (but failed to hit it big). But we also saw a show and went to a comedy club. We visited Red Rock Canyon and even did an ATV ride in the desert. The ATV tour was my birthday gift to my hubby. It was so him and so not me. That said, I'm really glad I did it. It was way outside my comfort zone and one of the coolest things I've ever done. Just getting on the ATV was a victory for me, but I rode it in the sand dunes and through S curves; I even did the jumps and "caught some air!"
That ride was indicative of the entire trip -- it was just us, living it up, trying new things. The possibilities were as wide open as the Nevada desert. We felt so free there. We had no responsibilities, no schedules and no stress. Other things were also notably missing from our lives while in Vegas: there were no sibling arguments to break up, no school lunches to make, no Common Core homework to figure out, no food to cut up. There were no interrupted conversations, no animated movies, no morning chaos, no rush to pick up at childcare after work. This left space for catching up over lengthy dinners, people watching while walking hand in hand, staying out late (and sleeping in!), enjoying drinks by the pool and, yes, some romance too.
I can't remember the last time we felt so much like "us" or I felt so much like "me" (I read a Jonathan Tropper novel in just a few days!). I hate to say that it hasn't been since our first son was born in 2006, but I guess that's possible. We parents give so much of our energy to our kids that we don't have much left for our partners, or ourselves. We often end up last on our own priority lists, and the things we once loved to do now seem like luxuries or frivolities, rather than the very things that make us who we are as individuals or who we are as couples.
A confession: I did check in with work via email -- I figured I might as well answer some emails rather than face a full inbox when I returned -- but I did so in my pjs, on the patio, with a chai latte in hand, while Gregg slept in. And when I was done I posted some of our photos on Facebook. Friends and family commented that they couldn't believe I rode a four-wheeler. They also commented that we looked good, and happy. Maybe it was the desert climate. Or maybe it was the chance to focus on ourselves and each other, a chance to re-connect on a deeper level than our hectic day to day lives allows.
We came home refreshed and re-energized and as in love as we were when we exchanged vows 10 years ago. While we were a bit sad to say goodbye to our little desert paradise, we were thrilled to see our boys (who hardly missed us because they were too busy being spoiled by their grandparents!). We went for a bike ride, made homemade pizza for dinner and brownies for dessert. And on Monday I was excited to do a craft project with the boys. Our time away made me appreciate them even more. And it gave me the energy I needed for the extra things that I love to do with them, but that I'm sometimes too exhausted for after a long day of work.
I'm not one to give advice to strangers, but dear readers, you must throw your bathing suits in a bag, drop the kids off with the grandparents, grab your partner and get out of town! These days we're all so wired and so tired (and tired of being so wired); we need a break from it all! I know you probably have several reasons why you shouldn't go on vacation: the timing isn't right, you don't have much vacation time, you don't have the extra money... But you know what? The timing might never be perfect, you'll never have enough vacation time and if you're anything like us, you'll never feel like you have extra money (my husband suggested that we replace our roof instead of going to Las Vegas -- I argued that our 10-year anniversary would only happen once, while the old shingles weren't going anywhere!). And you know what else? You're worth it. Your relationship is worth it. Think about all you do for your kids. Think of the time and money that you invest in them. Don't you deserve the same?
Find a way to make it work. Save for six months, a year. Don't go away for a full week; go for four days. Go somewhere within driving distance to avoid paying for airfare. Make it easier on yourselves by having the grandparents come to you so you don't have to pack more suitcases or worry about the kids adjusting to a new place. Whatever you need to do, DO IT. Your happiness is important. After all, happier people are happier parents, and happier parents are more effective parents. So really, you're doing this for your kids! And you want what's best for your kids, right?
(Who knew one could learn so many valuable life lessons in Sin City?)