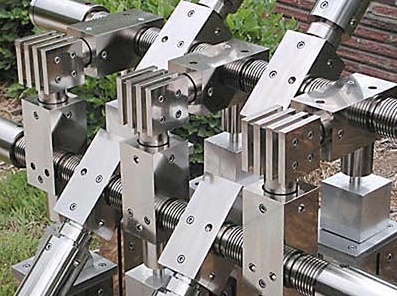 I met John Gargano when I was a lead design architect for HOK in Denver. He was working for another prestigious architectural firm in the building, which was an old renovated warehouse at the end of Blake Street near Denver Union Terminal.
John thought faster than was acceptable, and I really liked him. We spent a lot of time kicking our brains down the railroad tracks, and then back again. This indulgence was the mark of exceptional designers, but a rather unsuccessful one when communicating in business environments.
I was lucky. The principal of my firm handled me the same way I did my racehorse on the ranch in Santa Fe. Let him run full out, and only then, rein him in. John wasn't that lucky. Principals in his firm let him run halfway, and then expected a constant gait out of him. After no improvement, he was "let go."
John must have realized his presumed lack, so he decided to "die trying" to change it. With the only five thousand left in his bank account, he bought several milling machines, rented a warehouse outside of Denver, and went to work as a metal sculptor.
John seemed to be his "old self" again. People at Denver invitational art shows remember him carefully wiping the dust off his perfectly milled abstract 300-pound auto-showroom-ready pieces. They came, admired, then left, unsure what it would take to move a sculpture that heavy and dust it off every day.
After a few years, with few sales, John decided to move. Art Basel in Miami was taking off. John's only family members lived in Florida, his parents were "getting up there", so in his classic epic style, he packed up half a dozen giant industrial milling machines, his sculptures, and shipped what amounted to a freighter load to Florida.
John set up in a warehouse in Boca Raton. When he sent me his website, which he designed after he taught himself HTML, I was blown away. In no time, I was on my way to Florida from San Francisco to find a way to promote John's incredible machined metal sculpture.
If there was ever a "starving artist pad", John's warehouse was it. Occupying 250 square feet was a mattress on the floor, some adopted cats, a fridge almost empty, desktop computer, and thousands of perfected technical drawings posted on the walls. In the back, the warehouse was full of milling machines and their progeny. No bigger than three square feet, photos made the sculptures look enormous.
It took some serious intimacy and serious years to squeeze the real story out of John. When he was eighteen, he was catapulted through the passenger side windshield of the car his friend was driving. Left to die in the corner of a Denver emergency room with a massively shredded face and one eyeball hanging out, he was salvaged by a plastic surgeon working on another floor. When she heard about John's incredible injuries, she took the elevator to ER, seized her challenge, and saved his life.
John lost vision in one eye when the optic nerve was severed. The eyeball was packed back in the socket, dozens of procedures stabilized it's "wander", and his face was reconstructed with hard silicone implants. There were no visible scars. John bought a Volvo, and strapped in, he drove like everyone else.
We're in my rental car outside of Miami, and John is freaked out because I don't have both hands on the steering wheel. I explain I've never driven an automatic, so my brain doesn't know how to do that. Sitting in the passenger seat was still too much for John, but he was up and running, producing, and exhibiting. At some point however, he may have lost the discipline to rein himself in.
I lost track of John when his phone number was disconnected. This was odd, but I knew John was trying to survive on almost nothing. His cats were probably fed better than he fed himself. Soon I thought, he'd sell a sculpture and pay his phone bill.
Three years passed, and no John on the other end of the phone, which is the last thing he would ever do. At one point in Denver, we both fell asleep in our separate beds in our separate houses, agreeing to leave our phones on all night so we could hear each other fall asleep. In the morning, John woke me up.
"Are you there?"
"Yeah. Good thing we're not paying for this call."
I went online, and checked out his elegant website, which was still up. It included his design philosophy and other gems from inside his brain, but there were no recent updates. Clicking down the list on Google however, I finally found one. It was an obituary. John had "passed away after a brief illness." I felt robbed.
John was a starving artist right up to the end. As far as I know, only his family knew their brilliant architect son had vision in only one eye. When John told me, I didn't believe it. There was nothing about his capacity to be an architect or sculptor that gave him away. His 2-D life was his personal secret until the day he died.
We have so many stories we feed off of like this, as if the art they've left behind still isn't enough for us. Another one came to me through the late architect Harvey Hoshour, who was a protégée of Mies van der Rohe. I worked for Harvey in his architectural practice in Albuquerque, New Mexico. Unlike so many other famous atelier studios in history, where the insides of designer's brains were plastered all over the walls, the only object on Harvey's walls was a clock with no numbers.
Harvey and his wife Lise also owned an exclusive art gallery. As architects, we'd be in the studio working as usual on Saturdays. A Ryder rental truck would drive in and unload giant canvasses all over the parking lot from Betty Parsons Gallery in Manhattan and others. I immediately recognized half a dozen, like Diebenkorn, Indiana, Rothko...
On this Saturday, Harvey and Lise were receiving their shipment. Harvey told me on another weekend, a homeless man would show up regularly in front of the Hoshour Gallery or in the parking lot, located off a non-descript side street in downtown Albuquerque. He was obviously starving, so Harvey would get him something to eat.
Details slowly seeped out of the man, like they did John. It was the Bauhaus era in Germany, and two brilliant artists engaged the man to paint for them, Harvey told me. It's anyone's guess now whether the art belongs to Klee, Kandinsky, or a starving artist on the streets of Albuquerque. He didn't have money to paint or eat, but he had a regularly scheduled appreciation for the latest minimalist gallery installation at the Hoshour Gallery, which was traditionally topped off with one Corbu chair.
I gotta check my phone. Maybe John's still there...
More information on Mr. Gargano's sculpture is located here.