During my recent visit to the Democratic Republic of the Congo (DRC), I visited the Panzi Hospital, a UNICEF supported facility which specializes in treating victims of sexual violence. I was met there by Dr. Denis Mukwege, the founder and director of the facility.
While touring the hospital Dr. Mukwege and I met with several patients and the dedicated staff of this life saving center that not only provides urgent medical care but is also a safe haven for countless victims of rape and torture.
One young woman I met is named Mapensa, which in Swahili means 'Love.' Tragically, her shame and desperation caused by sexual violence has made it hard for her to live a life that matches the beauty of her name.
This young woman told me that she was raped a year ago multiple times by soldiers. They tied her husband down and at gunpoint forced her to the ground and raped her. What shocked me even more was that she said after the first soldier raped her, the second soldier took a cloth from his pocket to wipe her clean and then proceeded to rape her. Mapensa lost consciousness and after her brutal attack people from the village took her home and cared for her. It wasn't until the following day that she awoke. She said when she tried to walk it was like a knife was inside her.
Unfortunately for Mapensa her story doesn't end there. She told me that recently during a joint military operation the soldiers came again. Mapensa, along with her husband and children, tried to run but they were caught and she was raped again.
To go through this twice is horrific enough but what she told me next just broke my heart. Her husband shunned her and told her he could not stay with her after she had been raped so many times. She said to me, 'I am now alone with my children and do not know what to do. I cannot do anything.'
Dr. Mukwege and his team at Panzi are now providing care for Mapensa. He reminded her, 'Keep the faith. Those who did this to you wanted to destroy you but you are stronger. They should be ashamed, not you.'
Dr. Mukwege explained to me that that when women are raped a second time they often lose all hope. When their husbands shun or leave them it only exacerbates an already traumatic situation at a time when strong support is needed.
Bringing hope to these women is one reason why UNICEF, Panzi, and V-Day, a global movement to end violence against women and girls, last month began construction on the City of Joy, a facility that will directly support survivors of rape by providing a refuge for those who cannot return to their families and communities.
As I witnessed during my visit to Panzi, sexual violence is impacting the next generation of women, girls and communities ravaged in the DRC. These women and children often have to fend for themselves as their families and communities have abandoned them. Their stories and faces represent the thousands of other women and girls who have suffered similar, if not worse fates. Their immense courage and strength in speaking out will help bring more awareness to these crimes and change to a region of the world that suffers from the most brutal atrocities of war.
The City of Joy, when opened next year, will help these women become leaders in their communities and help turn the pain of rape into action and reform.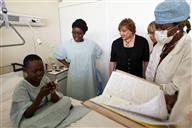 Ann Veneman recently returned from a tour of the Democratic Republic of the Congo, a country ravaged by disease, conflict and violence. Veneman chronicled her personal stories for Huffington Post and is sharing what she saw in the hope of bringing more international awareness and attention to the crisis facing this devastated region of the world. To learn more go to www.unicef.org.