What We Tried: The Lacey Stone Booty Camp, an outdoor boot camp class that doesn't require any equipment except your own body.
Where: Pan Pacific Park, 7600 Beverly Blvd. Los Angeles, Calif.
For How Long: About one hour, more if you stayed after class to stretch.
How'd It Feel: Exhilarating! On the day I went to Lacey's boot camp class, everyone was dressed up in spooky, silly costumes. Of course, they were dressed up to celebrate Halloween, but there's nothing better than wearing a full-body pleather cat suit to remind students you know what you're talking about. That's exactly what Lacey wore that day, partly, I suspect, because you can see her abs through the suit.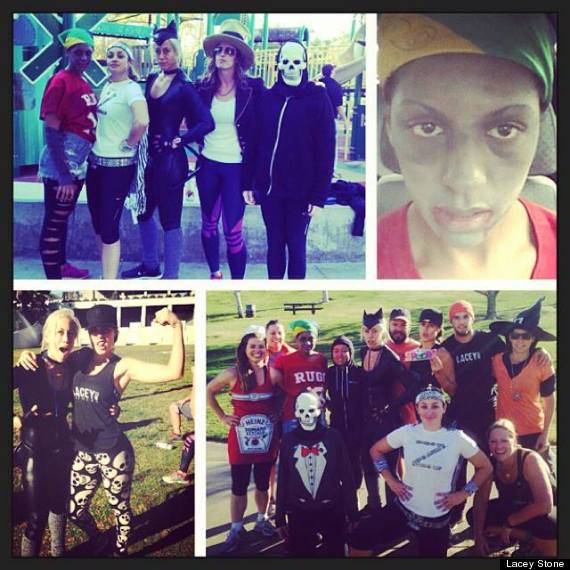 A photo of the class after the workout.
Lacey's class focuses a lot on teamwork and competition. I was either competing with a partner, against a partner or just against my own personal best. The competitive pressure is a motivator, sure, but combined with fun moves like crab walking and bear crawling, I realized that the class felt familiar.
During the relay races (in which we sprinted through sprinklers), it hits me: This feels exactly like school recess. Remember when you were a kid and thought nothing of being in full sprint mode for hours during an intense game of tag? Or basketball practice, when one teammate's missed free throw meant laps for all? That was the vibe at Lacey's class, complete with whistle commands, except instead of having a mean or shaming coach, you now had a fun, challenging one. If you were a pretty active kid, Lacey's class will make you feel nostalgic.
What It Helps With: The high-intensity intervals help to build cardiovascular capacity and burn fat. Because we didn't have any equipment, most of the exercises we did could be described as calisthenics: lunges, crunches, triceps dips, push ups, squats and planks. For cardio, we both jogged around the park and sprinted up and down little hills.
What Fitness Level Is Required: The roughly dozen people who showed up to class ranged from super-fit soap opera actors to overweight exercisers with bum knees. While the pace is fast, no one is pushed beyond their own limits. At the end of the class, my Polar heart rate monitor told me I had burned 560 calories, which was comparable to the amount I burn during my usual treadmill boot camp class but lots more fun.
What It Costs: $20 per class, and packages are sold on a monthly basis. For more information about the boot camp and other classes Lacey teaches around town, check out laceystonefitness.com.
Would We Go Back: Yes! I admit that getting my treadmill-only sneakers grassy and muddy was slightly annoying at first. I also hesitated when it came time to lie on the wet ground for sit ups and push ups.
But by the end of the class, I was amazed at what my heart rate monitor was telling me -- especially since I felt I had spent a lot of time just listening to the rules of the next challenge or cheering my teammates on.
The final segment of the class, which required us to string a bunch of exercises together and ended with a sprint up the hill, ended with a hug and motivational speech from Lacey, who challenged us to "have the best fucking life ever." Not a bad way to start the day.
For more from our We Tried It series, click here.
For more fun ways to get fit, check out the slideshow below.
PHOTO GALLERY
Fun Ways To Get Fit