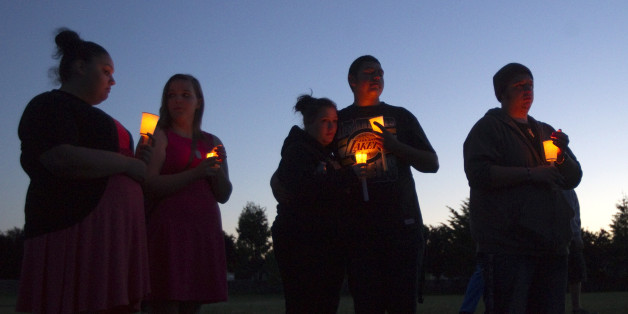 Yesterday, June 10, 2014, should have been a normal, end-of-year school day for high school students in Oregon. It should have been a time for final classes, last-minute study sessions, final exams and excitedly awaiting the warm summer days in the near future. However, yesterday was not like it should have been.
As I sat in music class, still waking up from the late night of studies from the night before, my friend sneaked a quick glance at her cell phone. Her head snapped in my direction, and she looked me straight in the eyes, a cloud of disbelief on her face. I whispered, "What? What is it?" She whispered back, "It happened again. There was another shooting... at Reynolds High School." My heart sunk into my stomach.
Several weeks ago, there was a college shooting in Santa Barbara, to the south. One week ago, there was a shooting in Seattle, to the north. And now, just yesterday, a shooting occurred in Portland, Oregon, right in my own backyard. I feel as if I am being boxed in, until soon, it might be my school or my sibling's school. The girl I was sitting next to in music class began anxiously texting her father, a police officer on the scene, seeking answers about the security of her cousin, a Reynolds student. Luckily, the cousin was fine, but one student wasn't so fortunate. All of this happened at 8:15, within minutes of the tragedy. It all felt so real, and so mind-numbing to think that as I was sitting there, about to take a final, a whole school was in lock down, thousands of students and faculty not knowing if they would make it home that night.
I don't know why these shootings occur, or why they are mainly in schools or why they are happening so consistently. What I do know, though, is that there have been 74 school shootings since the devastating Sandy Hook Elementary incident. These tragedies are no longer a rare occurrence; they have become an epidemic. The Second Amendment states that "the right of the people to keep and bear Arms, shall not be infringed." This was written in 1776, when we actually needed to be able to defend ourselves. That was over two centuries ago. This law no longer applies to the 21st century. By distributing billions of guns, we are creating more harm than safety. Watching the news and finding out about all of the killings throughout the country has been a very hard thing to hear. However, now that there has been a tragedy so close to my home, it makes me realize how crucial it is for us to take action. Yesterday should have been a normal school day for all students. Unfortunately, it wasn't, and I fear that many days to come will no longer be "normal."