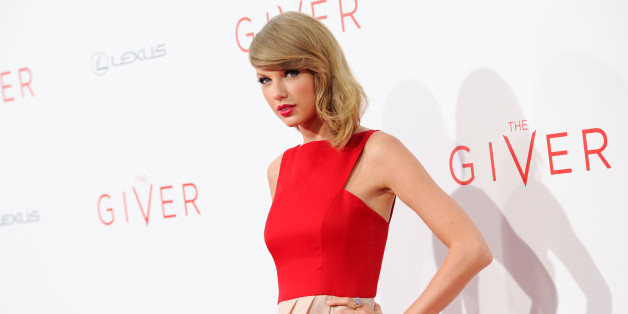 If you were to look at the array of Taylor Swift playlists on my Spotify, you would probably suspect that I'm an emotional teenage girl who spends way too much time thinking about her non-existent love life. While that is completely true, I would like to make the case that there is way more to it than that.
You may have found Kanye to be in the right when he interrupted her at the 2009 VMAs and said she didn't deserve to win best video, but I truly believe there is a die-hard Taylor Swift fan inside all of us (even Kanye). It is just about unleashing it. And a heck of a lot of people have. After all, Swift has sold 26 million albums worldwide, and her concert shows net $1,784,275 per night.
Taylor Swift songs are meant to be sung aloud in the shower, danced around to in the middle of the street and cried to when you're home alone with nothing but chocolate ice cream. But above all else, they're supposed to speak to you.
"He's the song in the car I keep singing, don't know why I do..."

The first Taylor Swift song I ever heard was "Teardrops On My Guitar." I was an 11-year-old girl in the backseat of my parents' car. The windows were down. I remember this moment because for the first time in my entire life, I felt like someone understood what I thought and was able to put it into words. I was distraught because my crush didn't like me back, and Taylor Swift seemed to be the first and only person who truly understood how important and painful it was.
"If you could see that I'm the one who understands you, been here all along, so baby why can't you see... you belong with me?"
Two years later, it was "You Belong With Me" where Taylor read my mind once again. Still the same boy, now just a little more grown up. He still didn't like me, and somehow Taylor understood how much it hurt to feel invisible. Like any relationship, mine and Taylor's grew, and we began to connect on more than just a few songs about boys -- she felt like she had no one to sit with in middle school, I felt like I had no one to sit with in middle school; she had mixed feelings about getting older, I had mixed feelings about getting older; she felt like people didn't understand her, I felt like people didn't understand me.
Taylor Swift crept into my identity. She became my best friend, and I became a loyal Swiftie. And I wasn't the only person who felt this way. Taylor has 43.7 million Twitter followers, 11.1 million Instagram followers, and according to her cover story in Rolling Stone, she can't go for a stroll in Central Park without four body guards and a swarm of fans.
"It's miserable and magical."
There are millions of people like me -- devoted fans who sleep outside the TODAY show to catch a glimpse of her, dress up in head-to-toe chicken costumes hoping someone from her crew will spot them and give them backstage passes, create Tumblr pages about her, or simply hang her posters on their walls. But then there are those people who hate her, who think she makes it seem like all girls do is think about boys, write mean comments on YouTube, cover their ears when her songs come on the radio. They look at Taylor's bouncing hair, and decide she is either a dumb blond, or the world's most manipulative mean girl. But as the old proverb says: the opposite of love isn't hate; it's indifference, and nobody is indifferent to Taylor Swift.
"A band of thieves in ripped up jeans who ruled the world."
Here's the thing: you might see Taylor Swift as the girl who wouldn't play with you during recess, or the one person you wished would sit next to you at lunch, but we have all come to rely on her. Either you get your anger and frustration out with Taylor or at Taylor. Her fans go to concerts, others bad-mouth her on the subway. At the end of the day, I think that's Taylor's ultimate goal: she's there for you. As she said in a letter to a bullied fan, "Every time someone picks on me, I'll think of you in the hopes that every time someone picks on you, you'll think of me... and how we have this thread that connects us." So the next time you're ranting about how much you can't stand her, remember, sometimes you feel the same way about your mother. But that doesn't mean you don't love her.