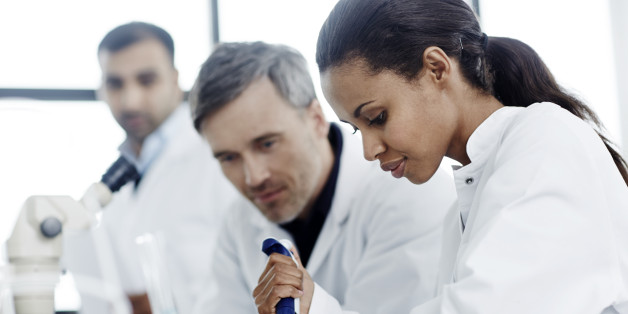 Editor's Note: This post is part of a series produced by HuffPost's Girls In STEM Mentorship Program. Join the community as we discuss issues affecting women in science, technology, engineering and math.
I remember my very first Girl Scout troop leader. I was 10 years old, and though I had no scouting legacy in my family, she made Girl Scouts fun, teaching me new skills and showing me that anything was possible. Along with my mother, my troop leader was one of my first female mentors, someone who encouraged and supported me, but more importantly, served as a role model and example of what I could do in my life.
January is "National Mentoring Month," celebrating the mentors and role models who guide us through childhood into adulthood. At Girl Scouts, we will be celebrating National Mentoring Month, and ringing in the New Year, by joining forces with the Million Women Mentors, a group dedicated to supporting girls and young women in the science, technology, engineering and math (STEM) fields, and exposing them to professional women already doing incredible things in STEM.
STEM careers are the fastest growing in the world, yet less than a quarter of working women choose these fields, despite the high levels of interest younger girls show STEM. Why does that interest taper off as girl's transition to high school and college? I have long believed that you can't be what you can't see, and today, too many girls aren't getting the exposure to female scientists, doctors and engineers who could serve as role models -- proof that women can enter and excel in STEM.
Girls are watching us and they're incredibly perceptive. They pay attention to what they learn in school and from parents, but they also pay attention to mass media portrayals of women that influence their sense of who they are and who they can become. Research shows that males outnumber females by almost 3 to 1 in family films, and females are almost four times as likely to be shown in "sexy" attire. The sad fact is that few if any of these portrayals depict women building rockets, mixing chemicals or unveiling the latest smartphone. Instead, girls are inundated with glossy magazine covers depicting Photoshopped models whose bodies have been contorted into impossible shapes. They see celebrity and "reality TV" stars whose portrayals of women are often flat out derogatory. They see women marginalized in everything from movies and television to sports and politics.
One of the biggest benefits of Girl Scouts is the opportunity to be exposed to and mentored by women leaders. It is, of course, wonderful and important when a girl has the support of a father or older brother. They can offer encouragement and love. But they cannot serve as true role models. It is different for girls to see and learn from women who have already blazed a trail -- women who are achieving in fields like STEM and other areas, who can truly be mentors and guides. We need more girls to be exposed to more female mentors from all walks of life, volunteers who can truly relate to the interests of girls and understand the challenges they face, and help them reach their fullest potential.
Together with the Million Women Mentors, we are working to ensure that girls build the same skills and the same confidence in STEM as boys. Women mentoring girls lends credibility to the claim that our daughters can accomplish anything. At Girl Scouts we know what girls can achieve and work every day to build the today's girls into tomorrow's leaders; leaders who will go on to mentor and inspire future generations.