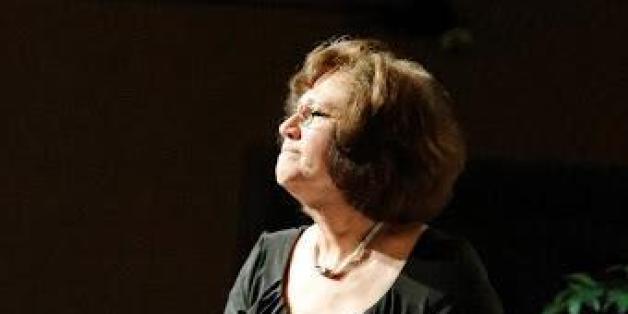 "Excuses 'R Us is closed for business" -- one of the many signature phrases of Ms. Joan Rackey, my high school music teacher and soccer coach. Though I am now over six years removed from the halls of Albert Einstein High School and have long since hung up my soccer cleats, those words, the perfect chiding motivation that was always served with a heaping portion of love and care, still ring true for me today. Ms. Rackey was the first teacher I met in high school and soon became one of the most important mentors I've ever had. Though it's been years since I sat in her classroom and our interactions have shifted to email and social media, Ms. Rackey remains a role model in my life -- someone I aim to emulate and strive to impress each day.

My first experience with Ms. Rackey started before I even began high school. Everyone in eighth-grade band class had heard rumors about the tough high school band teacher. When I stepped into the room for my Honors Jazz Ensemble tryout, I was immediately intimidated. After multiple fumbles and some admittedly terrible sight-reading, Ms. Rackey didn't soften the blow -- it was definitely not a stellar audition. I was therefore thrilled to be selected for her group as a freshman, but I had no idea what I was getting into. The "B" that first quarter -- my first in three years -- was a wake-up call (dramatic, yes, but this was high school). While the blow to my ego from that experience has since waned, the grade was truly symbolic of Ms. Rackey's style -- your results will match the effort you bring, but there will always be support when you want to improve.
Ms. Rackey's policy held that everyone must bring their instrument on the first day of class in August, ready to play. With her, there was no time to be unprepared. Every minute of practice counted and there were never favorites on the field or in the classroom -- hard work was all that mattered. This is the special something that sets her apart from the rest -- she empowered you want to be the best and prove to yourself that you capable, if you put in the time and effort. She showed that we all could be outstanding individual performers, but true greatness came with embracing your role as a part of the whole.

While it was easy to get frustrated or intimidated by Ms. Rackey, when you actually paused and listened, you could see she believed everything she said. She never softened her words, but her criticism was always constructive. She made everyone feel like family -- whether wrapping your ankle before a soccer game, lending you one of her many sweatshirts, asking you to watch her granddaughter during a concert or hosting the whole team for a pre-game dinner at her house. Everything she has done in her 30-plus years at Albert Einstein High School as a music teacher, Jazz Ensemble and pit orchestra director, softball and soccer coach and marching band director she has done with such a passion that it's contagious.

In four years, Ms. Rackey had a truly profound influence on who I became and how I perceived myself. Anyone who thinks that music classes are not as challenging as academic classes has never sat in one of her classes. I have never met anyone, save my parents, who has consistently held such high expectations for me, both inside and outside the classroom. She sees beyond what is expected and never doubts a person's ability to complete a task, always yelling out "Better!" as you sprint down the field (and, truth be told, you probably could have been going a bit faster). Her no-nonsense, no-excuses approach left no question that you were going to come to practice that day, learn that tricky section of "Take the A Train," or complete that chord progression project. And the drive she instilled in me to always push myself to be better, to do more, and to work harder prevails today.
Reflecting back on the years since graduation, however, the most important lesson I learned from Ms. Rackey is to approach life with your eyes and ears open. You'll never learn anything if you don't first listen, and you'll never push yourself if you're ruled by doubt. Any team is beatable on any given day, and nothing is impossible to learn.
Become part of the conversation and tell us about your own favorite teacher using the hashtag #HPHeartsTeachers on Twitter and Facebook.