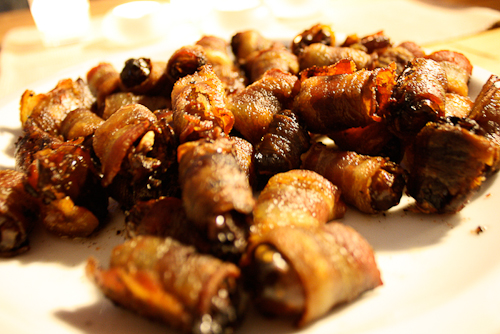 Yes, the holidays are in full swing, but take a deep breath -- we're not done yet. We've still got Hanukkah, Christmas, and New Year's Eve ahead, and all the accompanying festivities. Perhaps you're super-organized and have all your menus planned through the end of the year. But if you're like most of us, between work and Christmas shopping and holiday parties, you probably haven't thought much beyond dinner tonight. But not to worry -- I've got a slew of delicious (and easy!) holiday nibbles to carry you through all your last-minute parties, unexpected guests, and pre-dinner cocktail hours from now until January 1. (Scroll down to the bottom for recipe links.)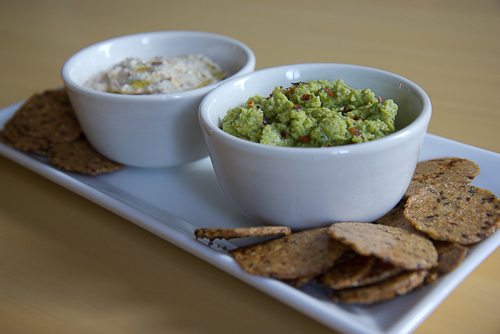 To keep things stress-free, I like to have a few things made up in advance (like Nutella Shortbread Brownies) and to have ingredients on hand for a few easy appetizers (like Tuscan White Bean Dip or Bacon-Wrapped Dates) in case you need to throw something together at the last minute. As I've said before (and I'll continue to say!) the whole point of entertaining is to enjoy your guests, so a little planning ahead goes a long way.
For a holiday party on the fly, buy some good, grainy flat bread, a few nice cheeses (I like a combination of a soft goat cheese, an aged blue, a creamy cow's milk, and a hard cheese like aged Gouda), and a jar of fig jam. For a healthy option, I like to make my vegan Roasted Eggplant Dip or Fava Bean Dip and serve with warm toasted pita bread and some crudités-radishes, carrots, thinly sliced fennel, red and yellow peppers, and raw sugar snap peas. With this spread of tasty nibbles -- plus your bacon-wrapped dates -- your friends will think you're a party-planning pro. Just don't forget the bubbly!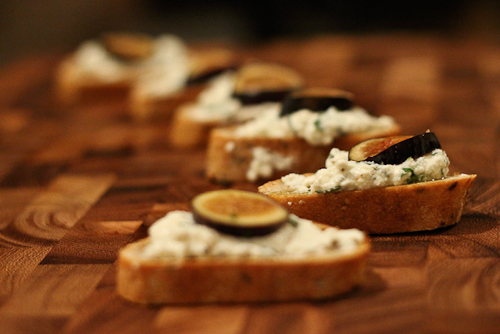 EASY HOLIDAY NIBBLES (Click on links below for recipes)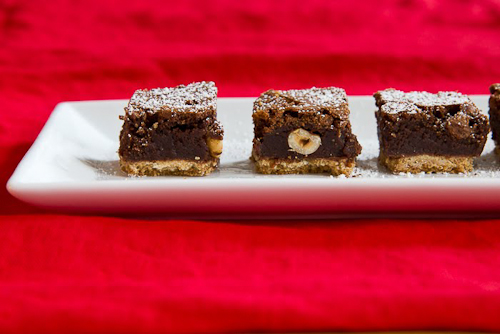 EVEN EASIER HOLIDAY NIBBLES
(No recipe needed)

Marinated Olives
(Mixed olives + orange zest & juice + fresh thyme + crushed garlic + olive oil)
Endive Spears with Smoked Salmon
(Endive leaves + smoked salmon + lemon juice + chopped dill + olive oil)

Baked Brie Crostini
(Baguette slices + sliced Brie / Broil until bubbly and top with cranberry or apricot spread)
Blue Cheese, Pear, and Walnut Squares
(Puff Pastry + crumbled blue cheese + sliced pears + walnuts / Bake at 400°F until brown, about 10-15 minutes)