When I invited a friend to the Unexpected Project's first Survivors Forum for survivors of pregnancy-related near-miss and death, she was dubious.
"I'm not sure if I qualify..." she said, "I mean, I didn't really die..."
This is the same friend who after suffering eclamptic seizures in her first pregnancy had to re-learn how to talk, and walk, and read.
"Yes," I said. "You definitely qualify." To make my case, I sent her the link to this Wikipedia page. Ten minutes later she wrote back. "My God. I almost died."
Yes. Yes, you did.
So as part of the Unexpected Project's ongoing effort to put a face to the women who suffer a near-miss, or die in the U.S., I want to introduce you to just a few of my dear near-miss friends affectionately known as the SeizureGirls. I have the pretty dubious honor of knowing a lot of women who nearly died in childbirth, and truth be told, we're all pretty awesome, but the SeizureGirls, well, they are extra, extra special.
First, there is Becky, the original SeizureGirl. She was 32 weeks pregnant with her first child and her husband was out with friends having one last "guys night out" before the baby came. It was nearly midnight and all Becky knew was she needed drugs. She called the hospital. Her head was throbbing. Understandably, they refused to give her drugs without seeing her first, so she got herself in the car, promptly threw up, and then drove careening through the streets of San Diego, hanging her head out of the window like she was drunk, or as she says, "like a dog with its tongue hanging out," all the way to the hospital. In her twisted brain she dared the police to pull her over, "I'm not drunk, you idiot! I'm pregnant! Hah!"
Fortunately, she made it to the hospital, neatly parked her car and walked into the ER where she immediately started swearing at the staff. Eleven minutes later she blacked out into a series of seizures. Becky and the baby survived.
Then there's Jenn, my partner-in-crime at the Unexpected Project, who is the mellowest, coolest woman I know. I'm not sure she even knows how to get mad. During the 32nd week of her second pregnancy, she stayed home from work because she thought she might have the flu. As the day progressed, she realized she was really sick and wasn't going to be able to pick her son up from school so she got it in her head that she had to phone...someone...but that is far as she got...she collapsed in eclamptic seizures on her kitchen floor. It is estimated that she was seizing for three hours before a good friend found her and called 911.
She woke up two days later with her son in the NICU and herself in ICU. Her chart said, "Restless, Agitated, and Combative." Jenn made that her mantra. She's a badass. Jenn and her baby survived.
There's also Lisa, who developed HELLP Syndrome during her 38th week of pregnancy. HELLP Syndrome is like hell in 3D -- the blood won't clot, the liver is rupturing -- it's not good. During an emergency caesarian section, she started to seize and had to have emergency brain surgery. The doctor told her husband to prepare himself to lose her. "You don't understand," the doctor told him, "She's bleeding in the brain again and her liver has ruptured. If we operate again it could kill her. And we can't take her off life support long enough to find out how bad it is."
But her husband never gave up on her. He made an online sign-up sheet so that friends could fill time slots to visit and read to her. He made sure she was never alone. She was in a coma for four weeks and the hospital for six months. He read to her every day. Lisa and her baby survived.
And there's Lauren, the Goddess of SeizureGirls, and my personal guru, whose body pretty much imploded with HELLP Syndrome and needed over 200 pints of blood to survive. Lauren rocked a lovely yellow hue following liver failure and talked with angels for many months before being able to go home. She's written it all down in a book, ZuZu's Petals: A True Story of Second Chances, which I highly recommend.
The woman is ruthlessly funny. She was probably funny before she almost died, but like the rest of us, there is a wry humor about being the one that somehow got pulled back from the edge. Lauren and her baby survived.
People tell us -- "You are so lucky. You and your baby survived."
Every day 160 women join our club. While we're not all SeizureGirls, (I'm just an honorary member), there are 58,000 women every year who suffer a near-miss -- women who survived heart attacks, ruptured ectopic pregnancies, sepsis/infection, influenza, liver failure, amniotic fluid embolisms, hemorrhage. We're not exclusive. We get new members every single day and many of them get fast tracked right into the VIP lounge.
It's true we laugh a lot. We spend far too much time enjoying life. We expect the sky to fall at any moment. The truth is we laugh so that we won't cry. We know, despite it all, we are very, very lucky.
There are mothers and dads who have lost their babies, or spent weeks with micro-preemies and tiny babies no bigger than a doll fighting for life. I know their husbands and recognize the almost uniformly hollow look they get as they talk about watching their wife bleed out, or collapse, moments after giving birth. This is not something they want to talk about. This is nothing any of us want to talk about or to remember.
I know too many men who lost their wife. I've interviewed over 150 families who have lost a woman due to complications in childbirth. Again and again, I've listened as their voices have dropped to a whisper, anguished and confused over turning off the machine that was keeping their high school sweetheart alive. I know the woman who lost her daughter just a few years ago, and will never be the same, how she struggles when her son-in-law moves on, and remarries. I've watched the contagious mix of laughter and tears that erupt when a best friend recounts her crazy friend -- so full of life -- gone too soon.
They've become our friends -- the husbands, mothers, fathers, sisters, family, friends of a woman who died as a result of complications in pregnancy. People like Cindi and Jon Hillman in Elkhart, Indiana who lost their daughter Heidi; the extended Warner clan of Iowa (Brenda, Kim, Brad, Bree, the late and much loved John) who lost their daughter Shelly, Todd Heiden of Florida whose beautiful wife Joan Donnelly is gone, and the families of Tamara Dunn, Dayton, OH, Tatia Oden French, Oakland, CA, Tina Maria Hagenbuch, Kalamazoo, MI, Valerie Scythes, Woodburg, NJ, or Veronica Sotelo, Fort Worth, TX. Two to three women every single day in the U.S.
I am ashamed to admit that I struggle to remember everyone's names, to separate the stories, but I feel the weight of their belief in the Unexpected Project, to share their stories and to make a difference for their surviving daughters, sisters, nieces and granddaughters.
Those of us who survived, who joke about our horrible stories, we do so in honor of all the women who can't laugh, or cry, or celebrate their baby's birthday, or first day of school. We're Heidi, and Shelly, we're Tatia and Lauren. We're survivors. We're SeizureGirls.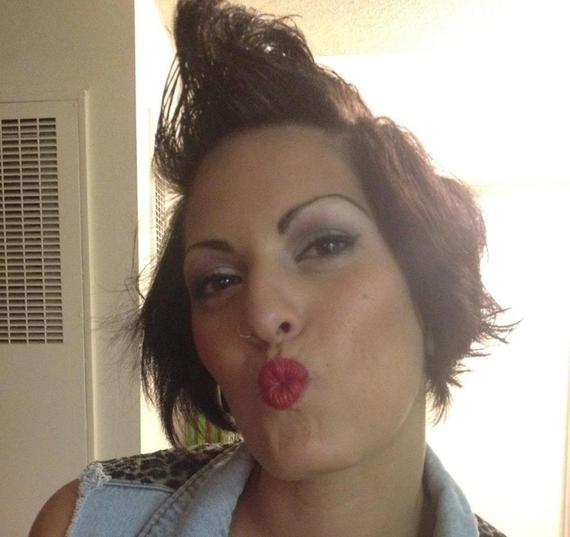 Jenette Zecena, Survivor
If you're wondering if you too are a member of the Near-Miss Club -- check out this list on Wikipedia.