Walking by 200 Lafayette Street (between Broome and Kenmare) in Soho, you come across a beautiful -- though partly hidden by a scaffolding -- projection of videos in the window of an abandoned store, a nice surprise of a different kind of street art in a neighborhood where art used to be so prominent.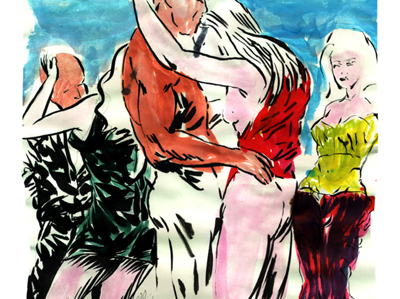 Raymond Pettibon, Repeater Pencil, 2004. Still from singular screen animation with sound, Duration: 14 minutes, 12 seconds. Courtesy David Zwirner, New York, and Regen Projects, Los Angeles -- The Drawing Center.
The five handmade drawings in motion presented here are moving in the largest sense possible.
Brent Green's take on Santa Claus is quite humorous, personal and darkly poetic. You do not see often a Santa in despair putting together an awkward bunch of presents, among them a dead crow.
Equally poignant is Tala Madani's solo dancer who silently progresses in a changing dark background before disappearing.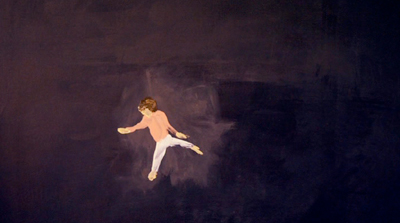 Tala Madani, The Dancer, 2010. Still from single channel color video (stop motion animation), Duration 1:30 minutes. Courtesy of the artist and Lombard Freid Projects, New York -- The Drawing Center.
Susi Jirkuff's Travel Stained, brings to life a musician coming back home while his soul continues to wander in the tour he just ended.
The mundane is also depicted and elevated in Kakyoung Lee's dry point Animation Walk-2009 where a naked walker becomes a back packer walking on an ocean of bushes that becomes stairs and then a single tree.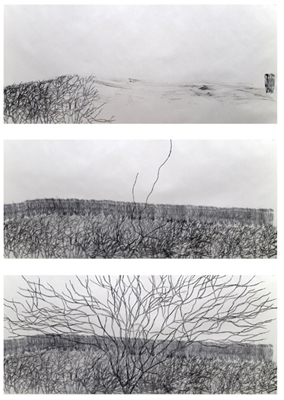 Kakyoung Lee, Walk-2009, 2009. Still from Moving Image (Graphite on Paper), 3min., B/W, Sound. Courtesy of the Artist -- The Drawing Center.
These poetic and existential works undoubtedly reveal and challenge questions such as culture, identity and how we relate (or not) to our surroundings.
The opening night, a woman was shocked that Raymond Pettibon's powerful video showed a needle going into a man's arm. I was not. It felt just right and like each of the scenes and stories depicted in these five animations, it felt subtly connected to (street) life and its protagonists.
So we hope the show's curators, Rachel Liebowitz and Joanna Kleinberg, both from the Drawing Center, as well as the not-for-profit SmartSpaces will bring us more of these animated graffitis in the windows of the vacant spaces of New York City and elsewhere.
Information
The Drawing Center
Drawings in Motion - until January 24, 2011
www.drawingcenter.org
www.SmartSpaces.org