I took Dream Talk Radio to Silicon Valley recently for a very interesting multi-media event about e-government; the idea that advances in technology and information processing can help local, state, and national agencies be more efficient, responsive, and effective in the process of governing. It is an idea championed by attorney Bill Fenwick, of Fenwick & West, and is being addressed by Bill and others through the group Program for the Future.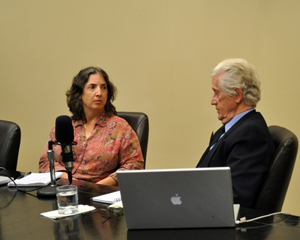 With me on the trip was Eileen Clegg of Visual Insight and Program for the Future. Eileen is a visual journalist who creates graphic renderings of conversations in real time. As I interviewed Bill about the history and vision of e-government, Eileen created a mural of the landscape we discussed, to show the challenges and the promise of e-government initiatives. Bill Daul, of NextNow and PFTF took the photos you see here and videotaped Eileen's mural creation.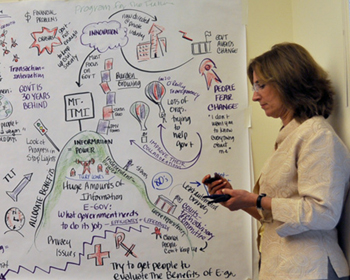 Bill Fenwick's passion for e-government initiatives springs from over 40 years of working with the judicial system, which processes overwhelming amounts of information every day. As Bill explained at one point in our discussion, the courts are charged with storing and sharing essential documents, records that can make or break lives, businesses, and laws--and yet they do so using technology that is decades behind private industry in terms of speed, efficiency, and usability.
The idea of e-government is essentially non-partisan, in that it is concerned with improving the information systems that underlie all government agencies and functions, so that they can do their job better, whatever that job may be. There are many efforts toward this goal already in motion, most notably through the Gov 2.0 project, but also in small, important changes occurring in public agencies across the country.
Bill sees Program for the Future's role as "improving the improvers," sharing best practices and preventing duplication of efforts among those working toward the goal of making government run better. This is in keeping with PFTF's understanding of the vision of Doug Engelbart, inventor of the computer mouse and proponent of "collective intelligence," the idea that we are smarter working and thinking together than we can be working by ourselves. My interview with Bill Fenwick aired on Dream Talk Radio September 9, 2010. Listen or download the podcast here.
Here is Eileen's complete Visual Insight e-government mural.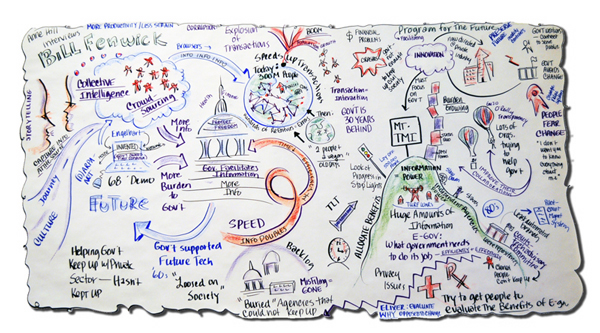 When I asked Bill about the push-back against e-government efforts, he cited people's fear of change, and the security of the status quo. Eileen's mural clearly shows the situation facing our society today, with the onslaught of too much information and the challenge of too little time, combined with a resistance to change. Here is a video capturing her spoken summary of that landscape, along with the mural creation.
It was a fascinating, exciting day in the Valley, and has given me much food for thought. The American Dream looms large in our psyches, whether we acknowledge it or not. E-government is one way to fulfill the promise of our country: to be an intelligent, flexible, responsive democracy by using wisely the power of our own great inventions and innovations.
This article was originally published at annehill.org.