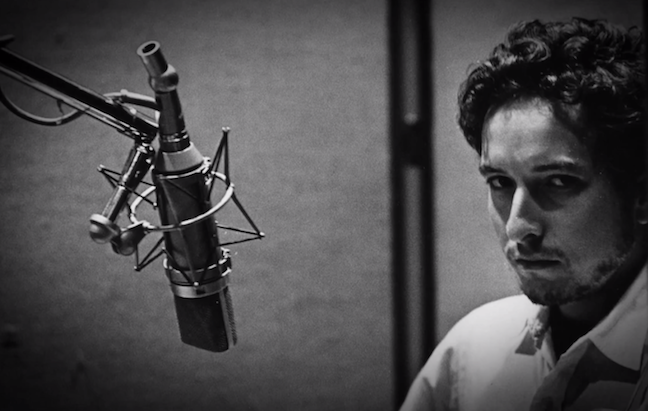 Photograph by Al Clayton © Sony Music
Bob Dylan, The Bootleg Series Vol. 10, Another Self Portrait (1969-1971).
How does a journey begin? Once upon a time, you might have had your fortune told before you set out. From the first visit to a gypsy fortuneteller to the last encounter with that gypsy, through all the traditional and folk tunes, and a trip to the Isle of Wight in the summer of 1969, Another Self Portrait is a journey for the ages. These four discs of music, recorded over three years half Bob Dylan's lifetime ago, are put together like a bride's catalog of something old, something new, something borrowed, something blue, something tried and true.
What's new, everyone wants to know. The previously unreleased tracks (in any version by Dylan) are those I have the most room to speak of, here, though I'll speak of others as I go. They are: "Pretty Saro," "Annie's Going to Sing Her Song," "Thirsty Boots," "These Hands," "Working On A Guru," "Bring Me A Little Water" (or "Bring Me A Little Water, Sylvie"), "Tattle O Day," and "This Evening So Soon" (or "Tell Ol' Bill). Other Dylan versions are available of some of the unreleased tracks, like "House Carpenter" and "Railroad Bill," from 1961, and "Only A Hobo" on The Bootleg Series Vol. 1-3: Rare & Unreleased 1961-1991. The "Tell Ol' Bill" on Dylan's Bootleg Series, Vol. 8: Tell Tale Signs (2008), and featured in the soundtrack of the movie North Country (2005), is another song entirely. Two of the previously unreleased tracks are already out: "Thirsty Boots" appeared, with "Wigwam," on Dylan's Record Store Day single in April 2013; and "Pretty Saro" was released, with its video, last week.
What's really new, and astounding too: Dylan's voice. I think of it as his Nashville Skyline voice -- that mature, fresh, melodious tenor that seemed to come from his time in the clean Catskill air. Dylan had been in and out of Woodstock, New York since the early 1960s, and bought a house for his family there in 1965. Four new records came from those Woodstock years: John Wesley Harding (1967), Nashville Skyline (1969), Self Portrait (1970) and New Morning (1970). Dylan's voice was never sweeter than on Nashville Skyline, and Another Self Portrait showcases that voice as none of these other records -- full of instrumental accompaniments, backing singers, and sometimes intense overproduction -- managed to do.
I'm cheating you, here, by not having room to discuss half the boxed set: the remastered Self Portrait; and the disc of Dylan's set from the Isle of Wight Festival, with The Band, in August 1969. That the Isle of Wight set is included complete is much more than a bonus. Bootlegged versions of some of the tracks have made their way out, but to have this beautifully produced record of eighteen songs you know by heart is a real gift -- to be given you almost exactly forty-four years to the day after the men performed these songs live.
Another Self Portrait's first two discs contain all the previously unreleased songs, and the alternate, skillfully stripped and cleaned-up, versions of songs on Self Portrait and New Morning. All the songs have had a bath that they thoroughly enjoyed: the makeup and extras and window-dressings are gone, and the tracks are bright and clean and clear. "Went To See The Gypsy," the opening track, is the first perfect example of this fresh sound: the slow strum of a handful of strings, a truly beautiful soft and resonant voice. "I contemplated every move, or at least I tried" rings out. And so does that guitar of David Bromberg's. Bromberg, Al Kooper, Happy Traum, and George Harrison are only a few of the many musicians -- some whose participation by name, though not their contributions, have been lost -- joining Dylan in the studio, so long ago.
Some of these songs, according to the invaluable "Still On The Road" portion of Olof Bjorner's Dylan website, sustained many takes. However, what comes out of Another Self Portrait -- even when there are multiple versions of a song -- feels fresh and developing, rather than failed and retreaded. Here is a man having a good time making music with his friends.
Happy Traum, one of those friends, remembers "one take or two takes and move on. [Dylan] rarely even played it back." Studio snippets bear out just what Traum recalls, a desire to do it and keep going. "Let's just take this one," says Dylan, "ya ready?" He launches into "(In Search Of) Little Sadie," and, ready or not, everyone else does too.
"Pretty Saro" is a standout, as I said of it when it was released. Dylan's voice on an alternate version of "Spanish is The Loving Tongue" sounds almost like a boy's changing into a man's, husky and rich. When you just have Dylan and one instrument -- as you often do on Another Self Portrait -- it's magical. Dylan never gets the credit he's deserved for being a great keyboards player. Perhaps his audiences are always too thrilled when he plays the guitar to pay much attention to his piano playing. Another Self Portrait should help change this point of view. That said, having the master, Al Kooper, on the piano and organ for many of the tracks is one of this record's great strengths.
"Annie's Going to Sing Her Song" is a Tom Paxton tune with which Dylan has fun. It may take a lot to laugh, but you're supposed to, when a song is funny. Go ahead. The instruments rattle around companionably as Dylan chronicles Annie's faithlessness, her pleas for him to take her back again, and his constant put-uppance. The ramshackle honky-tonk suits the lyrics, and Dylan's genial weary delivery.
Dylan has on his old Woody Guthrie voice for "Only A Hobo," and you must admit it's appropriate for a hobo song. At first, you feel like you're listening to Dylan in 1963, when he first recorded the song, and not on the other end of the decade. Then Happy Traum comes in, light and clear. Traum's accompanying vocals and banjo shape and enrich the song, just as his art on some of the other tracks from this recording session -- "You Ain't Goin' Nowhere," "Crash on the Levee," and "I Shall Be Released" -- have long done. About "Only A Hobo," Traum laughs, "I was surprised that I could sing that high. I don't know if I could now."
"Minstrel Boy" is classic Basement Tapes material: everyone sounds drunk as a lord, and happily lost in pulling the past up to the present. This genial, good-natured jangle won't hurt you, but it's an extra rather than a keeper. "Railroad Bill," with its blast of a harmonica start and skiffle beat, is another matter. Bootlegged in a very early version on the "Minnesota Party Tape" from 1961, this version has producer Bob Johnston saying "that's really nice" at the end. And he is right. "Thirsty Boots," too, is excellent. Dylan enunciates his words clearly -- as a wordsmith, and poet, and songwriter himself, he cares very much about making heard the words he's delivering. "Thirsty Boots" is a beautiful example of this clarity. Not a word's debatable. The song is of rest for the weary -- those thirsty boots have much in common with Dylan's own wandering bootheels -- and this version does Eric Andersen proud.
"Remember Bob Gibson?" asks Dylan, and then he picks up his harmonica. Gibson recorded the traditional "Tell Ol' Bill" in 1958. So did Dave Van Ronk, in 1961. Dylan's version takes its title, "This Evening So Soon," from the song's refrain, as did a celebrated James Baldwin short story of 1960. "This Evening So Soon" is the tragic tale of a man who just couldn't leave them downtown girls alone, and Dylan sings it with exuberance and passion, emphasizing the mixed-up time, morning and evening, all too soon, too soon to die. Ol' Bill comes home in the end, but he's dead, in a hurry-up wagon, with his arms, legs and feet a-draggin.' Dylan's keening, wailing, intricate harmonica on this track is the best part of a superb recording.
"These Hands" is a working man's blues. Dylan's voice is both wavery and plodding at the start, but it builds and strengthens to a sensational spiritual ending, with slip-sliding complementary guitars in the hands of Dylan and Bromberg. Johnny Cash and Hank Snow both recorded the song, and Dylan's vocal range is interestingly right in between the two.
"House Carpenter" knocks me down flat. It's my pick for best track on disk one, though "This Evening So Soon" is exhilarating, and "Pretty Saro" and "Only a Hobo" have my heart. The beginning makes me think it's going to be "Gates of Eden," until the shift in rhythm comes. The way Dylan's plaintive, ominous voice leads the instrumentals is both passionate and scary. As he alternately takes the voice of the tempted lady and the seductive sailor, you want to warn her, to stop him, but the ballad rolls and ripples on, down to the sea. The house carpenter's left to care for the three little babies; his wife runs away with the sailor, and pays for her faithlessness, as do so many runaway wives in ballads, with her life. The elegance and complexity of the piano, dancing like the waves of the sea and following Dylan's voice like a wake streaming out from a ship, must be Al Kooper's. Dylan had sung the song many times before, but I wonder if he's ever sung it better.
The first unreleased track on the second disc is the much-anticipated "Working On A Guru." Preceding it are four songs: "If Not For You," on which Dylan's uncertain voice leads a beautiful fiddle, the player now unknown, through the plaintive mood of the song; and the plodding waltz a "Wallflower" might dance. "Wigwam's" a work in progress to me -- Dylan's delivery of the syllables, like his breath through the harmonica, always feels like he's speaking to his listeners without having to use any words. "The Days of 49," in an alternate version, is glorious. Can Dylan really sing this low, and fierce, and antique? You bet he can. How many other iconic rock stars can deliver an archaic "how oftimes I repine" but Dylan? The cast of characters -- Jake the New York butcher's boy, Poker Bill, roaring Bill from Buffalo -- are kin to Dylan's own mysterious strangers who live on Desolation Row, in the alley with the Tombstone blues, and on the shores of Black Diamond Bay. His spontaneous "oh my goodness" in the middle of a verse made me feel as if I were sitting on a chair listening to him record it.
"Working on a Guru" is, alas, not a great song. George Harrison's guitar, though, is great, as always and ever. The song is fun, too, and to hear the men laughing together at the end of the song is joy being spread. I'm glad that one of Dylan's songs with Harrison -- some oft-bootlegged, others never heard -- has emerged in this pretty, professionally produced state.
"Tattle O Day," by Eric Andersen, the last of the unreleased tracks, is a riddle song of magical animals. There's a whistling dog who carries the singer round the world in half a day, a little bull whose melodious bellow sends the walls of London Town tumbling down, a flock of all-weather sheep with wool, sometimes, and sometimes feathers. It's a Gulliver's Travels world, with fantastical creatures and cashboxes and epic journeys. "Him that tells a bigger tale would have to tell a lie" sings Dylan at the end, like an Elizabethan soothsayer. It's a mode that, among many, suits him.
"When I Paint My Masterpiece" is the ideal ending for a record with self-portrait in the title. The Band released their delicious, carnival version of the song in 1971 before Dylan did, later that same year, on Greatest Hits Vol. II. Dylan's voice -- sounding here a little like Levon Helm's -- chimes with the elegant piano, repeated keys insistently pinging the time, like a striking clock. I'd never noticed the time passing, in this song, until now: the hurry back to yet another hotel room; the hours I've spent wasting time, sailing round the world. "Sailin' round the world in a dirty gondola / sure wish I hadnta sold my old Victrola /ain't nothing like that good ole rock and roll-a" is a trio better than that grin-inducing original couplet of gondola and Coca-Cola.
The assertive conclusion of when, not if, Dylan paints that masterpiece ends Another Self Portrait. You've come full circle from the visit to the gypsy, survived fatal ballads, vignettes of American life over three centuries, and the slow passage of time, and seen the old Victrola give way to rock'n'roll. Another Self Portrait is a pleasure trip, for anyone who wants to hear Bob Dylan's voice pure and simple, and enjoy music from instruments, and not devices.
* * *
Please read my full review of the entire Another Self Portrait in ISIS Magazine.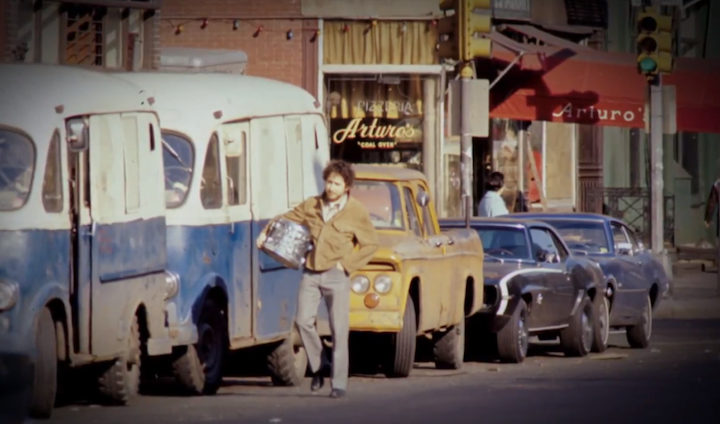 Bob Dylan at the corner of West Houston and Thompson Streets, New York City.
Photograph © John Cohen