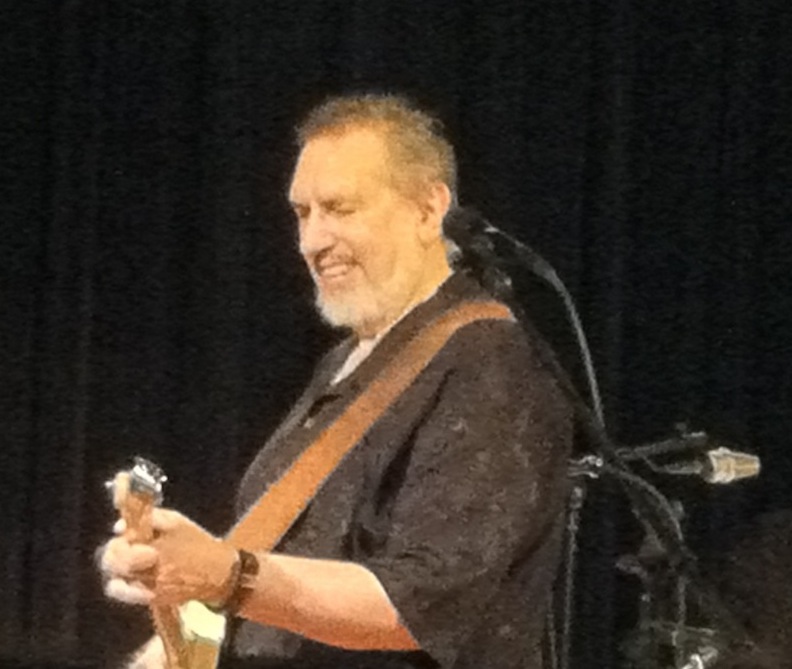 David Bromberg at The Falcon, August 13, 2013. © the author
The Falcon, in Marlboro, New York, is one of the best venues for live music in a river valley full of them. It hangs onto a cliff above the plunging creek that divides the heart of town, the water power that once ran Ulster County's first paper mill now crashing down a flight of waterfalls. The gorge below the Falcon is several hundred feet -- a spectacular spot for a walk or a meal, even before you take a look at who's playing at The Falcon on any given night.
That David Bromberg and his quintet should be there on a Tuesday evening was breathtaking to me. Bromberg's a Saturday night guy, one you'd happily drive a hundred miles to hear. Last Tuesday at The Falcon, he made a tiny sold-out, roomful of people very, very special. We waited patiently outside, enjoying the view and what we could hear of the soundcheck, until we were welcomed in for dinner and the show. That you could be served something to eat while listening to Bromberg also seemed dissonant to me -- who'd want to be eating while he was playing? The audience agreed, it seemed; people were hungry with the waiting, and ordered up quickly, but must have wolfed their meals before Bromberg took the stage. While he performed, I never knew of quieter eaters at any supper club.
Bromberg, who grew up in Tarrytown, New York, was a passionate guitarist from the time he entered his teens. He went to Columbia University to study musicology in the early 1960s, but fetched up learning in Greenwich Village's folk clubs -- and from the Reverend Gary Davis. He's played with -- well, it feels all right to say everyone -- since then: Willie Nelson, Toms Paxton and Rush, Jerry Jeff Walker, The Grateful Dead, Richie Havens, Sha Na Na, Ringo Starr, Dr. John, Carly Simon, Levon Helm, Gordon Lightfoot, The Eagles, Phoebe Snow, John Prine, David Amram, Bob Dylan... The forthcoming tenth album in Dylan's Bootleg Series, Another Self Portrait, features Bromberg's elegant instrumentals (guitar, dobro, fiddle) on many of the tracks, recorded between 1969 and 1971.
From 1971 to 1980 Bromberg performed solo and with the David Bromberg Big Band. At the end of the decade, he says, "I decided to change the direction of my life." In Chicago, he began to learn to make violins. He now lives in Wilmington, Delaware, where he and his wife, Nancy Josephson, own David Bromberg and Associates Fine Violins. A 2012 documentary about his life and career, David Bromberg Unsung Treasure, is in limited release at film festivals; catch it at the CBGB Film Festival in New York in October.
Far, far better, catch Bromberg live while he is on tour, with his band and on his own, in support of his new album. Only Slightly Mad, to be released September 24, features on its cover Bromberg in scuba fins, holding binoculars, and grinning at a perplexed Australian shepherd dog. He and his band played most of the songs on it at The Falcon, and every track I heard is a stunner.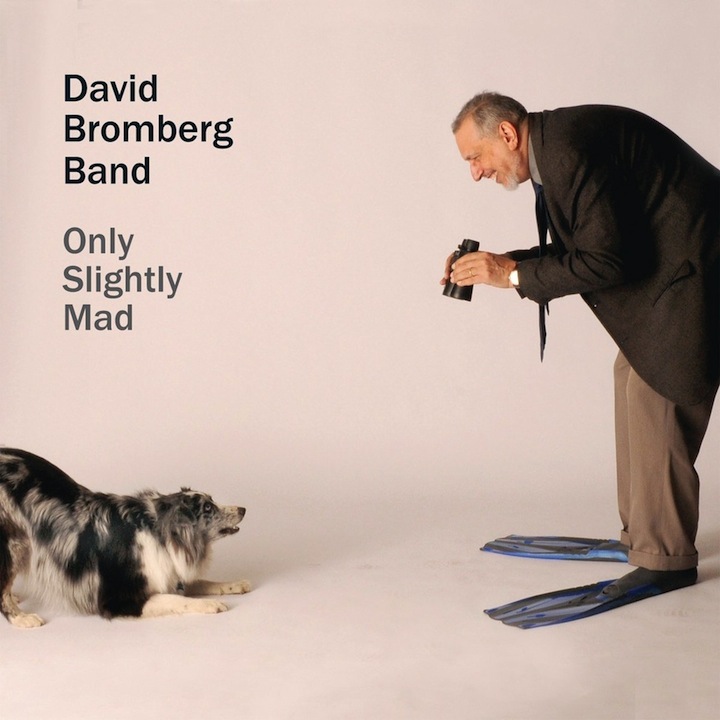 David Bromberg Band, Only Slightly Mad (September 2013) © Appleseed Records
There's one of each kind of song, traditional-wise, on Only Slightly Mad, but this is rather like saying the Courtauld Gallery in London has good representative versions of Manet, Modigliani and Van Gogh. That one version is one of the very best. Bromberg opened his show with the record's opening track, the hot blues "Nobody's Fault But Mine," on electric guitar. The show was being taped, and Bromberg apologized to the audience for having to do both the first two songs twice. No one minded. There were shouts for a third, and fourth, version each time. "Keep On Drinkin'" is, yes, a drinking song -- but a drinking song with a twist and with attitude to burn. The singer won't listen to the beautiful 19-year-old, his wife, his girlfriend or his doctor: he's going to keep right on. "Drivin' Wheel" is a train song -- but a train song that likens the singer to a brokedown train that can't keep going without the woman at the end of the line. "I'll Take You Back" appears to be of the she-done-me-wrong-but-I-still-love-her genre (think of Tom Paxton's wry, resigned "Annie's Going to Sing Her Song" or, to flip the gender, Dolly Parton's "Here You Come Again"). But no, it isn't. Sure, says Bromberg, I'll take you back, baby... when ice is hot and fire is not, when rattlesnakes have knees and money grows on trees, when your mother stops talking and the dead start walking. The audience howled for more couplets and he obliged with a grin, riffing, perhaps improvising, as the scorching impossibility of any reconciliation grew and grew.
Bromberg is one of the most engaging, indeed mesmerizing, of performers. To hear him in a venue where you are feet away, where you can watch every finger's command of the strings, and feel the engagement he has in his music, that of the other musicians on stage and in his audience is wonderful. His dark eyes, intense and smart, know who's in the crowd and what moves them. He pays constant attention to, and takes visible and genuine enjoyment in, listening to his band members play. Levon Helm was like that; more star musicians should be. As Brian Mitchell, the New York-based keyboardist and composer and longtime member of Helm's band at Midnight Rambles, ripped into solos on the piano, organ, accordion and harmonica, Bromberg beamed at him. When Mark Cosgrove held the stage alone for a flatpicked Bill Monroe song, Bromberg, who'd been playing his heart out for an hour and a half, spent his break at a corner table where he could see and hear. Nate Grower's brilliant fiddle playing shone in several rollicking string duels with Bromberg that clearly delighted his bandleader.
As he stood alone for a solo moment, Bromberg gave us his version -- complete with narrative commentary and history -- of "Delia (Delia's Gone)." The murder of Delia Green in Savannah, so long ago, seemed present, and important, in his hands.
At the end of the show, Bromberg spoke quietly to his audience. He told us it was a real pleasure to have played for us, and he meant it. He thanked us. His talent is nowise second to his grace, but the two are firmly hand in hand.
It's lucky for us all that Bromberg is busy this fall. He's at the Philadelphia Folk Festival on Sunday, August 18, and in Salt Lake City, Denver, Nashville, St. Louis and Kansas City in September before returning to the Hudson Valley for a show at the Bearsville Theater with Larry Campbell. He and his band continue their tour across America until the end of the year.