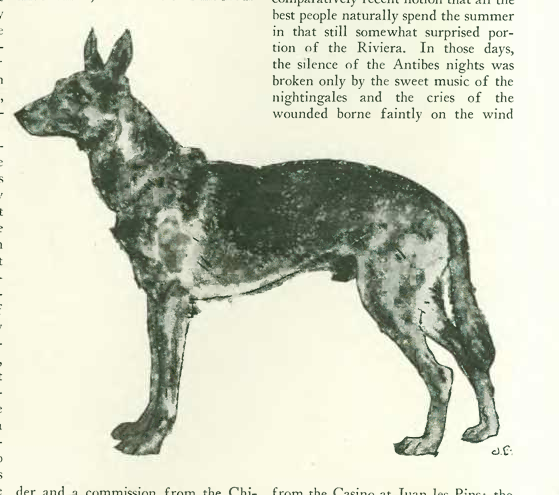 Egon Finney, 1928. Courtesy The New Yorker Magazine.
Egon Finney is a Jazz Age celebrity no one has noticed since his lifetime, but who is surely as interesting as many of his human contemporaries -- and far more interesting than many of them.
F. Scott Fitzgerald has been all over the place lately, and particularly since the release of Baz Luhrmann's new movie of The Great Gatsby, starring Leonardo Di Caprio, in May. The movie also opened the Cannes Film Festival, surely apposite. Fitzgerald lived repeatedly on the Riviera from 1925 to 1930, writing much of Gatsby there, and he set short stories like "Love in The Night" and his glorious last-completed novel Tender Is The Night on that sun-kissed coast.
Fitzgerald is thought of as a tragic writer -- a man who wrote sad, beautiful stories, and lived a sad, once-beautiful and then not at all beautiful life. There is truth in this stereotype of him, as there can admittedly be in stereotypes -- but I love him best as a truly lighthearted writer with a surprising sense of humor. For example, when Nick Carraway tries to lighten the bizarre moment of Meyer Wolfshiem's human-molar cufflinks for himself by asking Gatsby if Wolfshiem's a dentist, you're relieved to be able to laugh. In his own life, Fitzgerald was well known as a practical joker -- whose jokes, begun with genial intention, could sometimes turn ugly the more he drank. One of my favorite stories of him, though, is a happy one. It involves the Riviera, a friend's dog, and a surfboard. Once upon a time, Fitzgerald taught a German shepherd to water-ski.
The dog's name was Egon Finney, and his owner, Ben Finney, was a wealthy American, a Riviera regular in the 1920s and 1930s, silent movie actor, soldier, friend of Fitzgerald's, and a better friend of Ernest Hemingway's. When Rin Tin Tin (born in 1918) began to age, Hollywood came calling -- but Finney refused to let Egon succeed the star, because Egon went where Ben went. When they were living in Antibes in 1927 and 1928, Egon "gave diving exhibitions off the rocks below the Hotel du Cap." He also availed himself of his owner's surfboard, and water skis -- possibly the first pair ever on the Riviera.
Alexander Woollcott wrote about Egon for The New Yorker in 1928, marveling, particularly, at Egon's ability to ski on a surfboard attached to a tow-rope and motorboat. "[Egon] rides a surf board. He cannot mount one unaided, but I have seen Scott Fitzgerald help his floundering efforts to get on. Then Fitzgerald would slip off into the water and Egon would ride alone, balancing expertly and terribly pleased with himself. Indeed, he can thus circle the bay indefinitely, provided only that Ben Finney is in the motor boat in plain sight."
Finney remembered the scene, too, more humorously and sweetly. "[Egon's] physical design made it difficult for him to get started but his friend Scott Fitzgerald was expert at giving him a hand... Firmly balanced, tail streaming in the wind, he was a noble sight -- and he knew it." However, Egon's anxiety to keep Finney in view would eventually lead to his undoing. "The result was inevitable. Egon went one way, the board another. He would swim ashore with an it-could-happen-to-anybody look on his face, search out Scott and wag his tail for: 'Just one more time, please...'"
When Egon died in 1934, he was buried in America's first pet cemetery, established in 1896, in Hartsdale, New York. His headstone reads "EGON -- The Owner of Ben Finney." Finney's friend, the Broadway producer Dwight Deere Wiman, gave Finney a puppy -- a son of Egon's -- named Scram. Finney couldn't bear to keep Scram, and returned him to Wiman. He never had another dog.
© Anne Margaret Daniel for Huffington Post
quotations from Finney are from his autobiography: Ben Finney, Feet First (Grove, 1971).