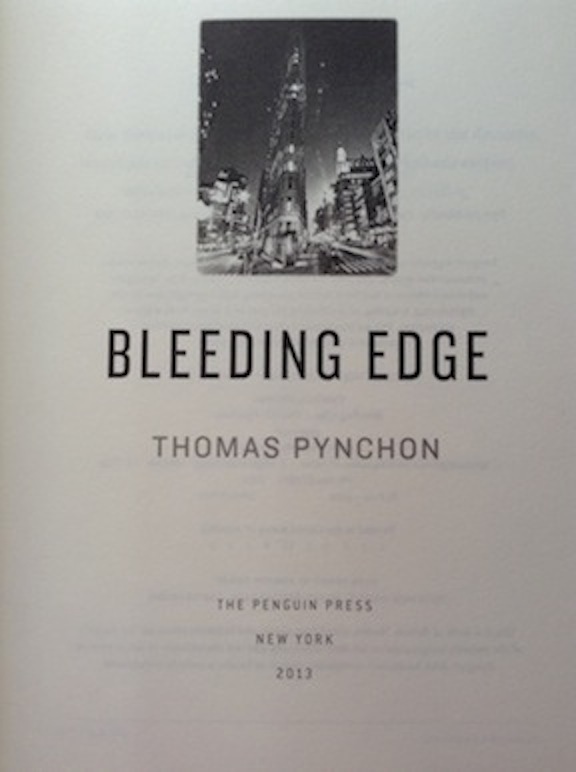 Thomas Pynchon, Bleeding Edge, title page @Penguin Press 2013
Tuesday was the publication day of Thomas Pynchon's new novel Bleeding Edge (2013). His first since the neon-noir LA-based delight called Inherent Vice (2009), Bleeding Edge is already garnering great reviews, including one by Jonathan Lethem with a perfect conclusion in The New York Times Book Review last weekend. I'm not reviewing the book here. Suffice it to say -- which is in nowise remotely sufficient -- that in Bleeding Edge it's possible to sing the Green Acres theme to the tune of "Purple Haze," and there's a song for Massapequa; there are characters named Igor (though not Baby Igor), Ziggy (or Ziggurat), Vyrva, and Windust; the contemporary pop culture of 2001 slaps you and caresses you in every paragraph; and New York city reels and roils roundabout you in all its raging glory. Bleeding Edge is at your local bookstore now. There will be a large and beautiful display of copies, receding hourly. Go pick it up there so you don't have to wait for it to be delivered, and so you have a hard copy you can hold.
One of the publication day promotions Pynchon's publisher The Penguin Press is running features t-shirts proclaiming "HI I'M THOMAS PYNCHON." But for the colloquial salutation it would make me feel like Spartacus; it has the same sense of solidarity. Penguin has been collecting and posting photographs of people in New York wearing the t-shirts, from students in coffee shops and CitiBike riders to the staff of Conte's Market in Yorkville.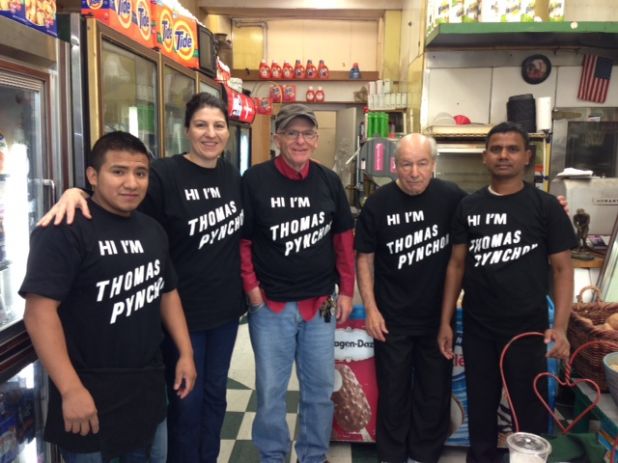 Conte's Market staff, via @PenguinPress on Twitter
The promotion is coupled to the trailer for Bleeding Edge, released a week ago on Vimeo. In it a young actor walks part of the book's terrain -- and Pynchon's home for many years -- the Upper West Side, wearing a white "HI, I'M TOM PYNCHON" t-shirt while talking at us about and sharing his everyday, from Zabar's to Fairway.
Does anyone know about a Thomas Pynchon t-shirt offered for sale sometime around 1970? The whole t-shirt campaign for Bleeding Edge is making me wonder. Back then, Pynchon was known as the elusive author of V (1963) and The Crying of Lot 49 (1966). He was still writing Gravity's Rainbow (1973). A New Yorker named Angelo Pastormerlo made some art about Pynchon in the form of an advertisement for t-shirts, and postered it around Greenwich Village, at least, and perhaps in other parts of town.
Here's the text of Pastormerlo's mimeographed ad, copies of which still surface occasionally at antiquarian booksellers' shops:
"NOW, for the first time since the inception of civiLIZAtion, THOMAS RUGGLES PYNCHON t-shirts are available to the t-shirt buying public. Yes, emblazoned on the pectoral vicinities of these QUALITY (Fruit of the Loom) white t-shirts, in LONG-LASTING ORGANIC BLUE (organic colours fare better in the wash) is the obscure and perhaps comical visage of YOUNG PYNCHON. They are $3.95 (postage and fondl [crossed out; replaced with] handling included). Send check or money order to: Young Pynchon Pastormerlo...."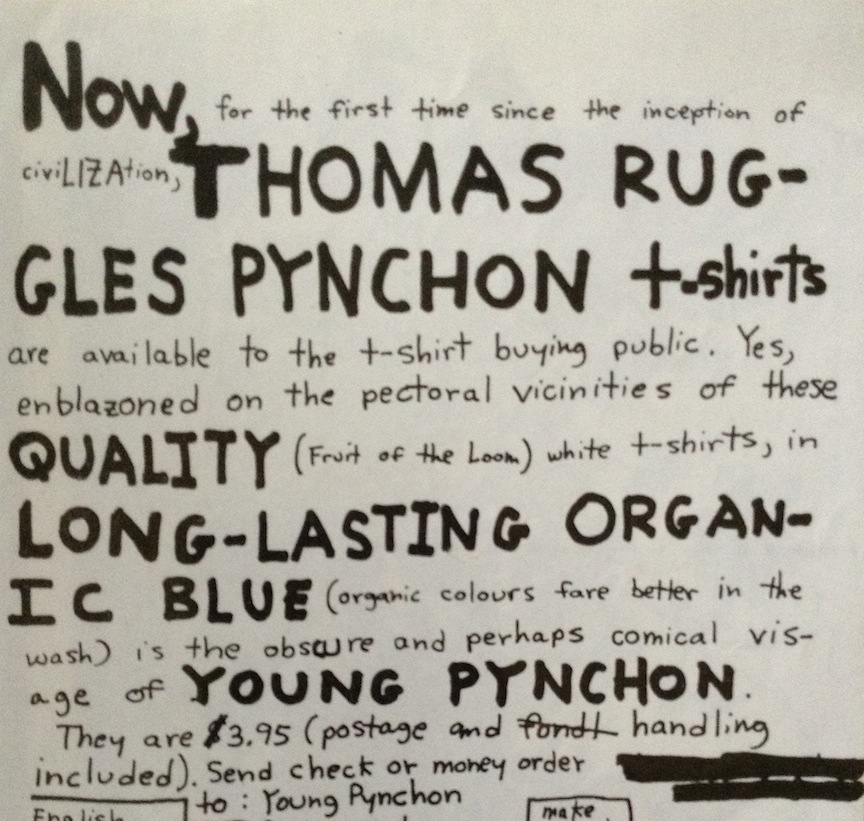 Pynchon t-shirt ad, 1970? Detail. Author's collection.
An East 5th Street address is supplied, with slogans around it: "Intellectuals of the world unite!" "These shirts exist no where else in the entire universe!" and, my personal favorite, "English majors and professeurs have been waiting for this!" If the Angelo Pastormerlo who came up with these Pynchon t-shirts is the same man as the Brooklyn-based artist of the same name, I wonder if he sold any of these shirts at $3.95 -- and, if so, what he sent his buyers back in the early 70s. An email message to Pastormerlo didn't get a reply, which is, it being about Pynchon, rather fitting.
Dear Mr. Pynchon, if you're wearing a "HI I'M THOMAS PYNCHON" shirt today, I hope you enjoy not being recognized. There are quite a few of them being worn around the city this week, by folks who are clearly looking forward to being done with work for the day, and back at home at night, reading.