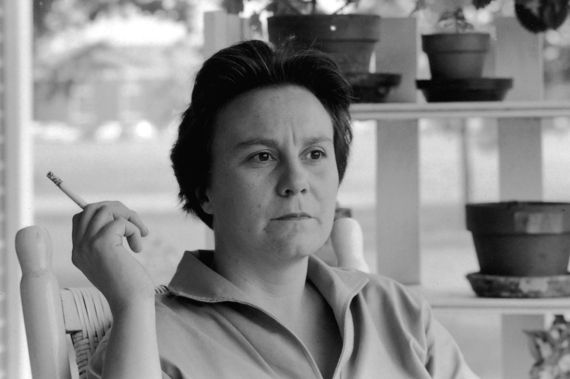 Harper Lee, 1962
Scout Finch is a child to whom reading came naturally, she states, as naturally "as learning to fasten the seat of my union suit without looking around, or achieving two bows from a snarl of shoelaces." I loved reading, as Scout did -- though I probably read To Kill A Mockingbird (1960) too young when I was a girl, growing up in the South, for I cannot, alas, remember what it was like to read it for the first time.
However, the many moments that hit me hardest, that branded themselves word for word in my mind, have never changed as time has passed: a hungry child with a sweet tooth covering his dinner in syrup, the soap dolls in the knot-hole, the swishing collards as scared children ran through them, the lurching, listing mad dog in the street, Mrs. Dubose and her snow-on-the-mountains, the word chiffarobe, Mr. Dolphus Raymond and his paper bag concealing a Coca-Cola bottle, the sweat marks Boo Radley's hands leave on a pale wall, Reverend Sykes's statement: "Miss Jean Louise, stand up. Your father's passin'."
No one writes the South like Harper Lee does, with its daylight and shadows, good and bad, kindness and vileness, pride and prejudice. A small, rural town in the humid summer has never, ever been more real:
Maycomb was an old town, but it was a tired old town when I first knew it. In rainy weather the streets turned to red slop; grass grew on the sidewalks; the courthouse sagged in the square. Somehow, it was hotter then: a black dog suffered on a summer's day; bony mules hitched to Hoover carts flicked flies in the sweltering shade of the live oaks on the square. Men's stiff collars wilted by nine in the morning. Ladies bathed before noon, after their three o'clock naps, and by nightfall were like soft teacakes with frostings of sweat and sweet talcum.
The announcement this week that Harper Lee's second -- or, rather, first -- novel will be published in July 2015 by HarperCollins has shocked the publishing and reading world. Go Set A Watchman was described in the New York Times by Lee biographer Charles J. Shields, who read Lee's early letters in which the manuscript was discussed, as most likely an earlier draft for To Kill A Mockingbird, set 20 years later, and told from the point of view of a grown-up Scout returning to Maycomb from Manhattan. Lee put this novel aside after advice from her editor to set the book during Scout's girlhood, and style it from the child's perspective. Go Set A Watchman, with its Biblical title born of Isaiah and Ezekiel, will have a first printing of two million copies.
The joy with which lovers of To Kill A Mockingbird greeted this announcement was soon tempered by questions. In its press release announcing the "newly discovered novel" and its publication, HarperCollins quoted from a statement by Lee:
...I hadn't realized it had survived, so was surprised and delighted when my dear friend and lawyer Tonja Carter discovered it. After much thought and hesitation I shared it with a handful of people I trust and was pleased to hear that they considered it worthy of publication. I am humbled and amazed that this will now be published after all these years.
Her editor at HarperCollins, Hugh Van Dusen, spoke to David Marchese of New York Magazine on February 3, telling more about the discovery of the manuscript -- it was "wrapped in a manuscript of To Kill A Mockingbird and nobody noticed it for all these years." HarperCollins, he said, has not been in touch directly with Lee as "she's very deaf and going blind," and now living in an assisted-living facility in her hometown of Monroeville, Alabama. Their dealings have all been through Carter. Carter is a partner at the Monroeville law firm of Barnett, Bugg, Lee & Carter, where Lee's father, A.C. Lee, her primary model for Atticus Finch, and her sister Alice both practiced.
Since 2006, the year in which she graduated from law school at the University of Alabama and began work there, the firm has borne Carter's name. Alice Lee, long her little sister's advocate and attorney, as well as closest family member, died in November 2014 at 103. Carter, who has not spoken to the press to date about the new novel, was profiled on February 4 by the Wall Street Journal's law blog.
Madeleine Davies, on February 3, didn't mince words in warning readers to "be suspicious of the new Harper Lee novel," noting Lee's "publicity-shy character" and failing health since a 2007 stroke. On the same day, Megan Garber wondered why Lee should so suddenly after her sister's death, and in contradiction to what she'd done all her life, decide to approve the novel's publication: "Why end the silence? And why do it now?" A February 4 story by local Alabama reporter Connor Sheets is distressing. In it, he writes that people who have know Lee for years say she never wanted her second book to be published while she lived, "as she wanted to avoid the limelight in the twilight of her life."
That employees and residents of Lee's assisted-living facility, Meadows of Monroeville, reportedly cannot speak about her "without prior approval by Carter," and that the woman at whose restaurant the Lee sisters were wont to have lunch accuses Carter of keeping Lee away from her friends "in order to manipulate her." Hadley Freeman's reminder that "Lee wanted this book, which she wrote before Mockingbird, to be published originally," is a rare voice against a growing chorus of questioners. On February 5, the Wall Street Journal reported that HarperCollins (like the WSJ, owned by NewsCorp) had released another statement from Lee in which she proclaimed herself "happy as hell with the reactions of Watchman." This statement was reportedly also supplied by Carter, who did not respond to the WSJ's calls and emails seeking confirmation of same.
Oprah Winfrey, in 2010, tried to convince Lee to be in a documentary for To Kill A Mockingbird's 50th anniversary. In declining, Lee told Winfrey, "If you know Boo, then you understand why I wouldn't be doing an interview, because I am really Boo." If Nelle Harper Lee wants Go Set A Watchman to be published, I wish the book godspeed, and long to read it. If this proves not to be the case, however, Lee herself spoke long ago as to what that would be like:
'To my way of thinkin,' Mr. Finch, taking the one man who's done you and this town a great service an' draggin' him with his shy ways into the limelight -- to me, that's a sin.'" Scout understood, too: 'Well, it'd be sort of like shootin' a mockingbird, wouldn't it?'
All quotations from the novel are © Harper Lee, To Kill A Mockingbird (Lippincott: 1960).