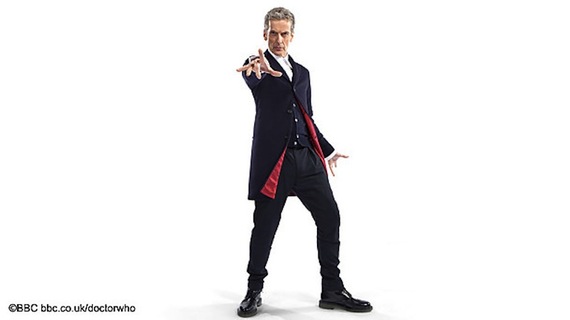 Peter Capaldi as Doctor Who, photo via and © BBC bbc.co.uk/doctorwho
Matt Smith's professorial getup and bow tie, and David Tennant's floppy coat, spectacles and "sand shoes," are things of the past. On January 27, the BBC revealed Peter Capaldi's individualized sartorial style for his role as Doctor Who, and the Twelfth Doctor's "new look" was the top hit that evening on the network's Entertainment and Arts site.
Capaldi is rather resplendent as the Doctor, in a navy-blue Crombie coat and trousers, white shirt and black Doc Martens. His dress is evocative of both English classics and Scottish heritage. Crombie advertises the Crombie coat, with its distinctive pinkish-red lining, as "a timeless classic evoking the very best of Britishness." Timeless for a Time Lord -- the same classy coat worn by Cary Grant and Noel Coward -- is a nice call by costume designer Howard Burden. Also, a coat created by a 200-year-old company that got its start in Aberdeen is a happy nod to Capaldi's having been born a Scot in Glasgow in 1958.
The Doc Martens are genius. With their German design and English manufacture, Doc Martens were made for factory workers, postal service mail carriers and men who worked on their feet. In the early 1960s, they were adopted by English skinheads -- from whom punk rockers and wannabe cool kids around the world then picked them up. They have defined rough, cool rebels wanting to make a statement with their feet for Capaldi's lifetime. In the London store in Covent Garden, I saw this month that Docs come in many fabrics now instead of the original, thick leather, and their steel toes have given way to fake-fur linings and glitter-painted patterns. Capaldi's Docs are the real thing: Proper bovver boots in gleaming black, almost clownishly big and boxy, suitable for clumping enemies underfoot, though not exceptionally good for running from trouble. Evidently, Capaldi will be apt to stand and face it.
Talking about his character and costume, Capaldi struck an appropriately in-your-face note. "He's woven the future from the cloth of the past. Simple, stark and back to basics. No frills, no scarf, no messing, just 100 per cent Rebel Time Lord."
We'll see whether the clothes make the man when the new series of Doctor Who airs later this year. Until then, I have very fond memories of that scarf -- worn, of course, by the truly eternal Fourth Doctor, Tom Baker.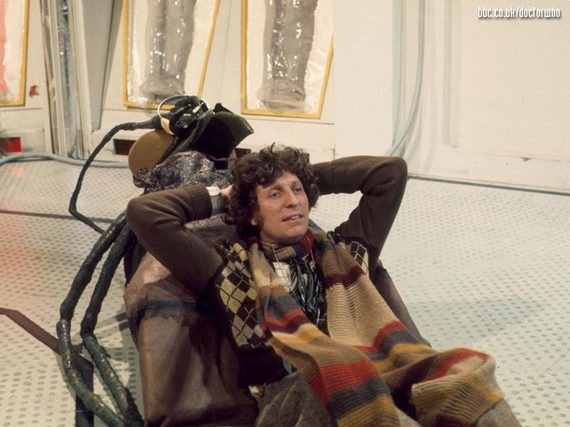 Tom Baker and his scarf, via and © BBC bbc.co.uk/doctorwho