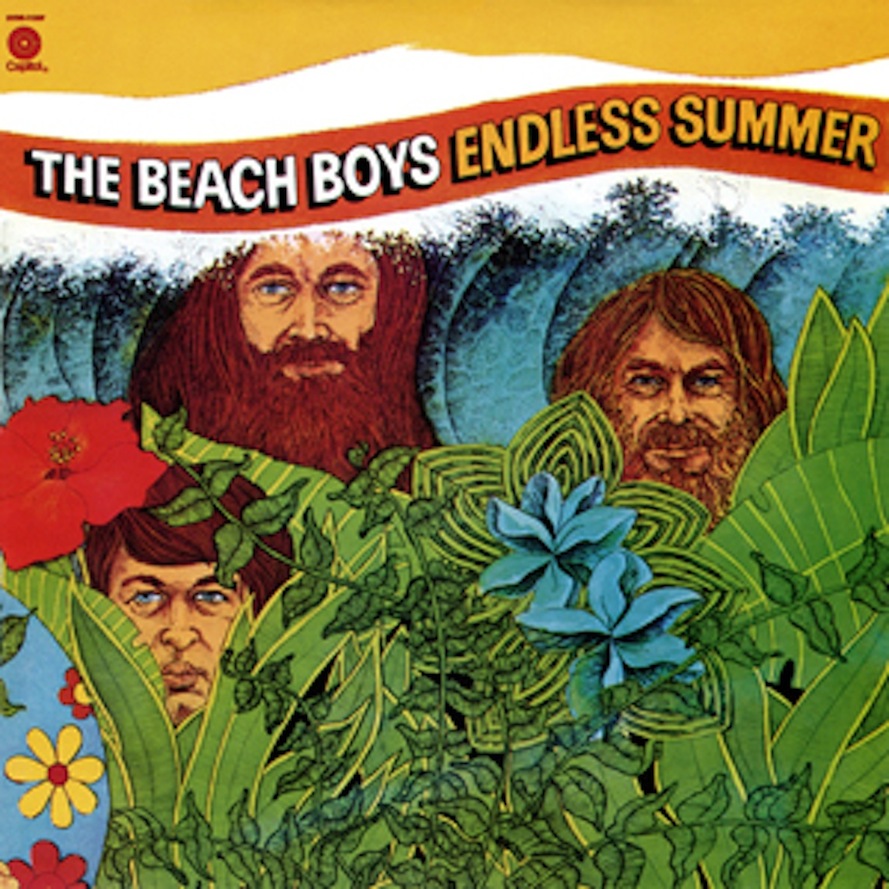 The Beach Boys, "Endless Summer" (1974). ©Capitol Records
It's August. One more month of freedom -- if that -- before all levels of schools begin again. One more month for jobs to give way to a precious week or two, or even a long weekend, of summertime. What live music shows will make you think summertime? Here are some choices from across the country.
Big music festivals are, of course, the way to hear as much music as you possibly can in a limited amount of time. If you were in Chicago this past weekend, you had Lollapalooza. The Cure, Queens of the Stone Age, Nine Inch Nails, Lana Del Rey, Mumford & Sons, The Lumineers, Vampire Weekend, Cat Power, so many more musicians and bands. Enough, perhaps, to hold lucky Windy City dwellers for the rest of the summertime. It's not even remotely the same, but the 2013 webcasts will show you why you should mark down this festival for next year.
This coming weekend, beginning on August 9, Outside Lands happens in San Francisco. Come for Paul McCartney, the Yeah Yeah Yeahs, Willie Nelson, Red Hot Chili Peppers, Camper Van Beethoven, and many, many more.
Jimmy Buffett. Really, what says summer like "Margaritaville?" Buffett and the Coral Reefer Band continue their summer tour on the east coast, in Washington, D.C. and at the perfect summer venue of Wantagh, NY's Nikon Theatre at Jones Beach. There are a slew of good shows coming up at the theater in August. If you're in the New York City area, head out early and bring your bathing suit -- then walk straight from the beach into the show.
Beyoncé's "The Mrs. Carter Show World Tour" concludes tonight at the Barclays Center in Brooklyn. Go for the spectacle, the talent, and the delighted crowd vibe.
Like beards, reverberating guitars, and the 1983 Top Ten ode to "Legs"? ZZ Top are rolling through the West and Midwest in August, with a string of dates at the DTE Energy Music Theatre in Clarkston, Michigan. Kid Rock headlines.
The Black Crowes and Jackie Greene. The Crowes have been rocking, with a couple of breaks, since 1989. The Atlanta-born band's reunion tour lineup for this summer features the superb young singer-songwriter-guitarist Jackie Greene, who has played with Phil Lesh, Gov't Mule, Levon Helm, Buddy Guy, and Los Lobos while keeping on with his solo career. During August, catch them up and down the East Coast and Midwest, often with Tedeschi Trucks Band.
Following in the footsteps of Bob Dylan, Willie Nelson, Madonna, Paul McCartney, Bruce Springsteen and many other contemporary musicians, Jay Z and Justin Timberlake are playing a series of summer shows in ballparks. Their "Legends of the Summer" venues in August include Fenway Park, while the Red Sox are away in Kansas City on the 10th and 11th; you can also hear them indoors, if you must, though just think how much fun a ballpark concert will be.
Phil Lesh and the Terrapin Family Band -- featuring Lesh's sons Grahame and Brian -- play regularly at their home base, Terrapin Crossroads, in San Rafael, CA. They come to New York for three dates at the end of the month at Sullivan Hall. On Saturday, August 31, enjoy a Labor Day weekend cruise around Manhattan with Phil and the band.
A smaller show, from a fiercely professional and gifted musician, comes from Steve Forbert. He resumes his summer tour at the end of August with two dates in Kentucky, and comes to Woodstock, NY to open the Midnight Ramble at Levon Helm's home studio on August 31. Labor Day Weekend in the Catskills: think about it.
And after August has come and gone, after autumn sets in and cooler weather and harvest time make most of the country look ahead to winter, there's one place where summer remains. Endless summer reigns, and it never rains, in southern California -- or so the songs tell us. The Beach Boys have stood for, and sung, America's summertime since they formed in Hawthorne, California in 1961. Their harmonic perfections reaching toward the skies, their anthems of surf and sun, coupes and California girls, are a tremendous part of the season's soundtrack of the past half century.
Currently, two bands featuring members of the original Beach Boys are touring, as Mike Love retains the name "The Beach Boys" after a well-publicized change in lineup in 2012 (did Love fire Brian Wilson, Al Jardine, and David Marks from the band? Love denies it; Wilson and Jardine felt it, though). During August, you can hear Love fronting The Beach Boys in Michigan, Ohio, New York, and New Hampshire.
The music continues, too, from the man who wrote or co-wrote all the Beach Boys' dozens of top 40 hits, arranged those songs, and provided the high tenor line of the group's purest harmonies -- and the heartbreaking leads on "In My Room" and "Caroline, No." Brian Wilson is back onstage this summer and fall, behind his big white grand piano and on guitar with fellow Beach Boy Al Jardine. I heard them, with David Marks and a terrific band, in Atlantic City on the first night of their tour. If you are lucky enough to live in LA, Wilson, Jardine and Marks will be at the Greek Theatre, with Jeff Beck, on October 20. Come on and safari.