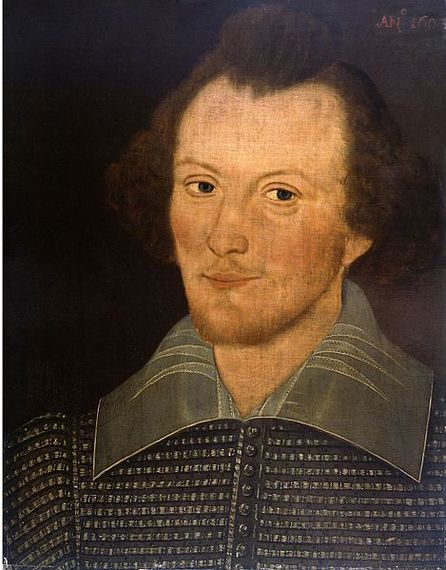 The Sanders Portrait of Shakespeare, 1603 (Canadian Conservation Institute).
How can any of us find the words to wish a happy 450th birthday to the single most significant, elegant, funny, wise and human writer ever to use the English language? That's what I, and countless others, have thought and think of Shakespeare.
Festivities honoring his birth -- ironically celebrated on the day of his death, too -- are galloping apace this week, at The Globe and all around the globe. He was baptised at Holy Trinity Church in Stratford-upon-Avon, where he is now buried, on April 26, 1564. Chances are the 23rd was indeed his birthday, but as it's also his deathday, and the saint's day of England's national saint, George, the popular choice to call it Shakespeare's birthday was easy. Like so much of Shakespeare's life, his birthday remains flexible, mysterious, open to interpretation as well as celebration.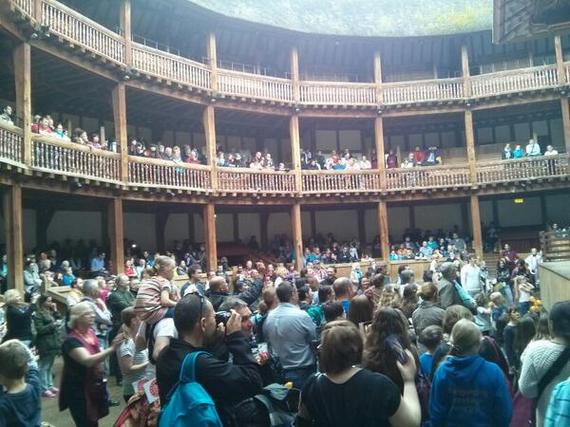 Shakespeare's Globe full of birthday partiers, via Shakespeare's Globe on Twitter
The Shakespeare Schools Festival has been helping schoolchildren to stage Shakespeare's plays throughout England all year. Other organizations have been preparing for, and eagerly anticipating, the birthday itself. On Easter Monday, April 21, Shakespeare's Globe in London had an all-day birthday party for their parent and original. Built near the site of his own Globe theatre, which burned down during a performance of Shakespeare's Henry VIII in 1613, Shakespeare's (new) Globe is a magical place to see a play -- even when one stands outdoors, exposed to the rain and audience participation in the show, as a groundling. Their free Family Open Day drew huge crowds to the south bank of the Thames, where people enjoyed scenes from Shakespeare, played Pin the Ruff on the Bard, laughed at a Punch and Judy show, and, of course, ate cake. In Stratford, the Royal Shakespeare Company are currently putting on 1 Henry IV. This week, they do so to the accompaniment of fireworks, workshops from stage fighting to Shakespearean speaking, and, of course, cake. The Folger Shakespeare Library in Washington, D.C. celebrated earlier in the month with quill pen writing, Elizabethan crafts, a scavenger hunt, sonnet recitations -- and cake, cut by Queen Elizabeth I.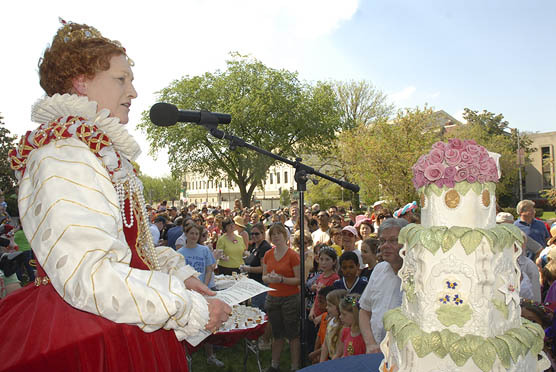 via folger.edu; photo by Claire Duggan
Theaters in New York are celebrating, from Elements Theatre's Shakespeare weekend to the WorkShop Theater Company's annual Will-A-Thon. In Paris, go to Shakespeare 450, where performances, film screenings, and historic tours fill the week and coming weekend. In May, the Asian Shakespeare Association holds its inaugural conference in Taipei.
See a play by Shakespeare tomorrow. That's the happiest way to celebrate -- with, as Hamlet says, words, words, words. If you're not in a town where one of his plays is on, read a scene or a sonnet. You can also enjoy one of the thousands of filmed versions of his plays, in its entirety, or choosing a scene -- or performer -- you want to see. In honor of Bardday, here are a few suggestions.
Complete films:
Laurence Olivier, Othello (1965), for the National Theatre/Warner Brothers. With Maggie Smith, Derek Jacobi, Frank Findlay, and Joyce Redman. Full film of production (with Russian subtitles!).
Kenneth Branagh (producer), Twelfth Night, or What You Will (1988), With Frances Barber as Viola.
Twelfth Night (1969). With Alec Guinness, Ralph Richardson, and Joan Plowright. ATV/Midlands.
The Tempest (2010). With Helen Mirren as Prospera.
Selected scenes:
Ben Kingsley as Feste concludes the glorious Trevor Nunn film version of Twelfth Night (1996). With Toby Stephens Imogen Stubbs, Richard E. Grant, Nigel Hawthorne.
Anthony Hopkins as Titus Andronicus, Titus (1999).
Laurence Olivier as Orlando, As You Like It (1936). With Elisabeth Bergner, Felix Aylmer and Sophie Stewart.
Laurence Olivier begins Richard III (1955).
Ian McKellen begins Richard III (1995).
Helen Mirren as Hermia, Diana Rigg as Helena, A Midsummer Night's Dream (1968). Directed by Peter Hall.
Laurence Olivier, "once more unto the breach," Henry V (1944). The wartime film version of a wartime play, ending with Henry's cry of "God for Harry, England, and St. George."
Sean Connery and Zoe Caldwell in Macbeth (1961). CBCTV.
Hamlet's greatest hit, Act III, Scene 1, "to be, or not to be," which may, or may not be, a soliloquy:
Laurence Olivier, Hamlet (1948). With an M. C. Escher-influenced Elsinore.
Richard Burton, Hamlet (1964), from the Broadway production directed by John Gielgud, with Linda Marsh.
Christopher Plummer, Hamlet at Elsinore (1964).
Kevin Kline, 1990. New York Shakespeare Festival/PBS.
Kenneth Branagh, Hamlet (1996). With Kate Winslet, Derek Jacobi, Richard Briers.
Colin Firth, 2010. From The King's Speech, with Geoffrey Rush and Helena Bonham Carter.
David Tennant, 2010. Royal Shakespeare Company/BBC Two.
A few of my personal favorites:
Peter O'Toole recites Sonnet 18, "Shall I compare thee to a summer's day?" Venus (2006). With Jodie Whittaker.
Helen Mirren as a delighted, radiant Rosalind/Ganymede, As You Like It (1978). With Angharad Rees and James Boland.
Kenneth Branagh, the St. Crispin's Day speech, Henry V (1989).
Anne Margaret Daniel 2014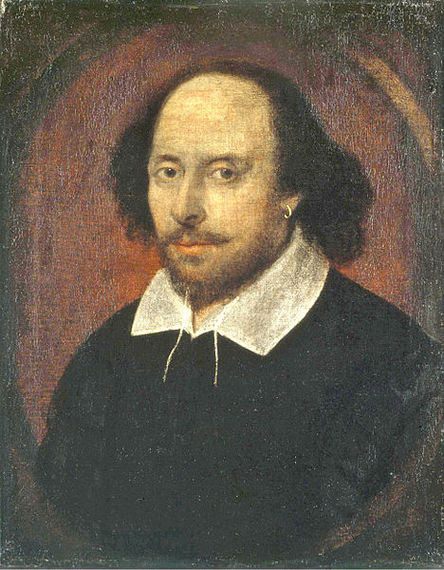 The Chandos Portrait of Shakespeare, c. 1600-1610 (National Portrait Gallery, London).