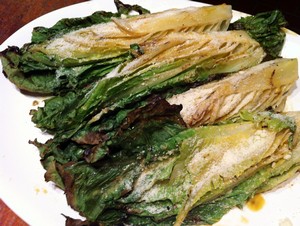 This weekend, the Accidental Locavore finally got back in the kitchen. Time to play with some recipes and ideas I'd been kicking around; some of which, like this grilled Caesar salad, for a while. This is really easy and if you want to make it even easier, you can use your favorite bottled dressing. I decided to make my own, which was a big hit. This started out from a recipe in the New York Times, but then I skipped half the steps...
• 3 anchovies, finely minced
• 1 large garlic clove, peeled and run through a garlic press or very finely minced
• 1 egg yolk (I used a jumbo egg, if you have smaller ones, you might want 2)
• 1 tablespoon Dijon mustard
• 1/3 cup good olive oil
• 1 tablespoon lemon juice
• 2 teaspoons Worcestershire sauce
• Salt and pepper to taste
• 1 head romaine lettuce, quartered the long way and gently washed
• 1/3 cup grated Parmesan cheese
Light the grill.
Mash the garlic and anchovies together to make a paste. I use a 2-cup measuring cup for this but a small bowl would work fine. Add the egg yolk and mustard and whisk well. Still whisking, slowly add the olive oil in a thin stream. The dressing should start to emulsify. Continue whisking and adding the olive oil until it has reached a fairly thick consistency (it should be like a thin mayonnaise). Beat in the lemon juice and Worcestershire sauce, taste and add salt and pepper and more oil if necessary.
With a pastry brush, brush the romaine quarters with the dressing on all sides, making sure to get it between the leaves. Lightly grill the lettuce on all sides, about 15 seconds on the back (leaf side) and 20-25 seconds on each side, until it starts to brown. Brush with the remaining dressing, sprinkle with the Parmesan cheese, cover and grill for about 30 seconds until the cheese has started to melt (you want to cook the leafy side (the back) a little less than the sides, so that when you put the cheese on to melt you're not burning it). Serve and enjoy!
My verdict: this was a surprising hit! Recently, there have been lots of recipes for grilling salad, but I was a little skeptical... who needs to cook lettuce, when it's so good cold and crispy? We made this for friends for dinner and it was so good, we went back out, bought more romaine and made it the next day for lunch. There is something so good about the warm, almost charred outsides and the cool, crispy interior. Definitely worth a try!
As I was writing this, I realized that anchovy paste would probably be a great substitute here for the minced anchovies, but you do need anchovies! The first batch of dressing I made with minced garlic, then I got wise and used the garlic press. You could sprinkle croutons over the grilled lettuce if you wanted, but trust me, no one will miss them.