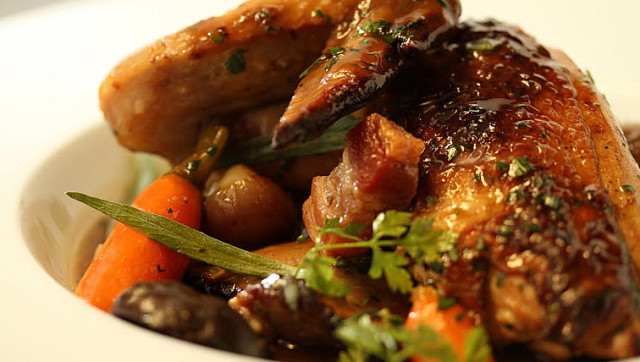 Do you suffer from fear of roasting? Not to worry, for 2013 the Accidental Locavore will cure you of it and roasting will become one of your go-to meals for company, or even a dinner for a busy day.
To begin with, you will need a few critical pieces of equipment (listed in order of importance):
1. An oven: if you've been using this as storage, remove all occupants and see if you can turn on the oven. If not, skip the rest of this and call for take-out.
2. A roasting pan: you can substitute the broiler pan that probably came with your oven or a big Dutch oven or cast iron pan. Size will dictate what you can cook.
3. An instant-read thermometer. This will insure that everything you cook comes out fine. There are many models to choose from. I just use a simple cheap dial model.
4. A good piece of meat. Rack of lamb, leg of lamb, a whole bird (chicken, duck, turkey), roast beef, pork roast, etc. Chicken, duck or lamb are good to start with. They're easy, not terribly expensive and generally forgiving. Because the meat is the star of the meal, once you see how easy this is, buy the best you can afford.
5. Spices: Kosher salt and freshly ground pepper are a good start. Maldon salt or a good sea salt is the next step up. Garlic is always good and if you have fresh herbs or a favorite spice mix/rub use it!
6. A rack, preferably a V-shaped rack. This is actually an option - think of it as roasting 1.2, but it will come in handy.
7. Oven mitts: don't want to burn your hands pulling the pan out of the oven
8. A baster and/or a brush: This is also roasting 1.2 but I have faith you'll be there before February.
9. Olive oil, butter or melted butter: Gotta have something to do with #8, right?
10. A timer: doesn't matter if it's on your stove or smart phone, just make sure it's loud enough that you can hear it. Obnoxious helps too. Mine keeps making noise until you get up and turn it off.
Roast it:
• Remove the meat from the fridge.
• Make sure oven racks are in the middle of the oven and you have enough room for the roasting pan and its contents. If not, lower the rack until you do. Preheat the oven to 350° (250° if you're doing duck).
• While the oven is heating, pat the meat dry with paper towels. Salt and pepper liberally (i.e. use more than you think), inside and out.
• If you're using a rack or just the top layer of that broiler pan (the one with the holes) you might want to give it a quick spray of Pam or a light rub of olive oil (makes clean-up easier).
• Place your meat on the pan and put it in the oven. The length of time your meat will need to cook depends on the size of your roast and how well cooked you like your meat. This is where the instant-read thermometer will save the day! Click here for a handy chart and remember to always stick the thermometer in the thick part of your roast (for chicken it's the thigh).
• When the meat is cooked to your liking, remove it from the oven and let it rest for at least 10 minutes. This is not about torturing you or your guests, it's about letting the juices re-circulate, making the meat tender and juicy.
• Carve, serve and enjoy!
See, wasn't that easy?