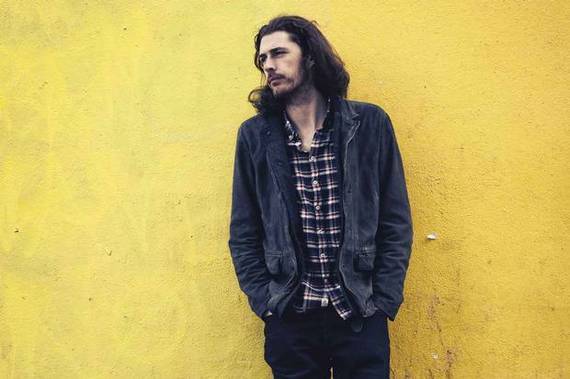 Irish born musician Andrew 'Hozier' Byrne's self titled album Hozier was released by Columbia Records two days ago, but nearly every stop on his US tour is sold out already. It's easy to understand why. Although I only discovered Hozier a month ago, his music makes me feel as if I knew who he was with every step that I ran to him.
The first time I heard Hozier's song "Take Me To Church" I was turning onto my street during the last moments of what I thought was a mundane routine commute, but my soul would not let me turn my car off until the tune on the radio finished speaking to it.
There is charmingly familiar and sometimes flawed richness in Hozier's soulful ballads. If I had to describe stylistically who Hozier's parents are, I would say he is the sage love child of Adele, Aretha Franklin and the late Johnny Cash.
According to Billboard, Hozier was born on St. Patrick's Day to a blues musician father who introduced him to the influences of Leonard Cohen, John Lee Hooker and community choral singing. Given Hozier's current popularity, I imagine his mother is not only the proudest mum in Wicklow, but also glad now that her son never took seriously any conventional wisdom to get a "real job" in carpentry after he dropped out of Trinity College to chase his dream.
The entire album is like a vacation from your real life that transports you back to that time in college when you fell for that mysteriously quiet, yet awkwardly sweet kid who brings his guitar everywhere and sits in the back of every class. There is nothing simple about the naïvely honest lyrics of Hozier's songs, but the clear and concise way that he has managed to fashion the sounds of his various guitars make the entire album as addictive as your first love to listen to.
You fall in love with Hozier listening to the optimistically light, catchy song "Someone New" because you probably wouldn't find a guy like Hozier down at the pub with the boys watching a football match. Perhaps when he's not playfully horsing around in your bedroom, he's in his parent's garage perfecting a song to impress you.
"From Eden" is delicious because it was almost certainly written by a guy who doesn't have time to shave or get a haircut, he doesn't remember your birthday, but you know he loves you because he spends 18-hours a day practicing and perfecting the songs he has written about his affection for you and the quirks you didn't know you had.
The song "Cherry Wine" reminds you of the sometimes emotionally addictive and stormy nature of your relationship. You know that the end of the affair will come with graduation because (a) you can't compete with his love for music, (b) your parents convince you that busking on city streets is no way to support a family. In other words, you underestimated him, but it doesn't matter because talent like that has no time for you.
"Take Me to Church" reminds you of how Hozier convinced you to come back the first time you broke up with him before he was ready. It speaks to the inherent purity and righteousness of true love that is easily ruined by the judgments of vicious pessimists.
According to an interview Hozier gave the Irish Independent, he actually wrote this song about the dangers to society of buying into the hateful mantras behind the injustice facing so many LGBT couples in Ireland and Russia.
Although you can't break up with a guy like Hozier until HE'S ready to let go, the song "It Will Come Back" explains how this free spirit will likely linger outside your apartment late at night begging for comfort if you give him any encouragement whatsoever after it's over.
You know you underestimated the polite, soft spoken boy from Bray when you notice his songs about you have gotten more than 2 million hits on YouTube. But if you ever did want to see Hozier play live, good luck, as his show in Dublin last spring sold out 45 seconds after the tickets were released.
Hozier's music will linger in your head long after he exits your life, and you will beg him for more after the album is over. Although I'm not a big concert person, I was heart broken to discover Hozier's Boston shows on October 31st and even March 2015 are sold out -- as is pretty much the case with his entire tour. Nonetheless, I still fall in love just a little oh little bit every day with Hozier;)