Since 9/11, there are very few stories in the news about Afghanistan that illustrate the progress and the asset to the world community that this small land locked country has become. This week Mustafa Yasa, director of foreign relations for the Municipality of Kabul, has joined me in writing this column to share with readers the positive changes and progress he has personally witnessed in Afghanistan. We also share with you the hopes and concerns expressed by participants at the 8th Annual U.S.-Afghanistan Business Matchmaking Conference (BMC) 2012 we attended last week in Washington, D.C, sponsored by the Afghan-American Chamber of Commerce (AACC).
Afghanistan Today
Afghanistan civilization is rich with culture, spanning back as far back as the Middle Paleolithic era. In 2001, Afghanistan was reborn as a post-Taliban modern society that is learning to fit in an international diplomatic and business community. Afghanistan's current "donor economy" status means that the local government sustains itself with the assistance of the other countries and private foreign investors.
Yesterday's "rebels" are today's newer, younger generation of legitimate political and business leadership who will continue to transform the country from a post-conflict society to an active player in the global economy. For example, during the war, Mr. Abdul Hadi Khalid fought against Taliban, but now runs a successful construction company (Sediq Now Bahar Construction Company) that has become a key player in the redevelopment of Afghanistan.
The progressive face of the new leadership, positive influence, and increased marketability that local media outlets such as TriVision have brought to Afghanistan could be seen in the way that people dressed at the conference. Media and Internet has brightly changed the face of Afghanistan in the past ten years. The Ministry of Communication and IT (MCIT) reports that recently, approximately two million Afghans became connected to the internet, and the World Bank estimates that five million will be connected to the web by 2016. USAID reports that since 2003, the $1.5 billion invested in Afghanistan's telecom industry has resulted in the addition of over 100,000 jobs to the local markets. All of the men at the AACC conference wore suits and ties, which even a year ago may have resulted in death threats for the Afghan businessman who stepped outside of the local traditional dress. Under the Taliban, women did not go to school or hold prominent positions in the business community, yet all of the participants welcomed the participation of the few women present.
Since the Americans arrived in 2001, the Afghan economy has grown from zero to 1000, and this prosperity has immensely improved the quality of life for the people who live in the region. For example, more families than ever now own cars. Investments in small business development at the provincial level have grown local economies, transforming once remote rural villages into prospering urban areas. Electricity and running water now reaches very remote areas previously without these basic services.
Infrastructure improvements to the roads and transportation systems mean that local farmers are able to send their fruits and vegetables into urban markets to make money for their families. This additional income means that some Afghan families are able to send their children to study abroad, and that families who were never expecting such a comfortable life can dream bigger than their parents dared to.
Growing World Investment in Afghanistan
"2014 is not the end. This is a new dawn in Afghanistan" said Keynote Speaker U.S. Secretary of Transportation Ray LaHood when speaking about U.S. plans to reduce the number of troops in Afghanistan to 10,000 U.S. soldiers by 2014. When introducing Secretary LaHood at the podium, former Pennsylvania Congressman and current AACC President and CEO Dr. Donald Ritter energized the crowd by stating the importance of LaHood's cabinet level interest in Afghanistan's future.
International corporations have begun making large investments in the region. Sadat Mansoor Naderi, chairman of the Afghan Gold and Minerals Company believes that the mining industry is a promising, long-term source of economic growth and stability for the region after 2014. The value of the Aynak copper mine, Sheberghan gas fields and Ghazni lithium mines have been estimated to be as much as $3 trillion. For instance, the Aynak copper field alone has created over 1000 local jobs. Joji Tokeshi, country director for the Afghan Resident Mission, Asian Development Bank also outlined more than $1.9 billion his organization has invested in the country's transportation system, $700 million in developing energy, power, and gas systems, and more than $500 million spent on natural resources development.
In his speech, Secretary LaHood outlined the importance of a thriving transportation system in a global market where goods and services need to move around. Safi Airways is now the country's only UN-approved international airline. Previously, post-9/11 airline industry blacklisting meant there were no airlines approved by the EU to provide flight services in the country. However, the airline industry has grown more than any other business in Afghanistan, successfully connecting the world to its borders.
Affirming this message, President of Supreme Group USA, Army LTG (Ret'd) Robert T. Dail spoke of his company's investment of over $250 million in transportation and logistics infrastructure in Afghanistan; it's spent nearly $650 million in transportation expenditures in the Afghanistan industry over the past decade. "Infrastructure exists today in Afghanistan," said Dail. "The question is what do you want to achieve with it moving forward?"
H.E. Noorullah Delawari, governor of Central Bank of Afghanistan says that strides made in Afghanistan's historically corruption-riddled banking and investment sector. Progress is demonstrated by the fact that since 2001, the country's GDP has tripled, reserve assets have increased by nearly $2 billion, and there are now 17 banks licensed and operating within the country.
However, Delawari says that lack of credit available for Afghan consumers in the Islamic banking system pose significant economic barriers to Afghanistan's economic future. Currently, most of Afghanistan's imported goods are prepaid prior to shipment Delawari says, and 90 to 95 percent of these transactions occur outside the formal banking system. In addition, Afghanistan is a landlocked region that remains dependent primarily upon Iranian and Pakistani corporations to transport imported and exported goods through the foreign ports of Islam Qala (Iran) and Karachi (Pakistan). While SMN Investments' emergence as Afghanistan's first insurance company is promising, these goods must still be shipped by foreign companies to Afghanistan over insecure, poorly maintained roads. Ambassador Thomas Miller said that while a world-class transportation system and infrastructure comparable to that in the U.S. is a long ways off in Afghanistan, USAID and the ABADE program have made strides in making that a reality. "The U.S. will continue to work together with Afghanistan to ensure safe food sources, roads, airports, and buildings become a reality," said Secretary LaHood, demonstrating the U.S.'s continued commitment to economic development in Afghanistan.
Everyone who attended the AACC conference left feeling energized and hopeful about Afghanistan's economic future. In Part 2 of this article, Mustafa and I look forward to sharing with you how we think Afghanistan can attract new sources of foreign private-sector investment and connect to markets abroad, while generating new resources, markets, and investment opportunities for the entire region.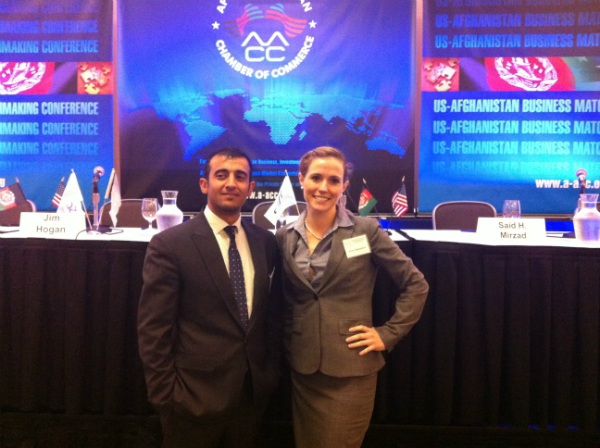 Mustafa and Anne at the AACC conference