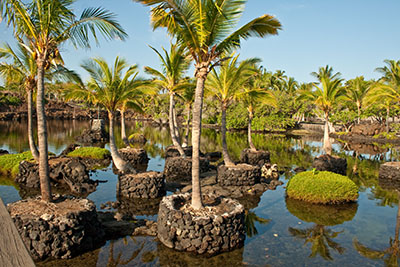 Images and video by ©Steve Haggerty/ColorWorld
You wouldn't have dared go eye-to-eye with King Kamehaha, not if you wanted to live another day. In pre-European Hawaii, even a glance at the royal face was taboo -- "kapu" in Hawaiian -- an offense punishable by death. If you were smart, you threw yourself to the ground and covered your head until the king strolled on by.
Not a modern royal by any stretch. But he did know how to pick a vacation spot. During King Kam's glorious reign, and for centuries before him, Hawaiian royalty -- the ali'i -- spent much of their time at the bay they called Kalahuipua'a, now known as Mauna Lani Bay, on the Big Island's Kohala Coast.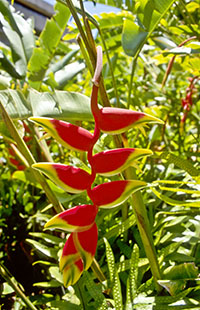 The bay, a natural supermarket, had white sand beaches and rolling waves for surfing, tasty sea turtles, lava reefs swarming with fish, cool caves, shady palm groves and ample fresh-water springs. Flowing down from the Big Island's volcanoes, the water burbled up at the site pre-filtered by the lava. Just what a king needed to build a chain of connected fish ponds. Dinner tonight, your greatness? Fresh mahi mahi on the bar-bee.

Today, the Mauna Lani Bay Hotel & Bungalows occupies a tiny patch of the original 3,200-acre site, built on 29 beach-front acres at the bay's north end. But 1,800 acres remain natural, designated as a historic cultural site and public park. Always on the prowl for hidden history, we asked the hotel concierge for their self-guided tour guide and map, "A View Into The Past." Don't let them tell you they haven't got it. It's at the desk, printed in sepia ink on sand-colored paper.
Marked signs pointed the way along the one-to-two-mile trail, which we followed heading south. Along the shore, we found a pair of green sea turtles (hono) sunning themselves, and beyond, sandy inlets between fingers of ancient lava flows. After a fork in the trail, we passed the fish ponds, 15 acres of brackish water refreshed by cleverly designed sluice gates, and other ponds with fresh water for drinking and cooking. A second fork turned inland toward a dense flow of lava and a group of shelter caves with tool-making sites.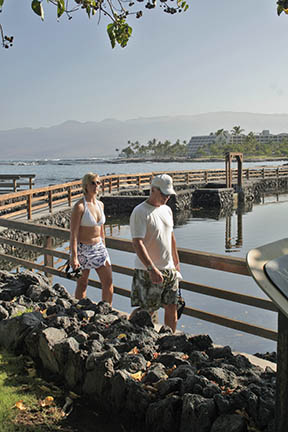 As the trail circles, you'll find yourself in a botanical garden, wandering past tropical plants and trees. These exotic species are curious but not original. They were planted here, together with native trees and shrubs, by Francis H. I'i Brown, a royal descendant and the property's last owner. You won't forget his name. The beachside restaurant at the Mauna Lani Bay Hotel bears his name. Eat there at sunset; the vies and the atmosphere is magical. The historic trail and the public beach are accessible from the hotel or from the public parking area located off the highway, south of the hotel and about three miles north of Kona International Airport.
Music written and performed by Grammy Award winning guitarist George Kahumoku Jr. and used by permission, courtesy of ©Kahumoku Slack Key Masters.