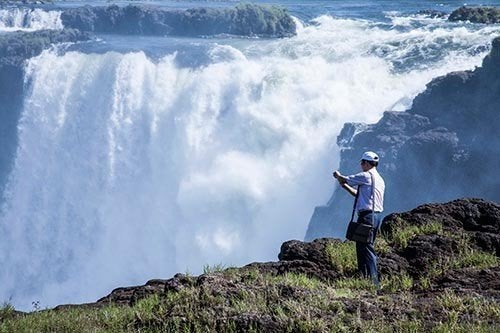 If you're a contrarian, you won't be surprised to hear that I traveled to Zambia recently and never once bothered to visit Victoria Falls. Betcha not one tourist in a thousand would get within a mile of this legendary force of nature and not dash like a gazelle to watch the Zambezi River, a frothy white curtain slipping over the rim, gush into the gorge below.
The Falls, on the Zambia-Zimbabwe border, are a long way from everywhere. You see them when you're there or not at all. But this time I had other plans in mind.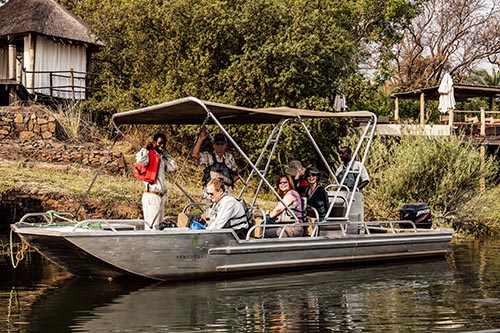 For one thing, Victoria Falls weren't really unknown to me. I'd seen them before, and not just once. Both times I followed a bus-load of tourists as they wandered along the opposite rim, and both times I inched up to the edge to peer down into the roiling abyss. Each time I came away overwhelmed by the water's raw power, glad to have seen it and grateful to be cooled by the clouds of spray that gave the Falls their pre-European name: "mosi oa tumya," or the "smoke that thunders."
It's quite a sight, even when you see it the way most people do: slotting a harried four-hour visit into the middle of a two-week trip. You see, if you're traveling between Johannesburg, in South Africa, and a safari destination in Zambia, you'll most likely change planes in the town of Livingstone, the main border crossing. A quick trip to see the Falls seems like a natural. Only later will you discover that the bush, in all its untamed splendor, starts just beyond the last street in town.
(To see more, click on the video below).
National parks and game reserves flank both banks of the Zambezi, the home of elephants, giraffe and their kin. If you take a second day here, you can add a wildlife game drive, the experience of a lifetime. My digs for the duration, Sussi & Chuma, a Sanctuary Retreat lodge perched on the Zambian (north) bank, booked the safari drive for me. But S&C is just one of many nearby inns and lodges, all happy and able to arrange guided historic town walks, Livingstone Museum visits, native village tours and craft market shopping trips.
But what really justifies a third and fourth day is the mighty Zambezi River, Africa's fourth largest river system and a recreation destination all by itself. Flowing from Angola on its way to the Indian Ocean, the river spreads out and slows as it approaches the mile-wide rim of ragged rock at the Falls, becoming a shallow lake with a dozen meandering and navigable channels.
Over the past decade, local outfitters have jumped into the tourist game, offering guided canoeing, white water rafting, kayaking and bungee jumping (yes, above the Falls!). Slightly more sedentary but just as popular are sport fishing for tiger fish (said to be a great fighter), nature walks, bird watching and the ubiquitous sunset cruises.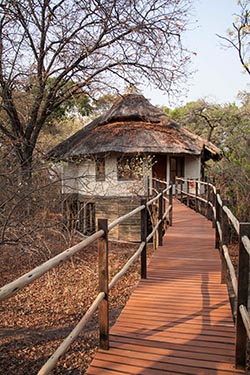 From my thatch-topped rondavel at Sussi & Chuma, built on stilts over a terraced hillside, I could see silver-grey vervet monkeys chasing each other in the trees. When the bushes below rustled, it was the neighborhood hippo, munching sticks and leaves. A full-service lodge, Sussi & Chuma's kitchen serves three meals daily, plus room service. The award-winning chef prepares better food than you could find elsewhere, a convenience because the town of Livingstone isn't known for fine food. The swimming pool and spa are on the next terrace below, near the sundeck, a scenic spot for lunch or for a happy-hour sundowner.
For my last evening I signed up for the sunset float, with our float trip guide Luckson Situmbeko, a Sanctuary naturalist. "You haven't seen Victoria Falls?" he asked, as we waited to climb aboard. "You know, it's a different experience every time you see it. Morning, evening, high water, dry season, the water falls never look the same."
Next time, I told him, with a pang of regret.
"Next time I'll see it. This is my last day here. But not my last trip."
Travel Blogger Anne Z. Cooke packs her bags in Venice, California. Images and video (c)Steve Haggerty/ColorWorld. Music courtesy of the staff at Sanctuary Zebra Plains Safari Camp, Zambia. For flights from the U.S. to Johannesburg and Livingstone, go to South African Airways, at www.flysaa.com.