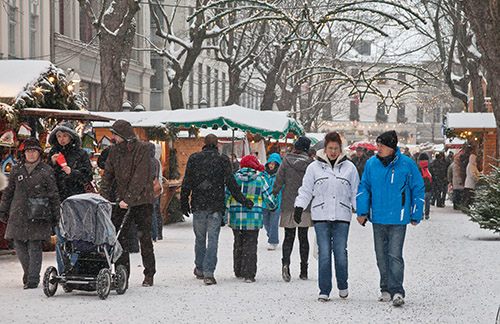 The holidays came early for me this year, no thanks to old Saint Nick. With visions of twinkling lights and sugar plums dancing in my head, I left California behind to cross the pond in early December, heading for Christmas markets in Dresden, Berlin and Weimar.
Long before Nick and his reindeer were due to appear in Los Angeles, I was already in wonder land, strolling Germany's historic city centers, enthralled by falling snowflakes and discovering that what they say is true. When it comes to celebrating Christmas the old fashioned way, nobody does it like Germany.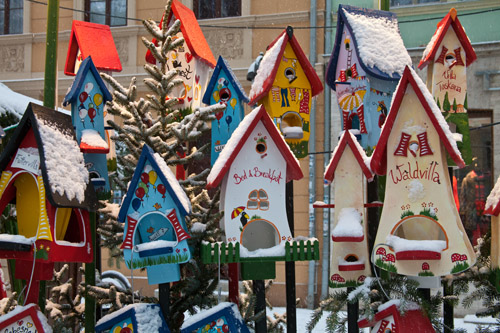 From north to south, courtyards and plazas in historic town centers are transformed, reborn as festive holiday villages looking much like the Saturday morning farmers' market near me: row after row of outdoor market stalls decorated with fresh garlands and laden with specialty foods, Christmas decorations and hand-crafted wares.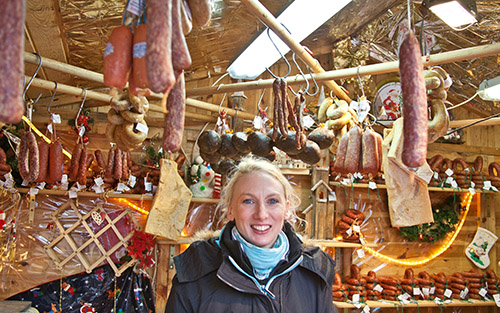 As twilight settles down over medieval streets -- and it comes early in these northern latitudes -- the lights twinkle on and holiday revelers, swaddled in thick coats, gather to stroll, gawk, shop and meet their friends for an evening's merriment. For me, that meant hours in the shadow of Dresden's restored Frauenkirche church and a snowy morning circling Weimar's doll-house-ready Market Square. In Berlin, where my hotel was two blocks from bustling Alexanderplatz, that area's Christmas market pulled me in on more than one evening. And at each market I found time to sample traditional holiday fare: a hot roasted bratwurst on a bun and a cup of "gluhwein" (warm mulled red wine).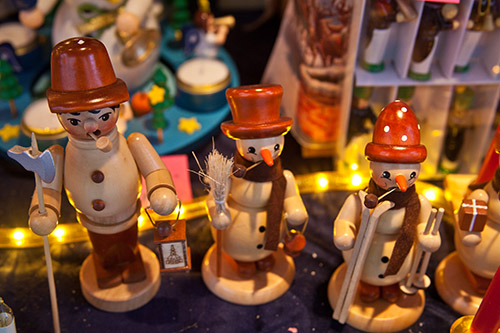 I didn't buy much. Carry-on suitcases impose unwelcome limits. But that didn't lessen the pleasure of wandering about among the rows of stalls, each piled high with handmade wood toys, carved winter scenes, blown glass ornaments, shiny glass icicles, sparkly stars, scented candles, gilded angels, knitted scarves, leather handbags, tiny painted dolls with round heads, nutcrackers, bird houses and Christmas "pyramids," their topmost windmill blades revolving slowly, turned by candle power. Food was there as well: fresh-baked Christmas cakes, fruity stollen loaves, frosted cookies, cheeses from all over Germany and dozens of sausage varieties.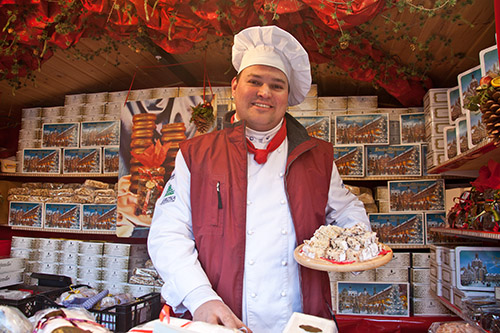 Despite the cold, with the thermometer often sinking below freezing, mothers in thick coats pushing baby carriages swaddled in blankets were as common as bakers with their loaves. And all around me, the world's languages and their owners drifted past, evidence that Christmas markets attract international visitors. Russian couples here, Turkish there, a moment of Italian lyric vowels and a French family outfitting their kids with wool mittens. A Spanish woman who thought I was German stopped and asked me for directions. Nor was I the only American. Familiar accents echoed Texas, Brooklyn and Tennessee.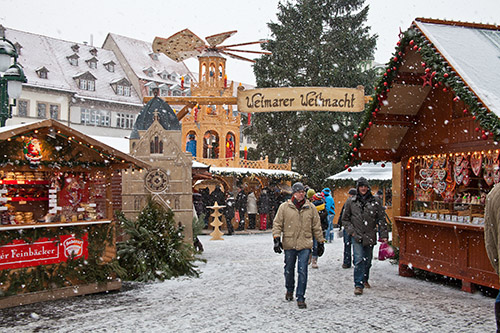 For Europeans, holiday visits to Germany are a popular weekend getaway. But even the overnight flight I took to Berlin on airBerlin (the airline) was comfortably short. A Philadelphia couple I met at a Bach concert at Dresden's Frauenkirche Church said they were spending their gift money on a holiday trip, an investment in a lifelong memory. Since it doesn't take much longer to fly non-stop to Germany than I would spend shopping for gifts and fighting the crowds at the always busy Beverly Center shopping mall, not far from my house, Germany is a tempting option. In any season, Berlin and Dresden offer unforgettable music, museums, festivals, theater and dining.
Though the success of the Christmas markets has encouraged towns to extend their holiday seasons -- starting earlier and in some cases, lasting until the New Year -- a trend that opens the way for commercial interests, the best old traditions survive. (Did late 19th century open-air markets really install Ferris wheels and Mickey Mouse toddler rides?) The butcher, the baker, the candlestick maker, all are busy, in demand and happy to talk to visiting writers. By the time you read this, Saint Nick and his reindeer will have reached my roof, left a gift and flown away, leaving me with memories of the special year when my Christmas came twice.