According to the Chinese zodiac, this is the Year of the Snake. But according to top chefs, it's hands-down the Year of the Boar. Formerly the obscure fare of hunters and fairy-tale characters, it's now popping up on urban menus everywhere. Can't rest so easy anymore, my wild porcine friend: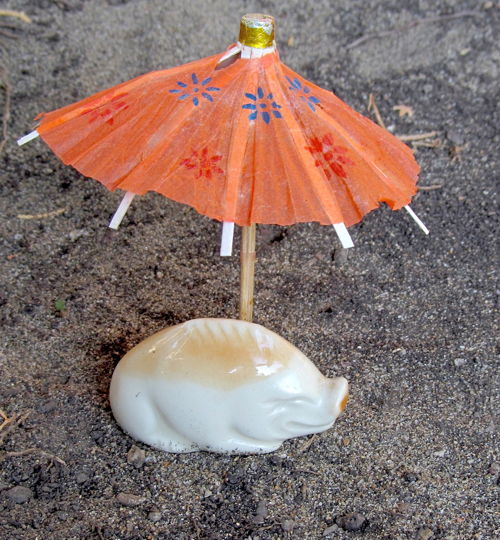 This trend hit me over the head during a recent party welcoming Stephane Tonnelier to his new executive-chef post at FIVE in Berkeley, CA. As trays of arancini appeared, a server identified them as containing wild boar.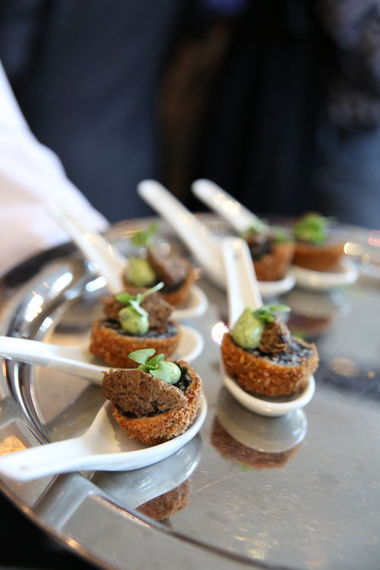 I was all, What?! So what's in that salad, macaw? But Parisian-bred Hotel Georges V veteran Tonnelier told me he loves going full-boar.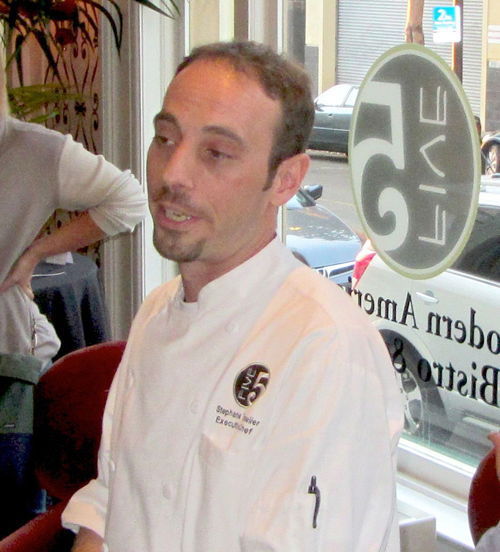 "Wild boar makes a flavorful alternative to domestic pork," he said, "and the meat is incredibly lean." Making a nice surprise for people accustomed to the mildness of commercial pork, "boar is similar but slightly sweeter and stronger" -- thanks largely to boars' fondness for acorns. "It is also a tad gamier, but I wouldn't consider it a gamey meat." As the winter weather sets in, Tonnelier happily anticipates making boar stew.
He's in good company. More and more chefs are buying boars -- ranch-bred, cross-bred with domestic pigs, or hunted in the wild.
"Every time I get a whole boar, I get really excited," said Sean Baker, award-winning owner-chef of Berkeley's Gather. "It's the pure expression of pork, with a very rich flavor quality. That's because these animals aren't confined. They're living on a lot of land and they can be really beautiful -- gnarly-looking, but beautiful.
"And each one is unique. We only use whole animals at Gather, and each boar looks a little different when it's cut, so I use that animal as my creative tool" in dishes such as this: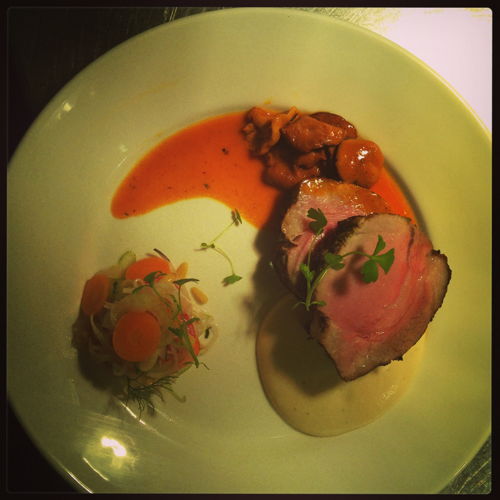 Baker has served boar terrine, grilled boar heart and braised boar jowls. He braises boar heads to make ragouts, which he serves under poached eggs. He makes boar sausage and boar-topped pizza. He marinates boar loin in koji, which is a key element in sake fermentation. He uses deep-fried boar ears as a garnish.
It's not just boars' flavor that's putting them on so many menus these days. It's also their message: Wild, fierce, inarguably ugly, famed since ancient days as one of the hardest animals to hunt, boars evoke mythology, heraldry and savagery. Their intelligent eyes resemble ours -- but dude, those saber-sharp tusks? They'd kill you if they thought they had to. Boars are as familiar as BLTs, yet alien: First brought to American shores by Spanish explorers 500 years ago, boars now run wild through the woods of many states, wreaking feral-pig havoc while spurring urban legends and, like much else that comes to America, becoming huge and dangerous. What could be more comfortably prehistoric, more sustainably shocking, more sliceably scary to jaded urban diners today than wild boar? It makes blood sausage seem so yesterday.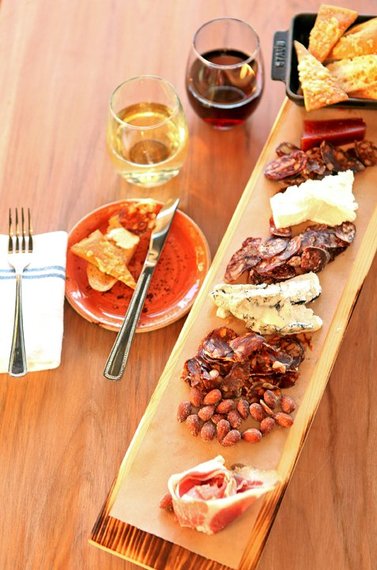 At Portland's Urban Farmer Steakhouse, Chef Matt Christianson serves an Oregon Mixed Grill featuring rabbit, quail, farina polenta, noccino and house-made wild-boar chorizo. At Denver's Kachina Southwestern Grill, Chef Jeff Bolton has served Texas boar croquettes, and currently serves boar sausage (depicted above) alongside speck, bresaola, dried Spanish chorizo and cheese. At Craigie on Main in Cambridge, Massachusetts, Chef Tony Maws serves wild-boar ragout and forest mushrooms over rye-flour casarecce pasta. At Portland's pan-Asian Departure, Chef Gregory Gourdet serves chestnut soup with squash dumplings, spiced maple-rice vinegar and wild-boar bacon that has been sautéed in garlic, ginger and jalapeños: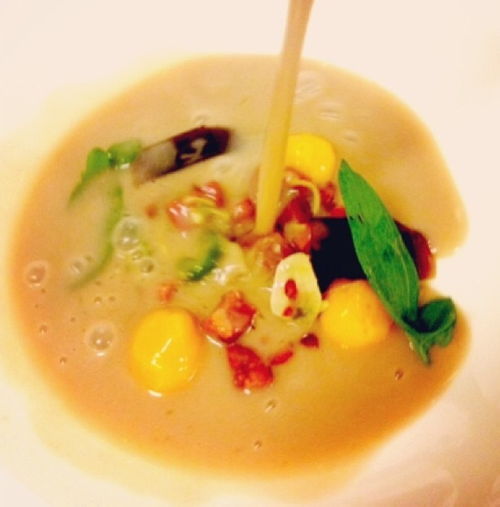 At New Orleans' Restaurant R'evolution, Chefs John Folse and Rick Tramonte serve a game pie including boar, duck and rabbit to celebrate Réveillon, the Creole end-of-Advent feast. At Midtown Manhattan's Brasserie 8 1/2, Chef Franck Deletrain serves house-made pappardelle pasta with apple-smoked bacon, mushrooms and wild-boar civet. The latter item is a traditional French ragout cooked with red wine, wild animals and those animals' blood.
Pappardelle pairs with boar -- roasted for fourteen hours in a wood oven -- at San Francisco's Palio d'Asti too: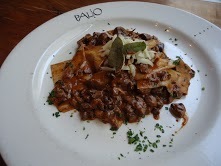 "For special dinners like our Palio di Siena dinner, we serve roasted loins of boar. We also butcher whole boars that have been hunted and prepare dinners using the entire animal," explains maitre d'/owner Martino Di Grande.
"Boar meat is resilient and takes flavors very well," he adds. "You can put it with food that is aggressively seasoned and instead of getting lost in the dish it holds its own and stands out with its own flavor.
"San Franciscans love anything sustainable. Boar is a renewable sustainable product. It has to be hunted in order to maintain the balance and protect farmland. If ever there was a morally superior animal to eat, it is wild boar."
Five years ago, boar was virtually absent from upscale American menus. But "Italians have been eating boar forever," Di Grande says, "and with so many people traveling to Tuscany -- a hotbed of wild boar cookery -- more Americans are becoming aware of it."
Cue a million jokes whose punchlines are: "Last night's dinner was a real boar!" and "I thought you said bore-fest."
"While pork is almost a blank canvas to which sweet flavors and fruit are very often paired," Di Grande adds, "boar is much more assertive. In its meat you can taste the diet of the animal and the life of the animal. From one cut to the next, you can see how much stress that boar experienced, through the robustness of flavor and texture."
At Oakland's Venga Paella, Barcelona-born chef-owner Eduardo Balaguer prepares boar paella as a wintertime specialty, braising boar meat with cumin, thyme, bay leaf, smoked paprika and fresh figs. Buying his boar from Northern California ranches, he remembers boar as a holiday favorite in the Spanish countryside, where the snouted creatures have been hunted for thousands of years on oak-dotted hillsides.
"The country people braise boar for hours to make it tender. They have to, because this is a 300-pound wild animal, so it tends to be tough -- really tasty, but tough."
He also notes that Spain, in which the ancient tradition of boar-hunting was only recently re-legalized, is now seeing the resurgence of pig-sticking: A favorite colonial-era pastime, this highly controversial sport entails racing on horseback after wild boars, striving to stab them with lances. The Pigsticking Club of Spain prides itself on a long heritage and international membership.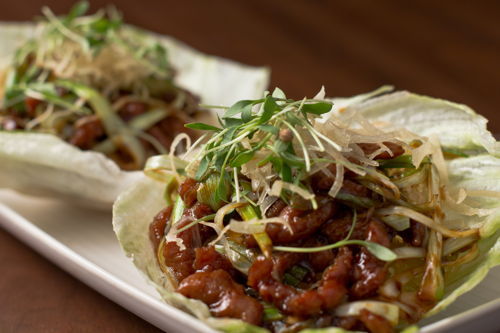 Native to Asia, boar is served at celebrity chef Martin Yan's M.Y. China restaurants in San Francisco and at tribally owned, 340,000-square-foot Graton Resort & Casino, which opens next week an hour's drive from SF -- in wild-boar scissor-cut noodles and wild-boar lettuce cups (depicted above). Insiders say boar was chosen above all other meats to give these dishes a richer, deeper, more memorable flavor than pork.
Chef Nicole Pederson recently added house-made boar prosciutto with red kuri squash, apples and chicharrones to her menu at Found Kitchen in Evanston, Illinois. Stewed wild boar is a small bite at Chicago's Filini: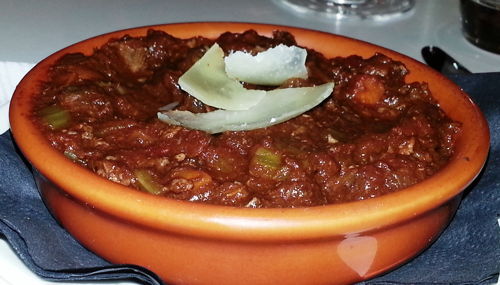 Wild-boar bruschetta and pasta with wild-boar sauce are served at Donato Enoteca in Redwood City, California. At Sausalito's new Fast Food Français, Chef-owner Olivier Souvestre and Chef de cuisine Ryan Kacanjar serve a BOS Burger comprising organic beef, St. Nectaire cheese, Béarnaise sauce and wild-boar bacon. WBB also goes into a wedge salad at F3 alongside walnuts, Fourme d'Ambert cheese, cherry tomatoes and crème fraiche. At the Penrose Room in Colorado Springs' Broadmoor resort, Chef Bertrand Bouquin serves spice-crusted wild-boar with roasted butternut squash, avocado, hazelnut and mole negro jus: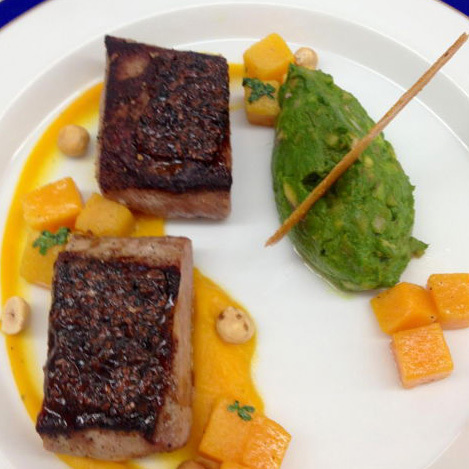 Chef Michael Guerra will serve wild boar chop at Havana Beach Bar & Grill in Rosemary Beach, Florida on Christmas Day.
This echoes the medieval English Christmas tradition of serving festively adorned roasted boar head, accompanied by a carol that proclaims: "The boar's head, I understand/Is the rarest dish in all the land."
Not anymore, it's not.
FIVE and ceramic boar images by Kristan Lawson. Gather image by Sean Baker. Soup image courtesy of Departure. Lettuce cups image by Marc Janks. Kachina image courtesy of Kachina. Penrose Room image courtesy of the Penrose Room. Filini image courtesy of Filini. All images used with permission.