Fernet Branca is the spiritous equivalent of the Emperor's New Clothes.
Originally invented as a medicine, this syrupy Italian liqueur is thick and brown and bittersweetly nasty, yet it's wildly popular in San Francisco. That's partly down to its Emperor's New Clothesiness, because once the city's cool cocktail crowd decided to "discover" FB a few years ago, refusing to rave over it (much less not to nod knowingly upon hearing its name) would mark you as uncool.
So everyone's riding that bittersweet brown bandwagon. At a sleek recent soirée launching the forthcoming food fest SF Chefs, folks lined up for Fernet Branca-rum-orgeat-Cointreau-lime snow-cones served by cocktail-food-truck outfit Derby Cocktail Co.
But the other force behind FB's popularity is the fact that as an amaro, aka a bittersweet herbal liqueur, it is arguably the worst member of a fantastic family: apéritifs and digestifs -- spirits ranging from vermouth to ouzo to Chartreuse that are traditionally sipped before and after meals to whet appetites and aid digestion. These lushly complicated liquids have been performing their enzymatic acrobatics in Europe for centuries. But with nasty Fernet Branca as their unlikely vanguard, these dry-to-wormwoody wonders are now popping up everywhere, attracting the kind of learn-about-me buzz that two years ago was all about beer.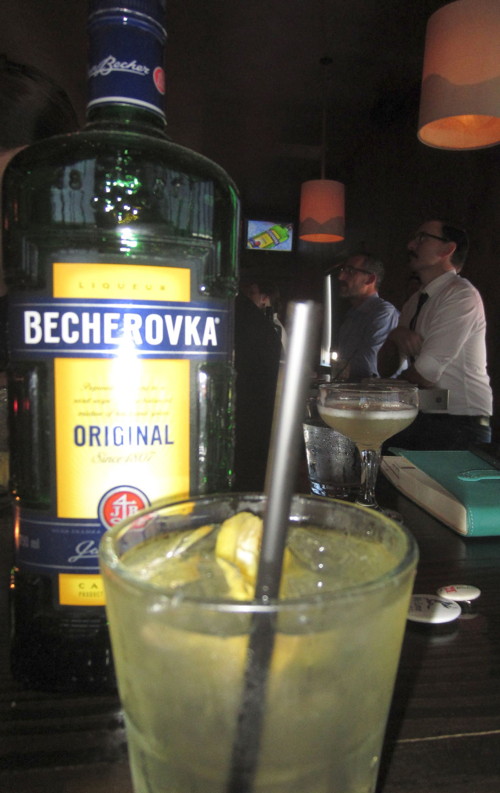 Mixologists crowded into a San Francisco bar last week to sample Becherovka, the herbal digestif that has been distilled in the Czech spa town of Karlovy Vary for over 200 years. First developed by a Czech druggist and a British doctor, this mellow golden elixir that half-sings, half-stings like a faraway forest on the tongue was originally sold in pharmacies as a drug, cases of it were sent to the front as a required sip for Czech soldiers during World War I. Becherovka's super-secret recipe -- which has only ever been known by two living human beings at any given time -- was literally buried in the earth for safekeeping during World War II, "and it is one of the few brands that survived the communist experiment" in Eastern Europe, explained brand ambassador George Nemec as we sipped straight shots.
Czechs customarily quaff Becherovka straight and ice-cold first thing in the morning and right before bed.
Known only to two men in all the world, Becherovka's still-secret recipe includes rainwater -- "because it's very soft," Nemec explained -- along with beet sugar, alcohol and over twenty herbs and spices including chamomile, spearmint, star anise, nutmeg and dried orange peel.
That the recipe contains no gentian "is one of those little bits and pieces that I was able to pull out of those two guys," Nemec said as we sipped a round of Becherovka-and-tonics, aka Betons, depicted above.
Also last week, San Francisco's Range Restaurant launched its new "Aperitif Hour" -- a bittersweet daily happy hour featuring aperitif cocktails (such as the Paris to Milan, comprising Cocchi Americano Rosa, St. Germain elderflower liqueur, white verjus and prosecco) and exclusive sherries, amaros and vermouths paired with aperitif-y bar snacks such as crispy trout rillettes: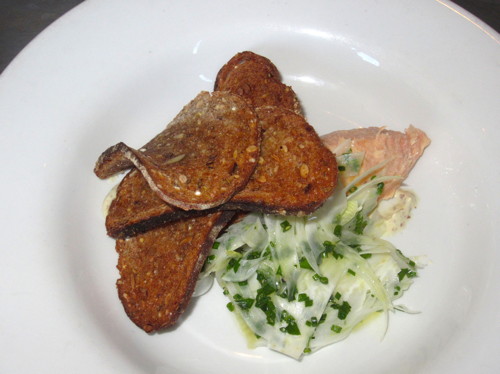 "There's definitely a movement afoot in the cocktail world that's trending back toward sessionability," explains Range bar manager Tayler Buffington, who learned to love sherry while living in Spain.
"People want to be able to drink more than one cocktail, and they want to be able to taste their dinner after they start out with a beverage from the bar. Aperitifs and aperitif cocktails are designed to refresh your palate and give you a nice lift, without putting you under the table. They're accessible and fun and unpretentious -- and most importantly, they are delicious."
"The beauty of sherry is that it's so versatile," Buffington told me during the first-ever Aperitif Hour, which echoes Negroni Hour at Poggio in Sausalito and the array of craft Negronis -- depicted below -- now served at the San Francisco waterfront's 12,000-square-foot pop-up America's Cup Sports Bar.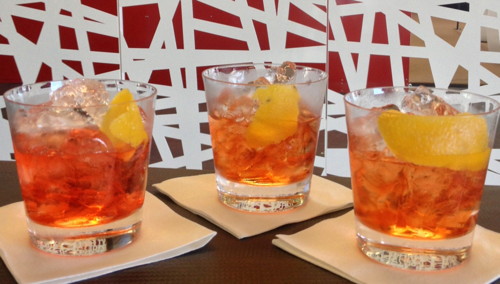 Classic Negronis comprise 1 part gin, 1 part Campari and 1 part sweet vermouth: The latter two are a digestif and an apéritif. Among other variations, the ACSB's Wintersmith cocktail comprises Campari, St. George Botanivore gin, Carpano Antica sweet vermouth, Gran Classico bitter and orange. Among the thousands of new cocktails comprising the current Campari boom is The Seventh Circle served at Oakland's A16 Rockridge: Campari, rye, Calabrese chilis, lemon and honey.
Chefs are even cooking with digestifs. Check out the Banh Mi Taco -- featuring both Campari and vermouth and created by Tango & Stache's Josh Oakley: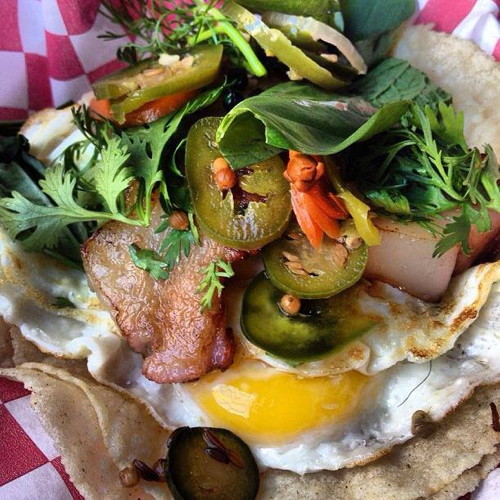 (He shared the recipe with me; see below.)
"Aperitifs are a subset of a larger resurgence of forgotten and obscure spirits," says H. Joseph Ehrmann, proprietor of San Francisco's Elixir and Nightclub and Bar magazine's 2010 Bartender of the Year.
"As bartenders seek new flavors and ingredients to play with and uncover old recipes, import and product entrepreneurs are looking for the best of the little-known products to bring to the US and to re-create. In addition, many of them are lower in alcohol and I think there is definite interest in more variety in lower-alcohol drinks," Ehrmann says.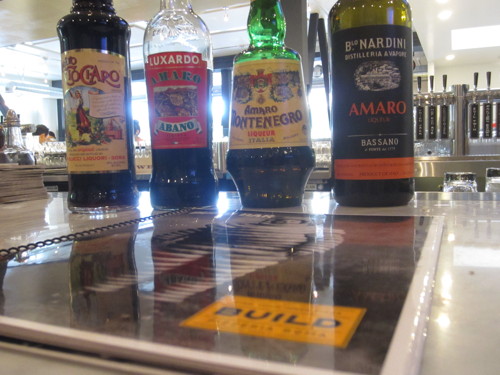 Amaro flights are served at BUILD Pizzeria Romana in Berkeley, where bar manager Jay Crabb chooses from among dozens of varieties of the herbal Italian digestif. Each flight "starts with the lighter style -- orangey notes -- and builds up to the darker style, with a lot of chocolate and menthol and various types of bark and other strong bitter notes.
"There's such a strong tradition in Italy around these drinks. And compared to wonderful products like Nonino, it's a mystery to me why Fernet Branca is so popular," Crabb says. "I can't stand that stuff."
Josh Oakley's Banh Mi Tacos
For the pork belly (serves 6):
• 1 pork belly, whole
• 1/2 gallon water
• 4 cups kosher salt
• 2 cups sugar
• 1/4 cup juniper berries
• 1/4 cup black peppercorns
• 10 bay leaves
• 1 bottle Campari
• 1 bottle gin
• 1 bottle vermouth
For the bacon-fat tortillas:
• 1 cup masa harina
• 1 tablespoon bacon fat or lard (vegetarians can use olive oil)
• 3/4 cup water
• Big pinch of salt
DIRECTIONS
For the pork belly:
Bring brine to a boil (1/2 gallon of water, 4 cups of kosher salt, 2 cups sugar, 1/4 cup juniper berries, 1/4 cup black peppercorns, 10 bay leaves). Let cool completely. Add Campari, gin, and vermouth. Submerge pork belly and let sit for at least 4 days, flipping once a day. Remove pork belly from liquid and rinse under cold water. Dry and allow to sit in fridge for several hours on a rack so that it becomes completely dry. Smoke over mesquite and cherrywood until bacon is finished. Slice and serve.
For the bacon-fat tortillas:
Mix ingredients in large bowl until dough forms. Take a Ping-Pong ball size lump of dough from bowl and press by hand, or use a tortilla press. Fry tortilla on medium-high in cast-iron skillet until golden and puffy.
Negroni image courtesy of America's Cup Sports Bar, used with permission. Taco image courtesy of Tango & Stache, used with permission. All other images by Anneli Rufus.