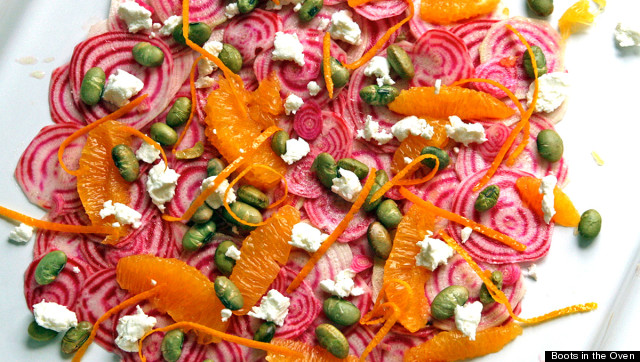 This is my latest invention, a cocktail called Sex on the Beet. It includes beet juice, Jim Beam, Kijafa, simple syrup and the juice of a whole Meyer lemon: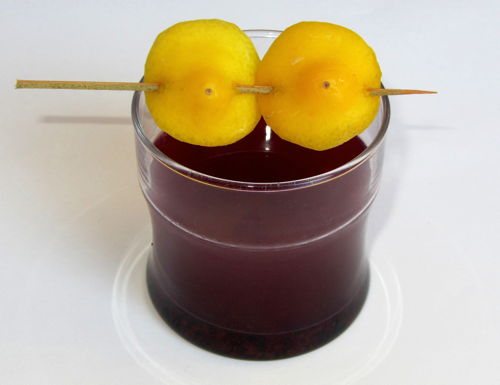 Before making this cocktail, I was sitting around looking at a bunch of fresh beets and realized that if you hollowed one out, it would be a perfect hiding place for valuables.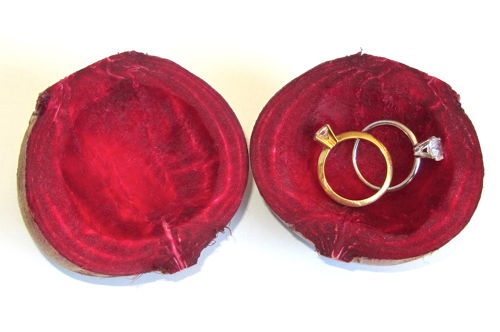 No thief would think of looking inside the innocent beet!
Hollowed-out beets could also be handy for spies. Exchanges and handovers could deftly occur at farmers' markets, and our enemies would be none the wiser: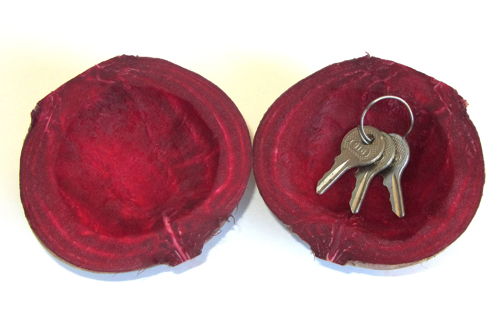 I've been feeling "all beet up" ever since savoring a bodacious beet dish at San Francisco's Hotel Adagio last week: Created by Chef Alex Placencia and his sous-chef, it was a tiny tower comprising roasted chioga beet slices layered with goat cheese, kissed with champagne vinaigrette and an unforgettable carrot-vanilla bean reduction: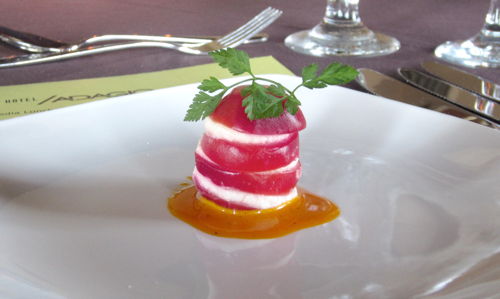 "I love working with beets," Placencia told me.
First of all, I love the color; it really makes the dish pop and visually enhances my creations. Secondly, the earthy taste and the sugar content add depth and a complex favor." For the beet tower, he chose to use "goat cheese that is a little more acidic, which gives contrast to the sugar of the beets. The carrot-vanilla-bean reduction gives a smooth sexy finish. Of course, beets are in season right now and I wanted to capture the flavor of this amazing root vegetable.
Beets are the triple homicides of the vegetable kingdom: Everyone avoids them because of the messy red stains. But beets are my almost-favorite vegetable, trailing only Brussels sprouts (the Elephant Men of the vegetable kingdom) and a spinachy green known as pigweed.
I never cook beets myself (triple homicide), but Placencia and other chefs are doing it right now at the peak of beet season so that we don't have to. At Lexington Social House in Hollywood, CA, roasted and seasoned assorted local beets are served with greens and crispy golden fried goat-cheese disks: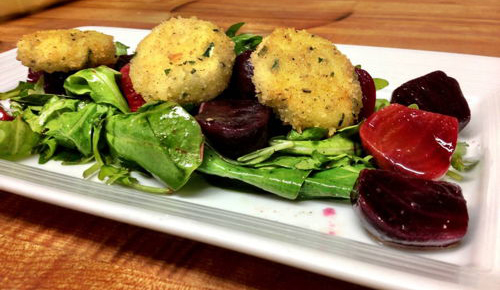 "We wanted to provide our guests with a bright, colorful salad, so we incorporated a variety of beets," says LSH general manager Tanjee Mahdavi. "The fried goat cheese adds a perfect depth of tanginess with a crunch, and then the citrus dressing is our signature touch." At Chicago's Bin 36, executive chef William Hewitt serves a beet-and-crescenza "ravioli" -- with beets as the "pasta," drizzled with Spanish Puremiel honey: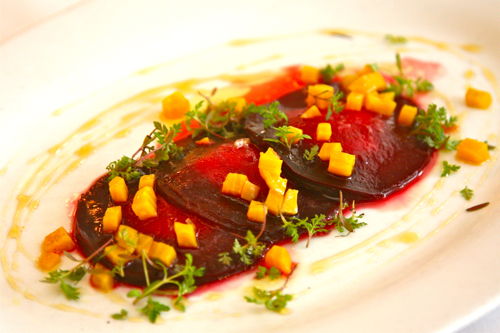 At Pittsburgh's Salt of the Earth, chef/owner Kevin Sousa has configured a new dish that combines beet chips, red-cabbage chips, carrot-turmeric mostarda, slow-cooked egg-yolk puree and brined, smoked, slow-cooked local beets. Three-time James Beard Award nominee chef/owner Casey Lane serves a salad of beets, mache herbs and horseradish yogurt at his new downtown-LA gastropub, The Parish. At Niche in Saint Louis, chef Gerard Craft created a striking "beets and buttermilk" dish: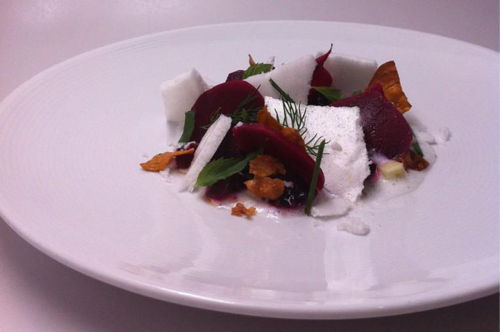 In San Francisco, Craftsman & Wolves chef/owner William Werner is on the verge of adding fresh peppercorn-pickled beets to his menu, along with blue-cheese-and-beet savory madeleines. (He uses yellow beets, so the madeleines are not pink, but what a mind trip that would be.)
Also in San Francisco: Executive chef Thomas Weibull at the Clift Hotel's Velvet Room offers an heirloom beet salad with Laura Chenel chevre parfait and toasted rye. Baker & Banker chef/owners Lori Baker and Jeff Banker include a course in their seasonal Chef's Table that includes beets and velvety creme fraiche mixed with watercress purée. And at Enotria in Sacramento, Chef Pajo Bruich serves beets with arugula, walnuts, chevre and arugula purée: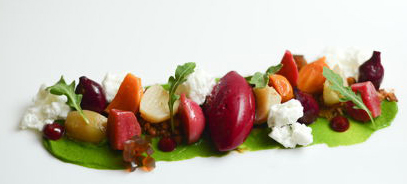 And just when I was looking at the liquor cabinet and wondering how to get plastered on beets, someone told me about the Beetarita. Made with fresh red beets, ginger purée, Milagro Reposado tequila and other ingredients, it's a signature drink at Tortilla Republic in West Hollywood and Poipu, Kauai: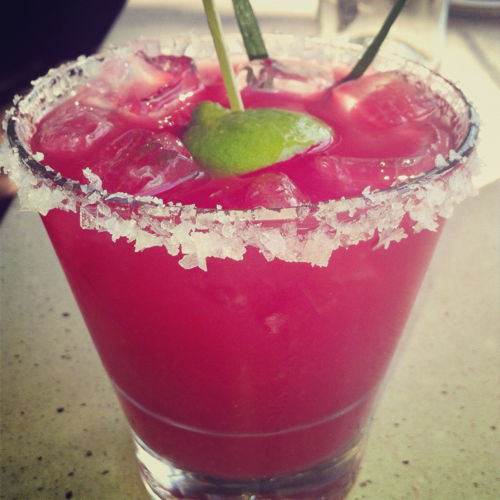 "The Beetarita is hands-down my favorite margarita we have currently on our cocktail menu," says Johanna Breeland, lead bartender at the West Hollywood TR.
Many people tend to be a bit wary at first, because beets aren't typically something you expect to see in a cocktail. However, tequila is an amazing spirit and easy to get creative with. Beets pair suprisingly well with tequila, especially a reposado. Both have rustic, earthy, elements and the spiciness of the tequila balances well with the sweetness of the beets.

We also add a ginger purée to enhance the spice along with our house-made limesweet that gives it the perfect touch of floral citrus and organic agave.
The Beetarita inspired my own creation, Sex on the Beet. But before engaging on the total destruction that would result in the SOTB, I realized that a hollowed-out beet could also house a jolly diorama: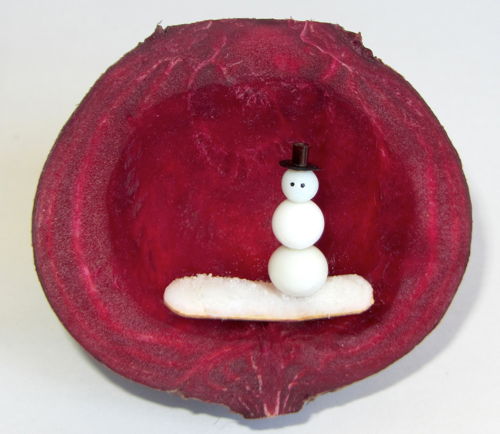 Gawker reported recently that beet juice was a hot favorite among Olympian athletes this summer. Among others, "practically all of Team Canada's marathoners [were] on the stuff." Talk is afoot of beet juice becoming next year's coconut water -- thanks to recent studies showing that beet consumption makes cyclists cycle faster, increases endurance, and lowers blood pressure. No wonder our ancient ancestors used beets as medicine. Although beet greens have been eaten in what is now Europe for millennia, the pulpy root portion took until the 18th century to become more than just a drug.
Hotel Adagio's Chef Placencia gave me his beet-tower recipe, with this proviso:
I must warn you -- it is difficult to recreate because you have to have a passion in your soul when you are cooking this dish.
Consider yourself warned.
The Beet Tower
Roast 3 bunches chioga beets in a 350-degree oven for 20 minutes.
Mid 1/2 lb. goat cheese with 1/2 cup heavy cream until light and fluffy.
Reduce 1 quart carrot juice to one cup, then let cool.
Blend carrot juice with 1/2 cup grapeseed oil and 1 vanilla bean.
Top with a drizzle of champagne vinaigrette.
Hollowed-out beet and Sex on the Beet images taken by Kristan Lawson. Beet-tower image taken by Anneli Rufus. Tortilla Republic image courtesy of Tortilla Republic. Enotria image courtesy of Enotria. Niche image courtesy of Niche. Bin 36 image courtesy of Bin 36. Lexington Social House image courtesy of Travis Andres. All images used with permission.