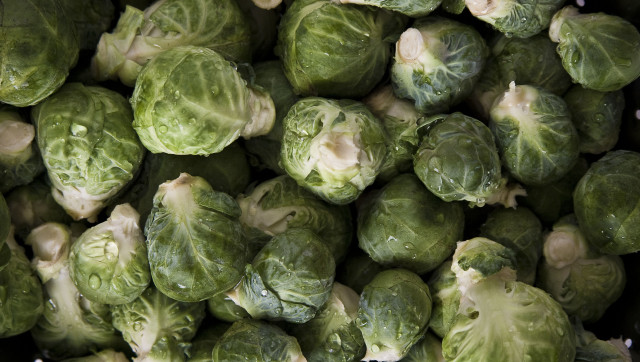 Brussels sprouts are the only vegetable I ever really liked, the only one I ate not just out of politeness or fear of bowel disease. People have always mocked me for this, but apparently now it's cool. I was way ahead of the game, but who knew?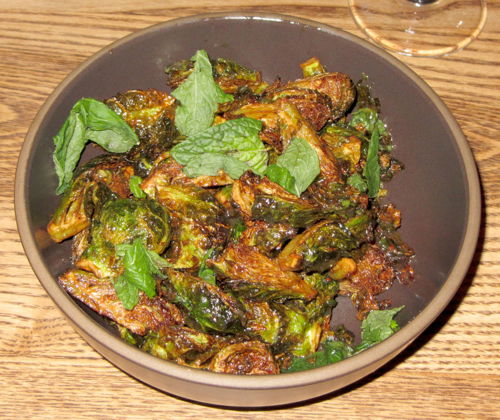 While rejoicing over roasted sprouts with caramelized soy sauce, garlic vinaigrette and Madeira reduction (depicted above) at Daniel Patterson's Haven in Oakland recently, I resolved to scour the nation for other Brusselicious, sproutastic splendors -- and to interview chefs about them. Score! I dug up so much treasure that the interviews will have to wait for next week's column. For this week's, check out the unbelievable Brusselversity: Chefs are doing some damn fine things to, with, and on top of sprouts these days. We could try this at home, right? Now where did I put that black pudding and fennel purée?
The Brusselian Era is upon us at long last, and I, for one, welcome our cruciferous overlords.
Let this be a lexicon for the new language of Little Tiny Cabbages, a treasure map of the Bruniverse. Let this be a Psprout Psalmbook. Behold:
At Chicago's Storefront Company, Brussels sprouts are caramelized in rendered lamb fat, finished with lemon zest, then plated with house-made juniper crema that has been infused with Tasmanian honey, star anise and agar agar.
At the Golden Pheasant Inn in Erwinna, PA, Brussels sprouts are sautéed with hickory-smoked bacon and shallots, then served with currant-cassis sauce.
At Portland's Departure, Brussels sprouts are pulled apart, tossed in a hot wok, then seasoned with lime juice, mint and hot chili peppers.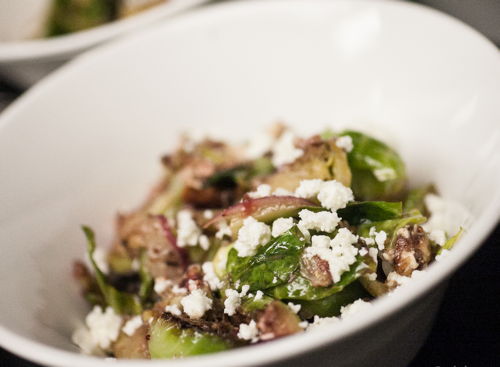 At Chicago's Mercat a la Planxa, a charred Brussels-sprout salad (depicted above) features sherry, candied walnuts, cranberries and feta.
At Dio Deka in Los Gatos, CA, roasted Brussels sprouts are quickly fried and served with sweet herbs, Greek honey, lemon and a slow-cooked egg.
At Niche in St. Louis, a charred Brussels-sprout salad features raw leaves tossed in soy-Meyer lemon vinaigrette, crispy rice, clementines, creamed fennel purée and fennel pollen.
At Superba Snack Bar in Venice, CA, crispy Brussels sprouts are served with bacon-dashi broth and topped with a poached duck egg (depicted below).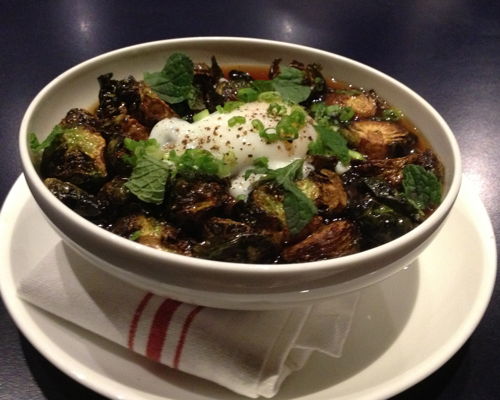 At Denver's Kachina Southwestern Grill, Brussels-sprout slaw tops Navajo tacos made with fluffy Native American fry bread.
At San Francisco's Foreign Cinema, a Winter Scramble comprises toasted Brussels sprouts, baby onions, Shelburne Cheddar and breadcrumb salsa.
At Bocanova in Oakland, Brussels sprouts are made into a jalapeño-spiked sauerkraut. (Owner-chef Rick Hackett shared his recipe with me; find it at the bottom of this post.)
At Pitfire Artisan Pizza's five Southern California locations, a Brussels-sprout and bacon pizza includes sprout leaves, panna, bacon, garlic and fresh mozzarella (depicted above).
At Washington, D.C.'s Belga Cafe, Brussels sprouts accompany venison filets along with foie gras, black pudding, blackberry beer and a couscous waffle.
At San Francisco's Chambers Eat + Drink, toasted Brussels-sprout leaves are tossed with chorizo, black garlic, savory and preserved lemon.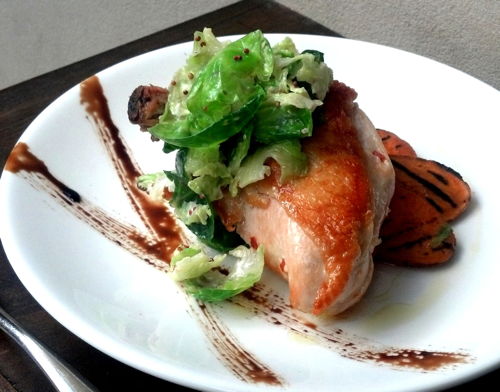 At the XEN Lounge in Studio City, CA, Brussels-sprout salad with a whole-grain mustard-crème-fraiche vinaigrette accompanies grilled honey-glazed sweet potatoes and pan-roasted Jidori chicken (depicted above).
At NYC's Oceana, Brussels sprouts are prepared with duck confit and maple syrup.
At Philadelphia's Sbraga, Brussels sprouts are served with lamb, peanuts and corn porridge.
At the Commander's Palace in New Orleans, a shiitake-black rice financière featuring Brussels sprouts, toasted almonds and truffled mushroom sauce accompanies grilled antelope.
At Inovasi in Lake Bluff, IL, roasted Brussels sprouts are prepared with Kentucky soy sauce, roasted garlic, Thai chili peppers and cave-aged Cheddar.
At Found in Evanston, IL, roasted Brussels sprouts are served with winter squash, harissa and pepitas.
At Chicago's Sepia, Brussels sprouts are prepared with bacon and chestnuts.
At Chicago's Lockwood, maple-roasted Brussels sprouts and kabocha-squash purée accompany venison.
At San Francisco's Cupola Pizzeria, Brussels sprouts are prepared with pink-lady apples and whole-grain mustard.
At San Francisco's Boxing Room, Brussels sprouts are roasted with gala apples, then topped with Parmesan and tasso vinaigrette.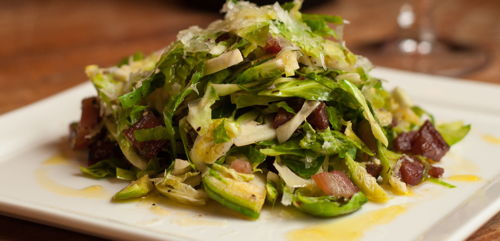 At the Napa Valley Grille in Westwood, CA, a warm dressing partially cooks raw shaved Brussels sprouts, which then become a salad with pancetta, manchego and toasted pistachios (depicted above).
At the Parish in Los Angeles, marinated Brussels sprouts are served with tesa and breadcrumbs.
At Hollywood's Delphine Eatery & Bar, charred Brussels-sprout frisée lardon is served with a poached egg, bacon and red-wine-shallot vinaigrette.
At Hollywood's Public Kitchen & Bar, Brussels sprouts are prepared with lemon crème fraiche and toasted hazelnuts (depicted below).
At Craigie on Main in Cambridge, MA, Brussels sprouts are roasted with duck fat.
At Sacramento's Enotria, Brussels sprouts join squash and bacon in a chestnut pasta dish.
At San Francisco's Acquerello, Brussels-sprout leaves join broccoli and sharp white Cheddar in a delicate cauliflower budino.
Next week, chefs will tell us what they love about sprouts, what they don't love about sprouts, and why sprouts have always been the world's most hated vegetable. As a teaser, here's what Scott Broccoli, co-owner of Aces, The Pub and Dobbs Ferry -- all in San Francisco -- had to say about that last matter:
"Two reasons: The Brady Bunch and time. When my generation were kids, we all watched The Brady Bunch. There was an episode in which one of the boys refused to eat Brussels sprouts. No reason given. He just hated them. I think this ruined a generation."
Rick Hackett's Brussels Sprout Sauerkraut
4 cups water
1/2 cup champagne vinegar
1/4 cup salt
Bring to a boil, then let cool to room temperature.
6 cups Brussel sprouts, quartered or sliced
1 each jalapeño pepper, minced
3 each garlic cloves, minced
1 tsp Mexican oregano
1 each carrot julienned
1 each red onion julienned
1 each bay leaf
Combine and pour over the liquid, making sure the vegetables are submerged. Let ferment for several days, until the bubbling stops.
Haven image courtesy of Kristan Lawson. Pitfire Pizza image courtesy of Pitfire Pizza. Public Kitchen image courtesy of Public Kitchen. Superba image courtesy of Superba. Napa Valley Grille image courtesy of William Pruyn. XEN Lounge image courtesy of XEN Lounge. Mercat a la Planxa image courtesy of Galdones Photography. All images used with permission.