I haven't sampled all the desserts in San Francisco -- yet. Last night I made up for lost time at the Sugar & Spice Party, a feature of the week-long annual food-and-drink extravaganza known as SFChefs.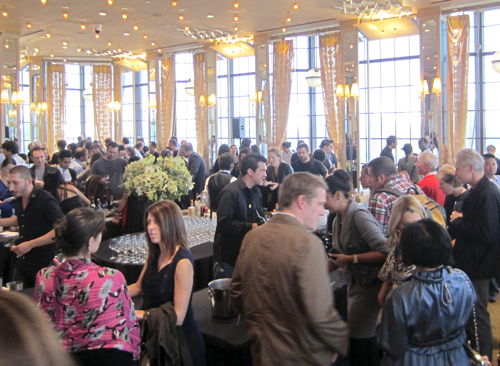 Held in two retro-glamorous rooms at the top of the Westin St. Francis Hotel, the party boasted dozens of booths representing award-winning Bay Area restaurants, wineries and liquor companies serving cocktails, spicy snacks and unbelievably rich, innovative, this-must-be-the-end-of-the-world-because-what-could-come-after-this desserts.
Standouts included refreshingly decadent pistachio-mint Bavarians from Melissa Chou of Aziza; regally rustic ice-cream sandwiches featuring thick ginger snaps and rose ice cream from Lincoln Carson of Michael Mina; psychedelically swirly lavender cheesecake from Alan Carter of the Mission Bay Café; stratospherically simple banana-chocolate ice cream from Terri Wu of Farallon; and -- in the liquid realm -- pineapple-spiked "luaus" made with Skyy vodka as well as anything at all made with Domaine de Canton, a sweet small-batch French liqueur derived from eau de vie, VSOP, cognac, Tahitian vanilla, Tunisian ginseng, Provençal honey, and fresh Vietnamese baby ginger.
But my favorite by far was the "Passion," a multilayered creation devised by Jean-François Houdré of the Westin St. Francis. Yes, the house chef shined supernova-bright, as so much was going on within a single serving of this creamy-crunchy-circumambulating miracle as to defy rational analysis.
Its components included passionfruit gel, creamy Szechuan-pepper milk, pistachio financier, white chocolate and Greek yogurt composé, anise crumble and fresh passionfruit seeds. Each serving was speared with a soaring langue-de-chat cookie.
Houdré told me that he came up with this creation through a process of pondering each individual component, each layer, and deciding how to make its flavor pop. A hint of peach lends an old-fashioned mellowness to the passionfruit gel. Szechuan pepper livens the mild milk like tiny lightning bolts.
For the party, he also created the unexpectedly delicate "Orange," tiny towers comprising 64 percent chocolate mousse, orange-infused creme brulée, Valencia compote, Szechuan-pepper ganache and foam, anise-sugar tuile, and anisette Breton biscuits. The mix of elegant ganache and orange rind reduced to its essential soul was almost biblical, that dark-bright Mediterranean chocolate-citrus psalmody.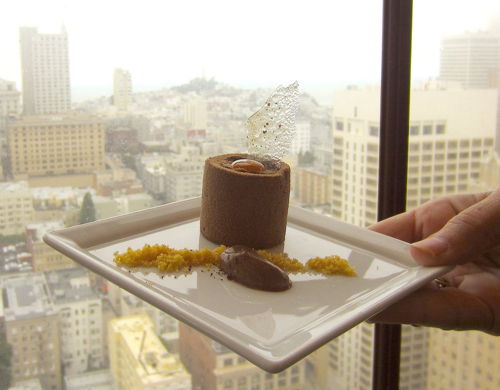 SFChefs2011 continues throughout the weekend with tastings, demonstrations, challenges, meals and late-night afterparties.
Images courtesy of Kristan Lawson.