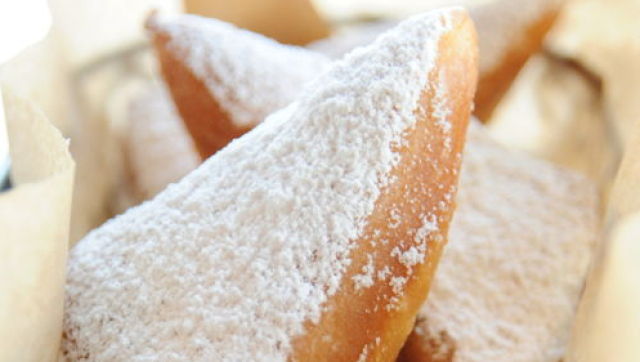 Two weeks ago, I started seeing the word "doughnut" in the same places where I was accustomed to seeing the words "ganache" and "affogato" and "tiramisu." Doughnuts are not new, but they're being overhauled as hot and cool and ... holy.
Here's a photograph of a paper doll I made which strongly resembles renowned trance DJ Armin van Buuren relaxing in a swimming pool: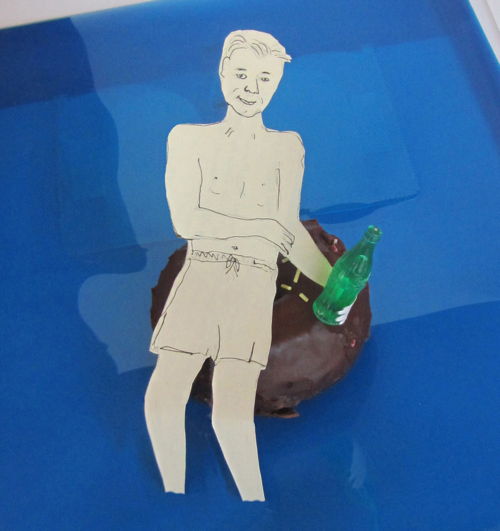 The vegan chocolate doughnut in that picture was made by Pepple's Organic Donuts of Oakland and purchased at Philz Coffee of Berkeley.
In its new apotheosis, the object in question is almost always spelled "doughnut," not "donut." Is this a nostalgic nod to the treat's long history (think 19th-century sailing ships, Washington Irving, Dutch immigrants and pork fat)? Is it to cut ties with corncob-pipe smoking rubes who spell it the short way? And/or is it to pretend that the last hundred years, this century of pink sprinkles, never happened?
Doughnuts are bobbing up everywhere, but reconstructed. Last week, a San Francisco food writer I know took a visiting New Zealand food writer I know to Doughnut Dolly, a new Oakland shop whose donuts sport such seasonal fillings as pluot jam, tomato jam, lemon curd, huckleberry curd and passion-fruit curd.
Candied bacon doughnuts with bourbon-cheesecake filling and maple glaze (as seen below) are a new dessert at San Francisco's Baker & Banker Restaurant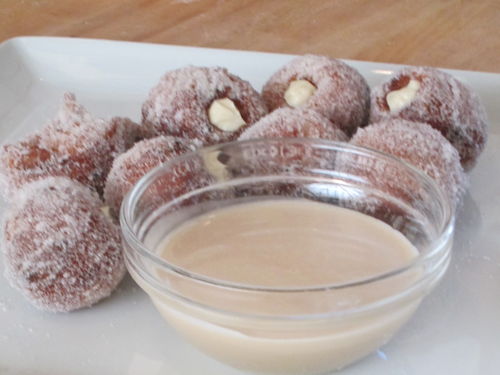 "I wanted to do a bacon dessert, since they are usually pretty popular, and I always like to have some flavor of doughnuts on the menu," says Lori Baker, who co-created the recipe with co-chef/co-owner Jeff Banker. "I feel like bacon, bourbon and maple are a great combination of flavors. We wanted them to sound so good that no one could pass them up and I think the bourbon cheesecake filling does that. 
"We bake a bourbon cheesecake with no crust, then we put the cheesecake in a piping bag and fill the doughnuts to order. The candied bacon is in the dough and the maple glaze comes on the side for dipping," Baker says.
Thus another contender bares its oily fists in the war over which childhood favorite, formerly laughed off as junk food, will ascend to grown-up gourmet glory in a blaze of incandescent irony and optimal ingredients. But while the doughnut's main rivals -- mac-and-cheese, Cheerios, popcorn and cupcakes -- boast at least some arguable nutritional payoff, doughnuts don't. Granted, they will stave off hunger during a shift of hard labor, such as mining coal or hauling bricks. For instance, I read in an old book as a child that Yankee whalers enjoyed doughnuts fried in blubber.
Because human brains have not evolved sufficiently to recognize that human bodies now spend all day sitting motionless in chairs, sweet deep-fried things still sing that universal siren song, signaling happy satisfaction all around the world -- in such forms as the Indian jalebi, Norwegian smultring, Israeli sufganiyah and Taiwanese shuangbaotai. (I just this minute realized that those were the golden treats my parents always bought in Chinatown, which they thought were called "bow ties.")
Puffy, holeless Creole beignets are the French Foreign Legion of the new Doughnut Onslaught, highly visible these days -- thanks surely to beignets' NOLA cred, their lack of circus colors, and the fact that their name does not rhyme with "grow-butt."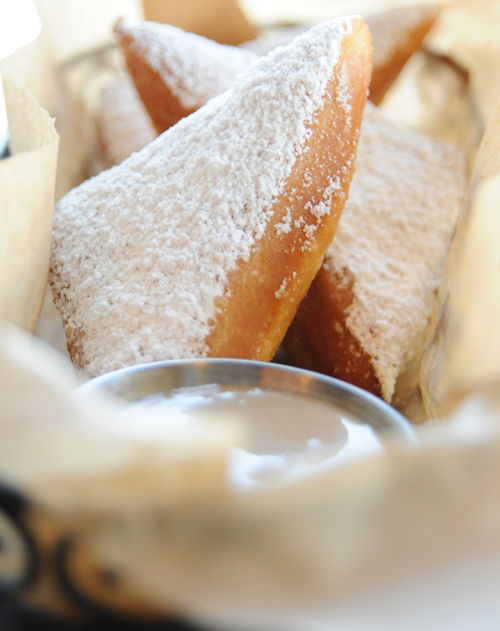 Pastry chef Bill Corbett of San Francisco's Boxing Room Restaurant created a signature dish in the form of beignets with chocolate-espresso cream for dipping, as depicted above.
Chef Bridget Batson of San Francisco's Gitane Restaurant offers beignets with chocolate fondue, "naughty cream" and seasonal fruit preserves, as depicted below.
"They are light, fluffy pillows dusted with powdered sugar and an almost undetectable pinch of salt," Batson told me. "The naughty cream is a mix of cream, butter, creme fraiche and vanilla."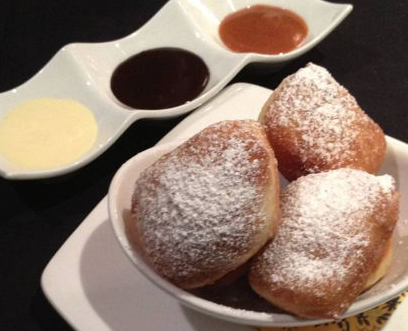 "I think elevating the doughnut has to do with using very high-quality ingredients and also flavor combinations that haven't been done before," says Lori Baker of Baker & Banker. "We always like to take typical American sweets and put a twist on them that makes people think about them in a different way -- for example, doughnuts as an elegant dessert instead of a greasy breakfast food."
Speaking of which -- in an era when scientific studies are out there boosting the health benefits of every darn thing you could put into your mouth, a recent study has actually done that for doughnuts. The study, presented this summer at The Endocrine Society's annual meeting in Houston, found that obese people who ate doughnuts for breakfast were better able to keep off lost weight than obese people who ate no doughnuts for breakfast.
Talk about holy.
Paper doll-doughnut image courtesy of Kristan Lawson; Baker & Banker doughnut photo courtesy of Yasemin Sussman, Andrew Freeman & Co.; Boxing Room beignet photo courtesy of Liza Gershman; Gitane beignet photo courtesy of Gitane; all images used with permission.