If beer is the new wine, we need to start doing some of the same things with beer that we do with wine. Pairing cheese with it and making sauces with it are too easy. Raise your game, guys: Let's cook with hops!
Challenged by celebrity Chef David Burke, who offered an intriguing array of hop-infused dishes at his restaurants (David Burke Prime, Burke in the Box, et al.) last month, I acquired a bag of these gossamer jade-green flowers and started devising recipes. First up was agave-sweetened Meyer Lemon Hopinade: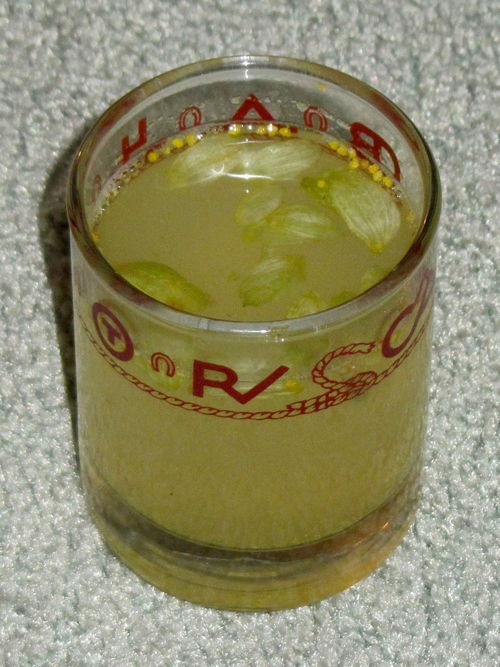 Since ancient days, wine has been made from grapes, a prolific plant which humankind also enjoys in many other ways. Since ancient days, beer has been made from hops, a prolific plant which humankind couldn't recognize if hops suddenly poured out of the sky.
Why?
As beer itself suggests, hops are bitter blossoms indeed. Unaccompanied and unbuffered, hops are eye-poppingly, palate-slammingly bitter. You can't just pop these babies into your mouth and munch away as you can with grapes.
"Cooking with hops puts a hop in your step and your meal," laughed Burke, who created his hops recipes -- see his formula for hoppy ice-cream donut sliders, below -- in collaboration with Samuel Adams, whose citrusy seasonal Alpine Spring craft beer is made with Tettnang Tettnanger hops, a variety cultivated on century-old vines in the Alpine foothills.
"Tettnang Tettnanger hops will give food an earthy flavor -- a taste that's hard to get from other ingredients. These hops also give a nice piney aroma to foods; they work well with pastas and rice and can also be a perfect finish on chicken, similar to cracked pepper," Burke said.
The trick is to use hops lightly, as a suggestion rather than a statement. They're just so strong. Texturally they're deceptively dainty, like jasmine petals. Flavorwise, they're bitter the way Chinese bitter melon is bitter. Bitterer than bitter lemons. I added a big handful to a quinoa dish: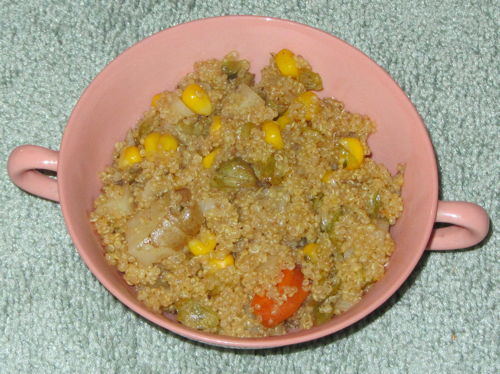 ... which tasted very bracing, the gentle grassy graininess of quinoa and the starchiness of corn confronting that bold raging scream of the hops. An exciting experience, if arguably medicinal-tasting.
Samuel Adams Brewing Manager Jennifer Glanville offered me a few further thoughts on hop-eating:
When used as an ingredient, the "spice of beer," as Glanville calls hops, "can add dimension to a recipe, just like they do in beer, and can bring an unexpected yet welcome flavor to dishes. ... Hops leave a lingering citrus note on the palate and a clean, dry finish that cleanses the palate. When cooking with Tettnang Tettnanger hops, the fresh, piny, citrus character is a bit more pure and intense since the other flavors -- yeast, malt, et cetera -- found in beer aren't present.
"As with brewing beer, the wonders are often in the difficulties. Cooking with hops is still a fresh idea and there aren't a lot of precedents, therefore much like home brewing, the difficulty and wonder is in experimenting with different hop varieties" -- available online and at homebrew shops -- "and hop recipes and trying them on your own. Cooking with beer isn't new; for example, people have been using brewers' grain in breads and pizza dough for years. But cooking with hops is uncharted territory."
True! But as beer gets trendier, bitterness might soon be right up there with salty and sweet.
Chef Burke adds: "Hops can certainly work wonders on a meal, adding lots of robust flavors, aromas and textures. If you're still a bit timid, test run them as a condiment -- a garnish for mashed potatoes, or sprinkled on soup. A hop-diment!"
And if you want to bring some of your newfound hop-hop-hoppiness with you everywhere you go, consider B-Hoppy, hard candies made with Cascade hops. Maker Bob Bero is an Ohio homebrewer who told me:
"After a failed attempt at making hop-scented soap with some extract that I had obtained from some folks up in Yakima [Washington], I didn't want to waste what was left in the container and it was sitting on the kitchen counter during my Christmas present making period. While making hard candy for the family, I kept looking at the container between batches and finally it became candy." Sweet!
Samuel Adams® Alpine Spring Donut Ice Cream Sliders
Recipe by Chef David Burke
Yields 5 large or 24 small servings
Samuel Adams Alpine Spring Donut
Ingredients:
2 eggs
2 oz. butter
3 oz. Samuel Adams Alpine Spring
¼ cup milk
1 cup all-purpose flour
½ cup sugar
1 teaspoon baking powder
¼ teaspoon salt
Strawberry jam (for serving - see assembly below)
Method:
1. Melt butter and let cool a little (not hot).
2. Sift flour, sugar, baking powder, and salt in a mixing bowl.
3. In a separate bowl, whisk eggs, melted butter, and Samuel Adams Alpine Spring until well blended.
4. Pour the liquid mixture into flour mixture, stir until just incorporated. NOTE: Do not over mix or dough will be tough.
5. Set fryer temperature (or vegetable oil in a deep frying pan) to 375°F. Using an ice cream scoop, form donuts about a size of a golf ball. Fry until golden, about 2 minutes. Roll in cinnamon sugar, slice in half.
Samuel Adams Alpine Spring Orange Caramel Sauce
Ingredients:
2 cups sugar
½ cup water
½ cup heavy cream
Pinch salt
¾ cup Samuel Adams Alpine Spring
1 teaspoon orange blossom water (found in specialty markets)
Method:
1. Combine sugar and water in a small high-sided saucepan. Without stirring, cook the mixture until dark amber in color.
2. Reduce heat to low, carefully adding heavy cream into caramel (it may splash and form bubbles). Stir to combine.
3. Remove pan from heat, add salt and Samuel Adams Alpine Spring
Samuel Adams Hops-Infused Ice Cream
Ingredients:
1 cup Tettnang Tettnanger hop flowers (can substitute U.S. Tettnang hops)
4 cups milk
2 cups heavy cream
2 cups sugar
10 large egg yolks
Method:
1. In a saucepan, bring milk to heat. When it simmers, add hops, steep about 15 minutes. Strain milk, squeeze out as much liquid as possible.
2. Put milk, half of sugar (1 cup) back to sauce pan. Bring to heat, just about to boil.
3. In a mixing bowl, whisk together the rest of sugar (1 cup) and egg yolks until they lighten in color. Pour milk mixture into eggs by adding small amounts gradually, until about 1/3 of milk mixture has been added.
4. Pour the egg mixture back to the saucepan, over low heat. Cook, stir frequently, until mixture thickens slightly to coat the back of a spoon or rubber spatula. Remove from heat, add heavy cream. Mix well.
5. Strain the mixture and put in a container, let cool before placing it into refrigerator (to avoid condensation on the lid). Cover and store in refrigerator for 4 - 8 hours, or overnight.

6. Pour chilled ice cream mixture into an ice cream maker and process according to the manufacturer's directions.

To Assemble:
1) Place half a Samuel Adams Donut on a dish (base). Spread a layer of strawberry jam onto the open side of the donut.
2) Place a scoop of Samuel Adams Hops-Infused Ice Cream on top.
3) Using a small squeeze bottle, drizzle a layer of Samuel Adams Alpine Spring Orange Caramel Sauce and top with the other half of the Samuel Adams Donut.
4) Enjoy your Samuel Adams Alpine Spring Donut Ice Cream Slider!
Photographs by Kristan Lawson. Used with permission.