At last week's Measured Indulgence Conference in San Francisco, celebrated French pastry chef Frédéric Bau proposed a revolution.
That's what he called it, and although it's not a secret plan to fill every Oreo Cookie on earth with ganache, it is radical -- at least in France.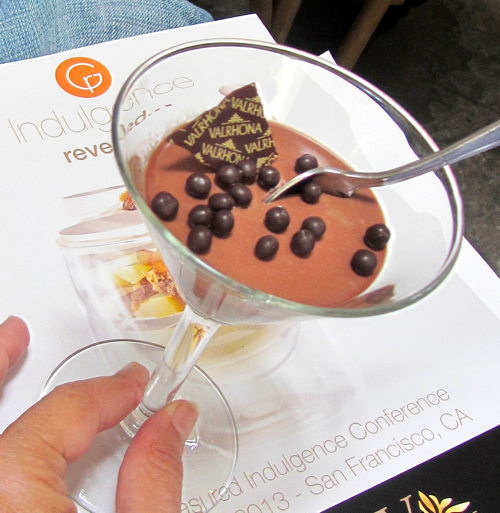 The creator and current creative director of Valrhona's Ecole du Grand Chocolat, editor-in-chief of recently launched ValrhonaTV, bestselling author and lightning rod of two restaurants in France -- Umia and Obi -- Bau unveiled his program for overhauling desserts as we know them.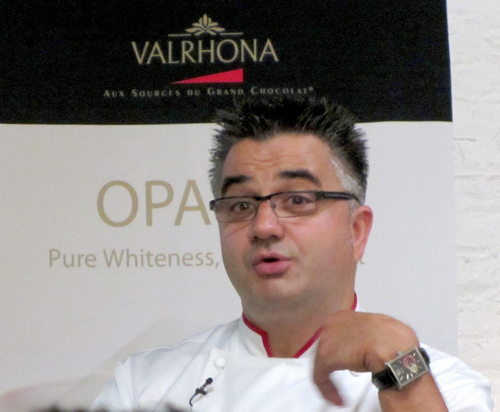 He calls this approach Gourmandise Raisonée, aka "Measured Indulgence" in English, and it entails lightening pastries by replacing some but not all of the cream, butter and sugar in them with less fattening alternatives such as pectin, gelatin, nut butters, soy milk, semi-skimmed milk and dark chocolate. The idea came to him over a decade ago when he weighed nearly 300 pounds but did not want to give up the pastries that were part of his heritage as a Frenchman and as a professional pastry chef.
"I was feeling very, very bad because I was very big," Bau told the San Francisco crowd. "So I began to transform recipes. I wondered: Is it possible to measure indulgence? Not to just take it away. Not to just kill all chocolate, fat and sugar -- but make it less?"
The grand tradition of French pastries began before refrigeration was introduced in France, Bau explained. French chefs of yore had to find ways of producing pastries that could last more than just a few hours on bakery shelves:
"The best way to make something antiseptic was to make it very sweet, like a confit. And butter would keep pastries soft but dry." This is how French pastries became so rich, Bau said: "Because it was the only way for chefs to keep their jobs."
Served throughout the conference were examples of Measured Indulgence pastries, prepared by Valrhona North America corporate pastry chef Derek Poirer and his team. For instance, this Carré Chocolate Tart -- whose ingredients include egg whites, semi-skimmed milk, almond flour, pectin, sugar-free Xocoline dark chocolate and maltitol. (Whipping cream and raw cane sugar are in there as well.)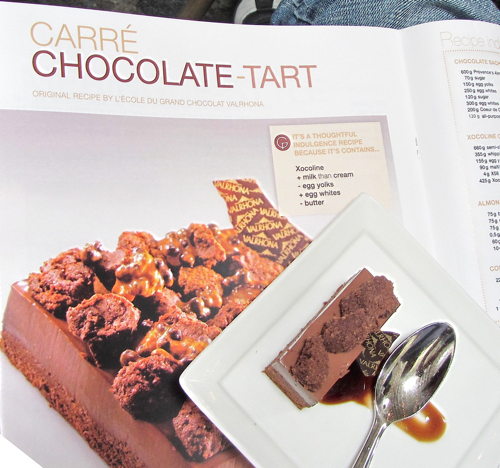 "One of the magical ingredients we have today is apple pectin," Bau beamed. "It provides the same smooth texture as egg yolks. Just try it. You will be very surprised."
Ingredients comprising the complicated Baba Cool included soy milk, mineral water, lemon and berry juices and star anise: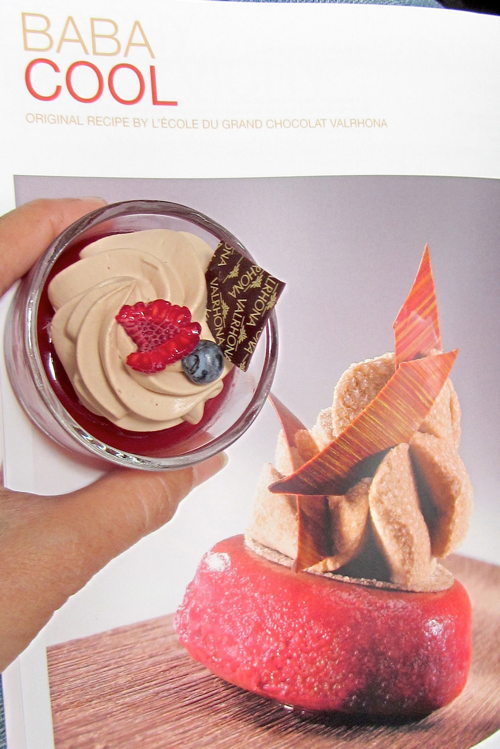 Gelatin, minced almonds, lime juice and cocoa butter helped to lighten up the Lime Meringue-Style Tart:
Medical nutritionist Dr. Thierry Hanh discussed the complexities of presenting lighter pastries to the populations of North America and France. His PowerPoint presentation featured a whimsical image of Barack Obama in a French mood:
Among the major takeaways from this discussion were the fact that, on average, North Americans eat 5.5 meals per day while the French eat only three. North Americans eat in restaurants and purchase pre-cooked meals in stores far more frequently than the French do. North Americans also consume way more liquid than the French do -- including five times as much sweetened soda pop.
We also eat ten times as much breakfast cereal as the French do. Which partly explains why 70 percent of North Americans are obese. But hey -- at 50 percent, France is catching up.
But the idea of lightening up traditionally rich foods is old news in the States, where lentil-sprout loaves were a hippie mainstay in this birthplace of Diet Sprite and nonfat frozen yogurt. Artisanal vegan cinnamon rolls might freak out the French, but they're a booming business model here.
Nonetheless, Bau said the overweight world still has a lot to learn:
"It's our responsibility to take care of the health of our customers."
He does this largely by stealth -- serving lower-fat, lower-sugar Measured Indulgence pastries at his restaurants without blatantly announcing that this is what they are. The premise is that diners will eat these pastries without noticing any difference in flavor, texture or richness, then feel so satisfied yet so much less weighed down that they will ask about the recipes -- and then become soldiers in this quiet revolution themselves.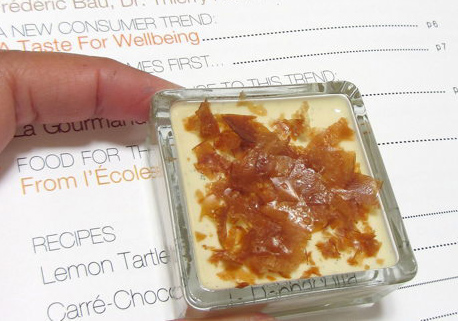 An epic Measured Indulgence take on crème brulée which has just over half the calories of regular crème brulée features reduced-fat milk, Tonka beans and pectin, among other ingredients. Replacing the traditional super-sweet hard sugar crust are crisp, translucent, paper-thin "hazelnut veils." (See recipe below.)
Diners don't need to know how many egg yolks are in a certain slice of cake, Bau told the crowd. "They need only think: Good cake."
"We need to retain the pleasure," he said. "For me, Measured Indulgence is just good news. It doesn't mean the end of pleasure. It just means the end of excess."
Frédéric Bau's Crème Brulée, Measured Indulgence Style
Base:
1,100 g reduced-fat milk
2 vanilla beans
0.3 g Tonka bean
650 g whipping cream, 35% fat
225 g egg yolks
175 g sugar
6 g pectin NH325
6 g powdered gelatin
Directions: Mix ingredients together and cook to 178 degrees F. Strain and pour into ramekins.
Hazelnut Veils:
300 g egg whites
240 g sugar
120 g all-purpose flour
75 g hazelnut oil
1,500 g water
Directions: Mix ingredients together using an immersion blender. Fill non-stick molds with the mixture and bake at 320 degrees F until completely dried out. Store in a dry place. Crumble and scatter atop crème brulée before serving.
All photographs by Kristan Lawson, used with permission.