When a 12,000-square foot, 300-seat beer hall opens in Silicon Valley, you know beer's time has come.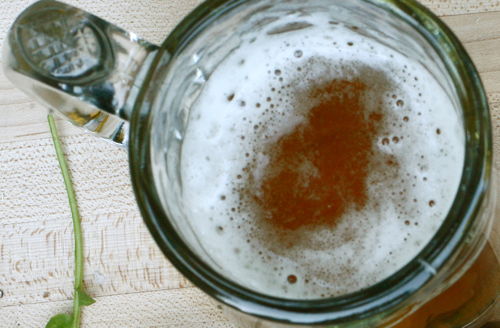 When dark chocolate and salt-water taffy are manufactured in beer flavors, when beer is paired with caramels at trendy urban bars, you really know beer's time has come.
OK, its time began literally ages ago, possibly in Neolithic times when grains were first farmed. Evidence that beer was being made 6,000 years ago includes "a pale yellowish residue in the grooves of a sherd" found in an archeological site in Iran's Kangavar Valley, according to Max Nelson's book The Barbarian's Beverage: A History of Beer in Ancient Europe. Go Kangavar!
And now beer bars are rising everywhere like foam. So sudsy, so class-blind, yet so delicious, artisanal and diverse: Will beer (and its offspring, such as the ever-trendier cider) snap wine's stranglehold as The Alcoholic Beverage That Counts at long last?
I recently met Ted Kim (depicted below), whose Steins Beer Garden -- that massive Sili Valley suds hub -- is set to open in late February or early March. Kim spent six months touring Europe to sample and study its brews. (Hey, business trips are tough.) At the restaurant, Chef Colby Reade's comfort food will augment the gushings of thirty taps -- and more.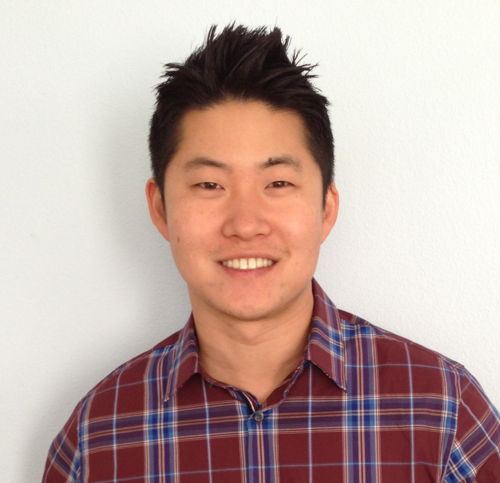 "For most Americans, the first association they make with beers is frat parties and hangovers. But there's so much more to it than that," Kim told me while pouring a resplendent, golden-sunshine apple lambic that was about as different from Bud as unicorns are from slugs.
Which foods pair best with which beers?
"There are no right answers when it comes to the rules of beer pairings," Kim said. "But you could have so much fun with this because there's so much more range, so much more breadth with beer than with wine. When you drink beer, you can taste the colors, the textures -- It's an exciting time. Let's get the dialogue going."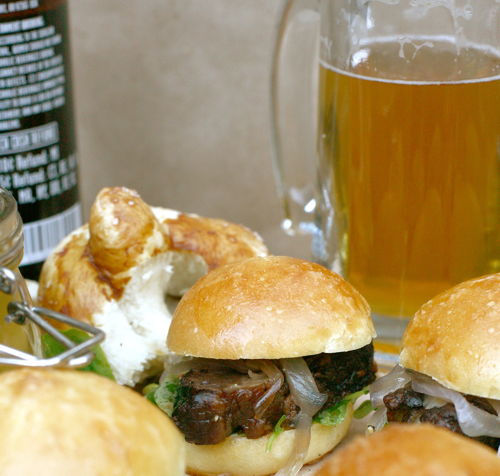 Chef Reade has developed recipes for beer-friendly fare that he calls "unpretentious but fresh:" his grandmother's dill-pickle recipe; soft house-baked pretzels sprinkled with Maldon salt; sliders and sandwiches (as depicted above) made with grass-fed beef on house-baked brioche buns.
"The goal is to make good food that everybody understands -- and that goes with beer," said the chef.
Meanwhile, entrepreneurs are making good food with beer. At last week's Fancy Food Show, I met the folks from Wisconsin's Sartori Cheese company, whose yummy Raspberry BellaVitano is soaked in handcrafted raspberry tart ale. And the folks from Daelia's Food Company in Ohio, whose crispy, buttery, whole-grain Beer Flats crackers are made with Pilsner and Porter. I also met the folks from "Beercandyland" who use IPA, stout, lager and hop oil to craft jellies as well as chocolate-covered caramels, taffy and other types of Beercandy. TCHO Chocolates and Samuel Adams Boston Lager are co-launching their For the Love of Beer Chocolate Box this week to promote the choco-hops pairing phenomenon. Speaking of which, I recently sampled Guinness-filled chocolates from Montana-based La Chateleine Chocolat: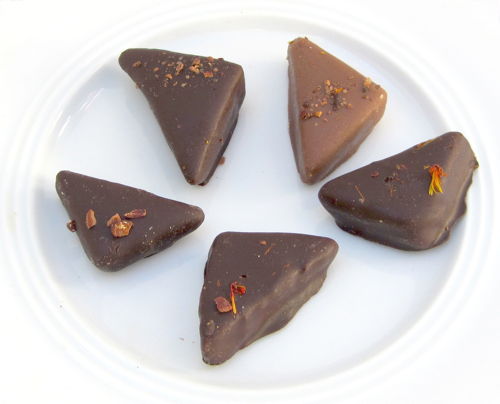 Beer is in the air. San Francisco's Beer Week runs February 8 through 17 with events all over town, including an ale-and-flatbread pairing at the Blackbird Bar (depicted below) on Feb. 13; and on Feb. 14 (also at the Blackbird Bar) a beer-and-caramel pairing featuring beer cocktails such as the Bitter Monk, comprising Strubbe's Flemish Red, Cardamarro, Barbary Brix apple syrup, lemon, black pepper and orange zest; and the Blackbird Car Bomb, comprising Devils Canyon Dedicated Amber Ale, Evan Williams Single Barrel, Root Liquor and vanilla.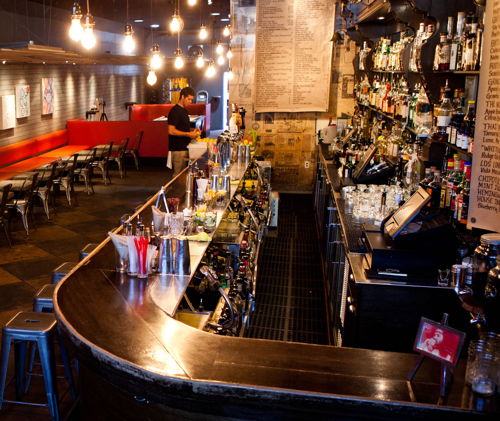 Let's say it all together: Kriek. Faro. Märzen. Kölsch. Bock. Doppelbock. Weizenbock. Quadrupel. Gueuze.
Ted Kim, beer glass and sliders photographs courtesy of Michelle Min. Blackbird Bar photograph courtesy of Dylan Ozanich. Chocolates photograph by Anneli Rufus. All images used with permission.