The most popular dessert right now at Aurea in San Francisco is PB&J pot de crème. Topped with a dollop of tangy house-made blueberry jam, the luxuriant "pot" part is made of rich, thick peanut butter.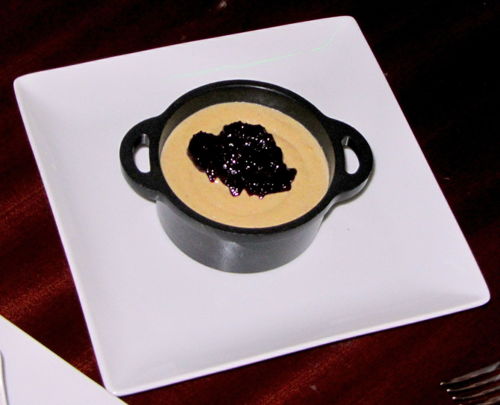 "I tell people it tastes like a baked peanut-butter-and-jelly sandwich," Aurea's Executive Chef Michael Koenig told me last week when I tried the dish. "I considered adding Wonder Bread crostini on the side."
When you were little, did you imagine that the greatest part of growing up would be getting to eat your favorite foods all the time? I used to dream of having a fruit-punch fountain and Mystic Mints with every meal.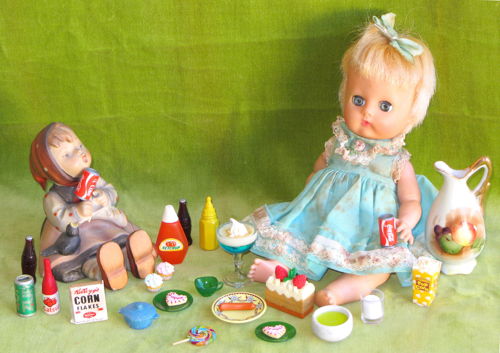 Those dreams are coming true these days, now that gourmet chefs in trendy restaurants are reconfiguring kiddie food for grownups. Ubiquitous mac-and-cheese (and a mac-and-cheese-only restaurant decorated like a school cafeteria) was just the start. Could anything be more hipsterical than the Froot Loop pancakes served (with Froot Loop krispie treats and whipped cream) at Denver's Second Home? Or the cotton-candy-cupcakes-caramel-corn "Junk Food Platter" that is a staple at LA's LA Market?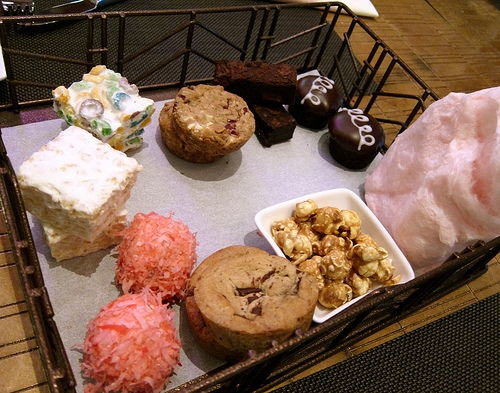 Or, for that matter, the Froot Loops Dessert served at Chambers Eat + Drink in San Francisco?
"I have always been intrigued by how certain ingredients taste like Froot Loops," Explains CE+D Executive Chef Trevor Ogden. "When my sous chef Rachel Stobel came to me with a lemongrass-basil sherbet she made, we tasted it and the first thing that popped into our heads was Froot Loops.
"So we had to run with the idea. We needed to get all of the colors and have every component taste like Froot Loops. In the end, we found multiple ingredients that taste like the cereal. So the dish is composed of a lemongrass-basil sherbet (green), lemongrass-gold beet spongecake (yellow), kaffir lime-prickly pear gelée (red), satsuma mandarin supremes (orange), lemon basil-macerated pink lady apples and violet flowers (purple). And to top it off we make a foam infused with cornflakes and lemongrass that tastes like the leftover milk from a bowl of Froot Loops."
Meanwhile, Santa Monica's BOA Steakhouse serves cotton candy. And Hollywood's 25 Degrees serves Guinness milkshakes: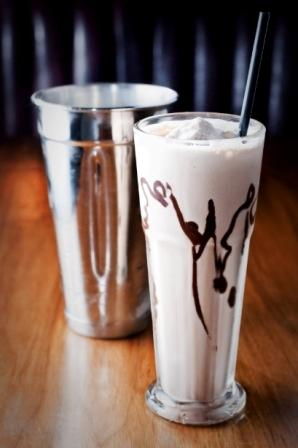 Venice Beach's Superba Snack Bar serves s'mores made with layers of chocolate pudding, smoked marshmallows and graham crackers: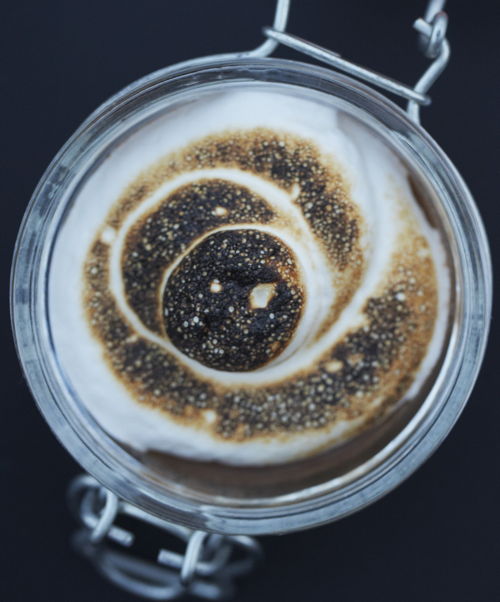 "I wanted to be playful," explains Chef Jason Neroni. "When you go to the beach and sit by a bonfire, people oftentimes make s'mores. With our close proximity to Venice Beach, I felt like Superba Snack Bar needed s'mores."
Which is to say: The next big thing is the last little thing.
What says "comfort food" better than kiddie food? One recent study reveals that we are most comforted by foods that "automatically activate relationship-related concepts": In other words, milkshakes or ramen or whatever remind us of people we have loved. Another study found that eating comfort foods, even when we are alone, fills us with a sense of belonging and protects us against "belongingness threats" -- that is, the terror of exclusion that began when we were babies at risk of being denied the breast and abandoned on hillsides.
Another useful thing learned in childhood is that comfort foods make us naturally high. According to a University of Illinois-affiliated study: "When palatable foods are consumed, the body releases trace amounts of opiates, which elevate both mood and satisfaction." And while "comfort food preferences can be conditioned at an early age," American kids tend to pick the same few sweet, salty, fatty faves.
"Because younger people often have a limited range of experience (and perhaps a limited range of food appreciation), they may be more likely to prefer foods for their hedonic" -- that is, delicious rather than nutritious -- "qualities. Indeed, young people have been found to prefer saltiness and intense sweetness more than adults," reads the U of I study. "This preference toward sweetness, in particular, is thought to be related to a reduced ability to appreciate taste complexity and may further explain why younger people may be drawn to comfort foods more because of their hedonic qualities."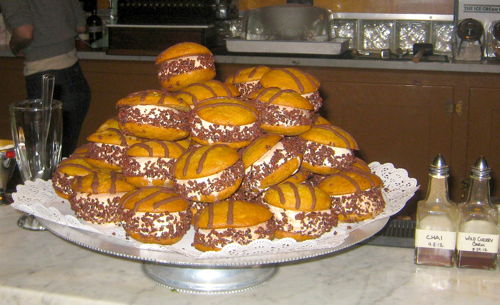 So we're tapping into our primal loneliness, fear and unsophistication with dishes such as a PB&J gelato sundae at LA's Napa Valley Grille. Or baguette-wrapped pigs-in-blankets in the Redwood Room of San Francisco's Clift Hotel. Or the signature orzo mac-and-cheese with oyster mushrooms and Gouda at Berkeley's FIVE. Or another treat from LA Market: a luxurious dessert PB&J made with candied peanuts, Nutella and freshly whipped cream: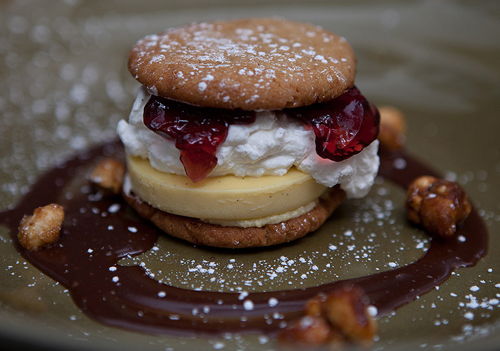 Or the latter-day PB&J that is spiced pecan butter and apple jam on toasted brioche (served with bourbon milk punch, of course) at New Orleans' SoBou -- where Executive Chef Juan Carlos also takes softee cones to paradise with his Yellowfin Tuna Cones, featuring coconut-pineapple tuna tartare with basil-and-avocado ice cream. Ship ahoy!
At NYC's Pinch Food Design, cofounders Bob Spiegel and TJ Girard mixed two childhood favorites to create a sinuously beautiful PB&J funnel cake: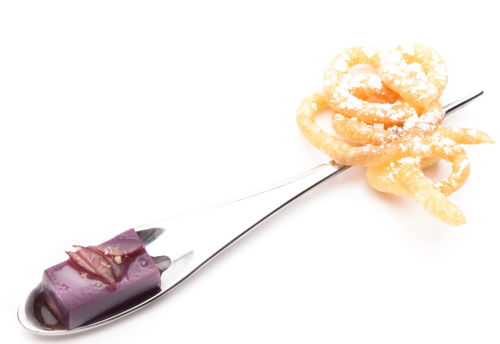 "We're not trying to hide taste in fancy presentations," Spiegel says. "We're trying to let people continue to eat with their eyes. Our biggest goal is to re-architect classic flavors." Such as golden-fried batter.
Aurea's Chef Koenig is gifted at cooking grownup dishes such as scallops, short ribs and black-garlic-cauliflower soup. But his updated kiddie food -- taste-tested by his four-year-old daughter -- is a revelation. Deep-fried Brussels-sprout leaves are revisionist potato chips, dipped into addictive aioli. Bacon-dusted popcorn is a match made in kiddie heaven: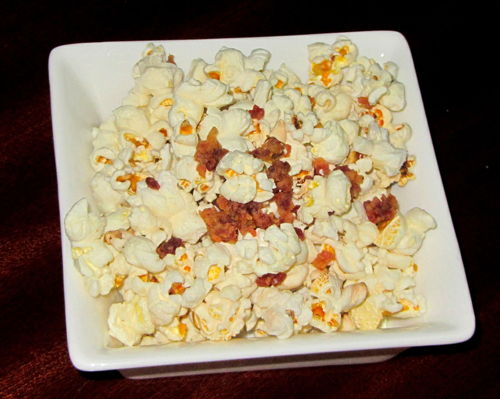 "I take simple food and make it better," Koenig says. "I use elements that everybody loves."
Clearly, that's the same idea that inspired the house-made Chex mix at Portland's The Original Dinerant (also known for its donutburgers). And the cereal-milk panna cotta (made with cream in which General Mills Cinnamon Toast Crunch has soaked for twenty minutes) served at Hollywood's Public Kitchen & Bar.
And the organic fruit "pop tarts" (featuring baguette French toast, mangoes, quince essence and tangerine butter) at San Francisco's Foreign Cinema. And four-time James Beard nominee Chef Gerard Craft's Grana Padano-dusted alphabet soup, served at Pastaria in St. Louis. And the roasted-tomato soup with creamy polenta at San Francisco's Pescatore: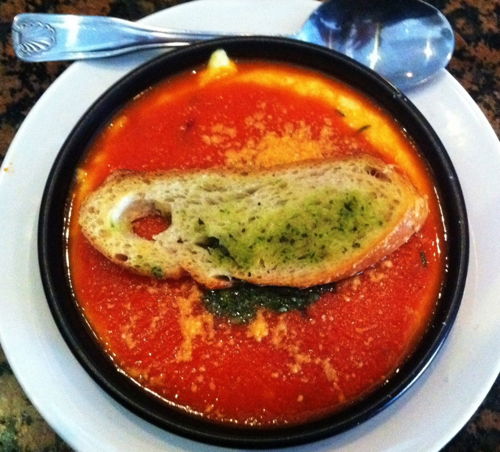 What's so great about grown-up food, anyway? Coffee and beer are so bitter. And fish that isn't in fish sticks has pokey little bones.
Doll image and Aurea images photographed by Kristan Lawson. Ice-cream sandwiches image photographed by Anneli Rufus. LA Market images courtesy of LA Market. Pinch Food Design image courtesy of Pinch Food Design. 25 Degrees image courtesy of 25 Degrees. Superba Snack Bar image courtesy of Superba Snack Bar. Pescatore image courtesy of Pescatore. All images used with permission.