You know how certain regions of certain countries get all the fame and household-word status while others nearby remain obscure? Compare the foreign-tourist ratios of Oregon and California, two adjacent states which both possess beaches, breweries and -- if you count Oaks Park in Portland -- theme parks. And everyone knows Barcelona, but poor old Tarragona fifty miles away, with all its ancient ruins and Chartreuse, no way.
That's how it is with Puglia, aka Apulia, the long straight strip that forms Italy's "heel." It has beaches! Ruins! Friendly locals! Award-winning wines!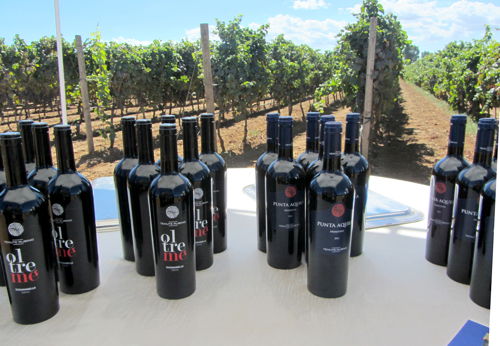 It has world-class chefs who turn capers, calamari, fennel, mussels, lamb, prickly-pear fruit, baseball-sized figs and eye-poppingly pungent cheeses into handcrafted homages to the local cuisine of this unbelievably fertile, sea-blessed strip.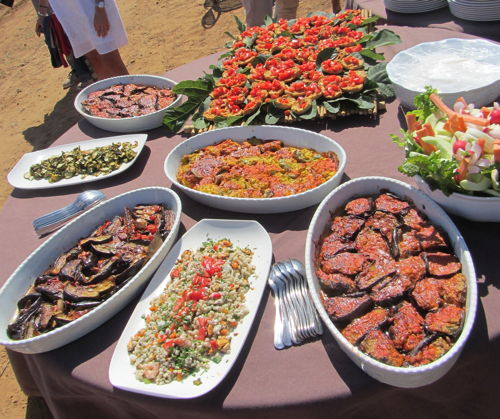 Inhabited since the megalithic era, before even the ancient Greeks, Puglia is known to foreigners mainly not by name but as the place from which to catch ferries for Greece. Everyone's all "Venice, Florence, Rome" without a word for Bari, Lecce or Alberobello. Yes, Puglia is way the hell down there. And it's home neither to the world's most famous art museums nor the Pope. But it's Italy's olive-oil mother lode, producing more of this golden game-changer than any other part of the country. It has picturesque towns with lofty, centuries-old (but refreshingly uncrowded) narrow streets, such as this one in Ceglie Messapica: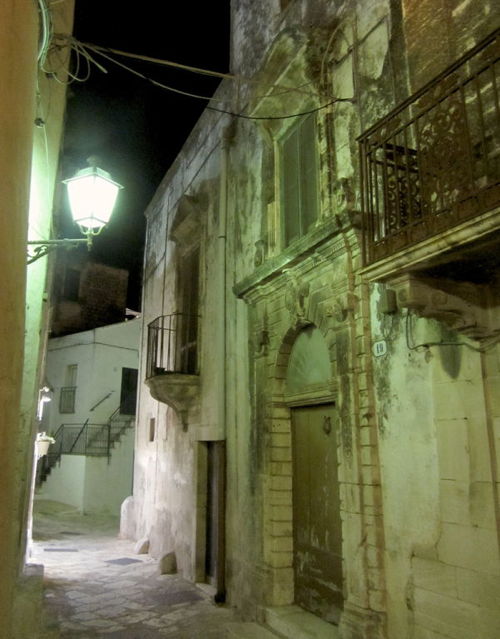 No, that's not a movie set. It's real!
And Puglia has many, many, many fava beans. You like those, right?
So screw the obscurity. Let's make Puglia the new Umbria. This revolution will be fought with snorkels, cobblestones and forks.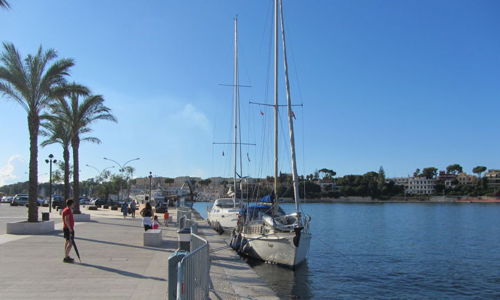 I flew into Brindisi from Palermo two weeks ago with my standards cranked almost impossibly high because, I mean, how can you beat tuna agrodolce, marzipan strawberries, deep-fried rice balls and surly Mount Etna hissing smoke into a stonewashed-denim sky? Strolling Brindisi's quaint waterfront with its jaunty fishing boats, kiddie rides ...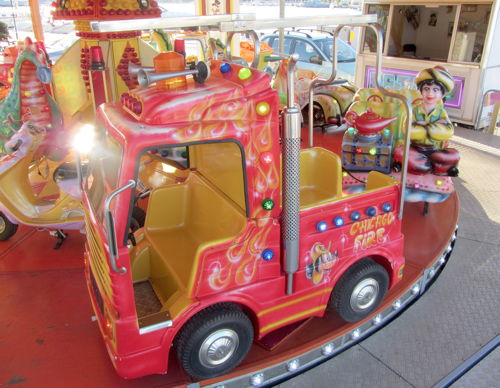 ... and startling fascist-era statuary was a stirring beginning.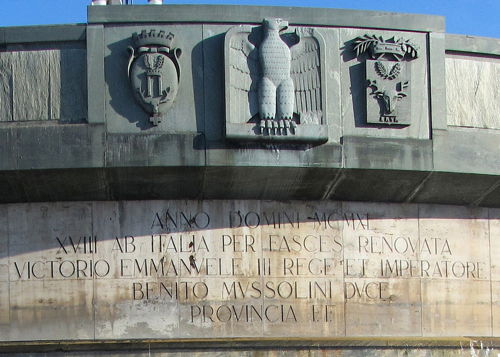 Sliding into a seat at the Numero Primo winebar, I thought: Go ahead. Top Sicily.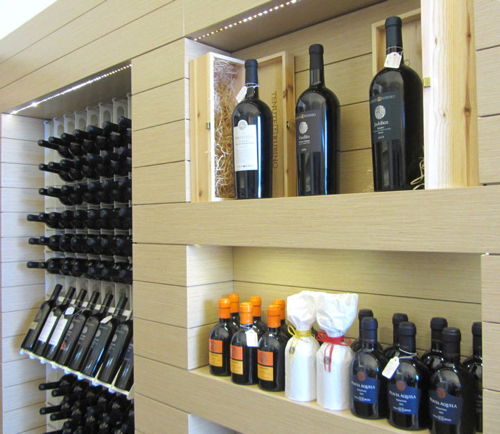 But then they brought out the burrata. In San Francisco, thin slivers of this snow-white cheese sometimes appear almost as afterthoughts in sandwiches. In Brindisi, fist-sized burrata balls are antipasti and you are handed knives and forks and expected to eat the whole things, slicing their stretchy pure-mozzarella skins to release their mozzarella-and-cream interiors -- as languid on the tongue as melted cheese, but face-punchingly fresh.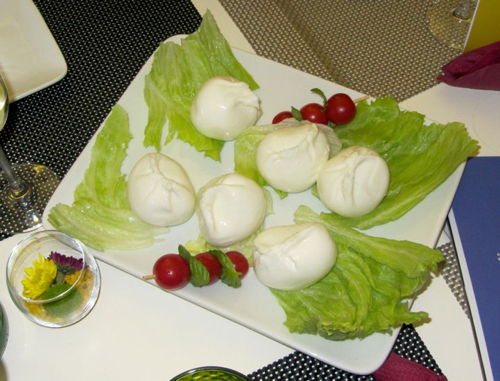 For contrast, try it with crunchy wheel-shaped taralli biscuits, another local favorite: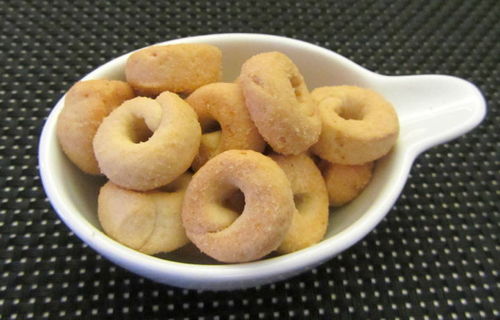 Being tied by a white-jacketed chef into neat little knots, mozzarella reappeared at an alfresco party the next day, celebrating the harvest at Tenute Rubino's Jaddico Estate.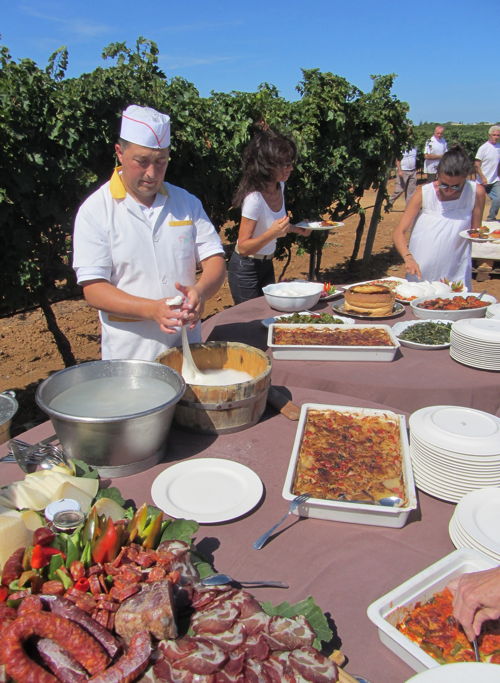 Family-owned, Brindisi-based Tenute Rubino wine company operates several estates throughout the region, on which grow local varietals including Primitivo, Malvasia Bianca, Malvasia Nera and the rare, navy-blue Susumaniello: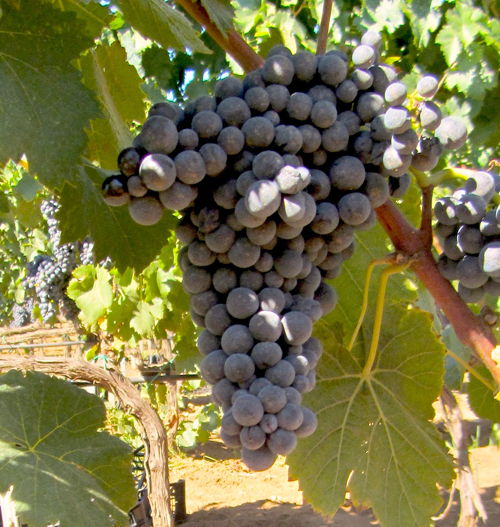 Upholding a longstanding local tradition, the harvesters picking Susumaniello at Jaddico are women -- in many cases, passing down their craft from mother to daughter. First, we watched them work: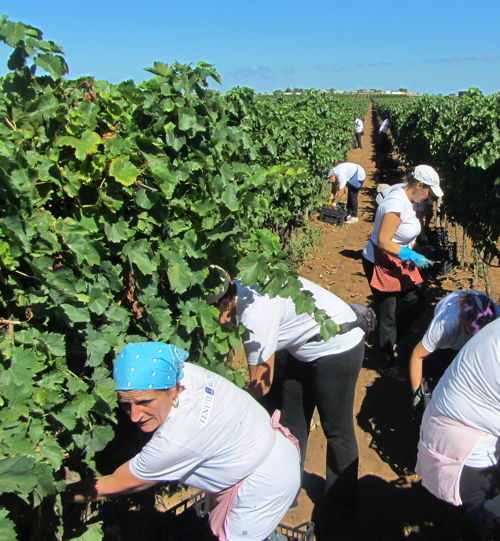 Then we saw something truly unique. Accompanied by a guitarist, vocalist, tambourinist and accordionist, these white-shirted workers danced and sang their way through the vines under a vast blue sky shimmering with sapphire dragonflies.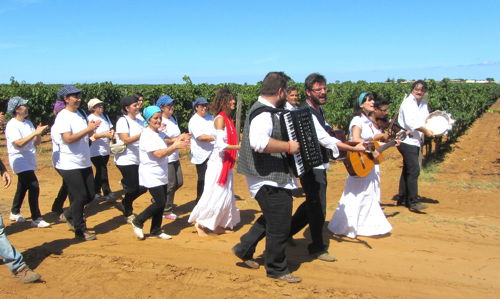 It was a sinuous procession both sexy and dignified, ancient yet absolutely modern, because the grapes picked by these burnished female hands are destined for the high-tech oenological lab and stainless-steel majesty of the winery: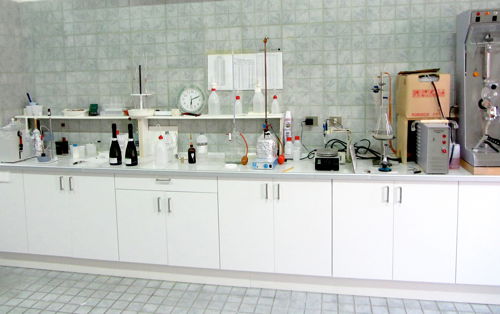 In the vineyard, under that blazing sky, festive tables were arrayed with the best of the season, rustic food for royalty: grand cheeses, grilled eggplant, spinach pie, local meats, crusty breads, mussel-studded risotto ai frutti di mare...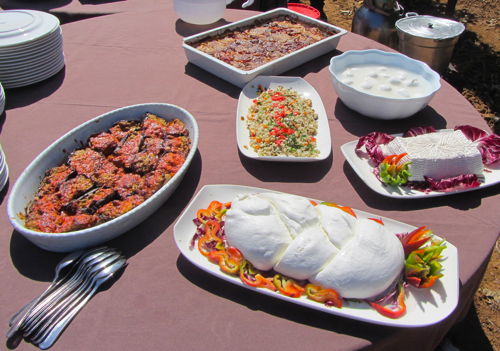 ... and bottles of soft, plummy, garnet-dark Tenute Rubino Oltremé, made entirely fom Susumaniello grapes harvested in previous autumns right here.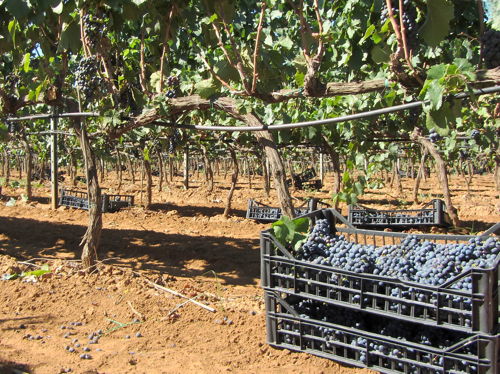 Spurred at least somewhat by the wine, the harvesters and winemakers drew their guests into a whirl of local folk dances, including a Puglian quadrille, something symbolic involving a red scarf, and a none-too-subtle number in which a foot-long rod was passed back and forth from male to female between the legs. You know: Harvests. Fertility. Rods.
The thing about this Jaddico Estate is that you can see down its aisles between the vines straight to the sea.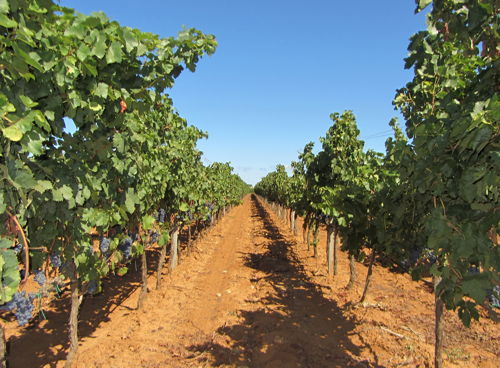 Which makes you ache for a swim. A few minutes' drive away is the Torre Guaceto Nature Preserve, rare among Italian strands for its free access, uncrowded serenity and untempered raw natural beauty.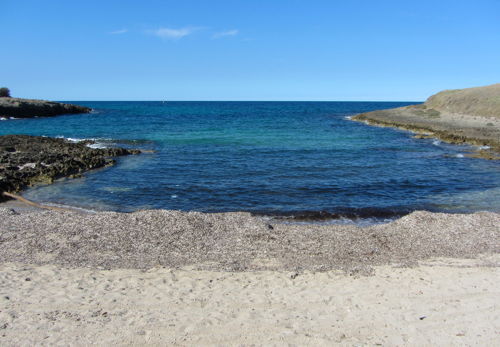 Its warm shallow waters soothe the skin, with fish and colorful seaweed below the surface to delight the eye. Hate those jam-packed, urbanized, rent-an-umbrella, overrun and wildly overrated Riviera beaches? Pack a bag for Puglia.
And place in it a beach towel. A snorkel. A corkscrew. A cheese-slicer. Sunscreen. A camera. And space for all the glories, edible and drinkable, that you'll want to bring home.
All photographs are by Kristan Lawson, used with permission.