Mall food has gotten really fancy lately.
When I was a kid and spent long lugubrious days hanging out with my friends at malls in LA -- Del Amo, Carson, Fox Hills -- eating was a major activity, along with slouching around the indoor gardens, riding the escalators up and down for hours, and buying sequin-studded T-shirts off the sale racks. We ate at the food courts, naturally -- because they were pretty much our only options, and because tacos and Orange Julius and frozen yogurt were all we wanted anyway. One rare super-deluxe occasions (such as when accompanied by relatives from out of town) we bought sandwiches at Honey Baked Ham.
Things have changed. While food courts are still ubiquitous, some malls have gone luxury-gourmet.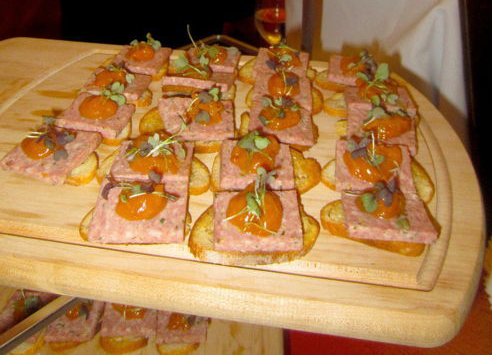 This week I attended a party at the Westfield San Francisco Centre where the chefs from its restaurants served up everything from pork rillettes to peach panna cotta to melt-in-your-mouth, light-as-air Chinese spun-sugar "dragon beard" candy, a 2,000-year-old tradition seldom seen in the States.
The Westfield's food offerings include artisanal pizza baked in a handcrafted Neapolitan Stefano Ferrara oven at Cupola, ice-cream profiteroles and cannelé de Bordeaux baked daily at La Boulange du Dome, filet mignon tartare and Perigord black-truffle-and-Brie steak burgers at Lark Creek Steak, plum-dressed Singaporean-style sashimi salad at Straits, and more. TV chef Martin Yan's M.Y. China restaurant is set to open at the mall this fall. At the party, M.Y. China insiders theatrically tossed hand-pulled noodles to the crowd's delight.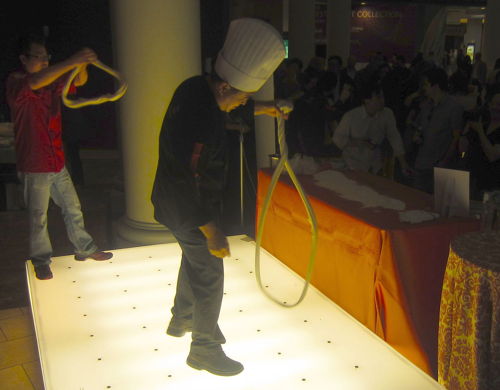 It's a far cry from Orange Julius. But more and more malls are going glam, despite this economy. Maybe it's because mall days are a mini-"staycation," so a $52 USDA Prime boneless ribeye steak at Lark Creek after stocking up on sneakers at Adidas makes up for the fact that we aren't going to Rio this year. Or maybe it's because palates, even mall-going palates, are getting more savvy every day -- especially in food-centric cities such as San Francisco, where the Westfield party launched an annual month-long festival known as SFChefs.
Dining options at the Mall of America include the Napa Valley Grille, whose French-trained chef prepares truffled BLTs, Scottish salmon, and black figs with prosciutto and burrata. The Dubai Mall in Dubai features many fancy options, including a new TWG Tea Salon, which features black velvet chairs, crisp white table linens, handcrafted glass walls, Italian marble floors and crystal lamps.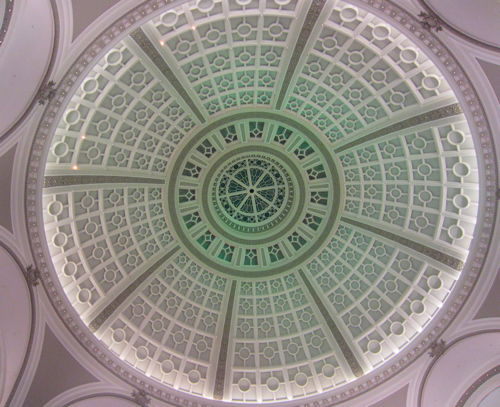 At the Westfield, many restaurants are arranged under a vast cathedral-like dome -- an architectural marvel that you just wouldn't expect to see in the same place where you shop for underwear. But nothing is as it used to be -- so bring on the dragon beards.
All photographs were taken by Kristan Lawson, used with his permission.