At his new San Francisco restaurant Coqueta two nights ago, celebrity chef Michael Chiarello poured liquid nitrogen over double-frozen berry-rhubarb "gazpacho" to conjure tidal waves of vapor and shimmering, dancing, disappearing beads. He hailed merrymakers who held the custom-blown glass party pitcher known as a porrón high over their heads and from that great distance poured cocktails -- such as Manzanilla sherry with roasted-orange soda and cola Mexicana with red sangría -- in thin sparkling streams into their open mouths.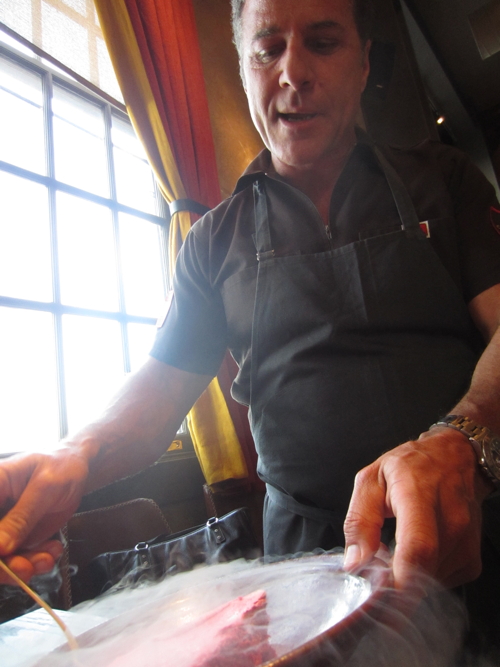 "Barcelona is the new Florence," Chiarello announced, presiding over the crafting and plating of intricate work-of-art dishes and drinks in a waterfront showpiece of a space outfitted with huge rustic beams, long gray-marble bar, dazzling bay views, Dalíesque hanging lamps and gigantic cowboy-in-wonderland cutlery.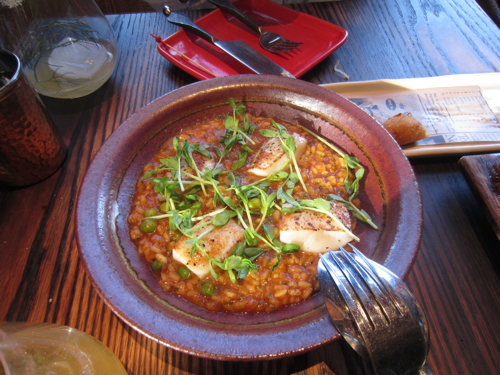 Just as American soldiers returning home from World War II popularized Italian cuisine in the mid-20th-century US, he said, Spain is now having its turn.
"Everyone said Peruvian cuisine would be the next big thing -- and I love Peruvian cuisine too," he said. "But no."
He smiled to see diners tucking into jamón Ibérico, seafood-studded paella, house-cured anchovies, Ibérico de Bellota pork shoulder loin and irresistible Asturian apple pie with unforgettable Cabrales blue-cheese ice cream.
"Thank you, Spain."
Chiarello told me how a boyhood spent shucking walnuts on the barn floor of his family's farm helped to make him the Emmy Award-winning world-renowned restaurateur, vintner, cookbook author, Iron Chef veteran and Food Network star he is now.
"My mother had a great saying: When your hands are busy, your mind is free," said Chiarello, who opened Coqueta two months ago to celebrate Spanish cuisine and the celebrative spirit that traditionally surrounds it -- a permanent party at which tapas are just the tip of the iceberg.
Every design element -- from the height of the ceiling to the cleverly clashing confab of dishware (golden-lipped goblets alongside beaten-copper cups and glass plates resembling rough shanks of ice) to every drink and dish served here (from flower-topped white-almond gazpacho to cocktails such as the Tariff, comprising jamón Ibérico-infused gin, orange, cava and acorn-and-apricot tonic) -- represents layer upon layer of exquisitely pre-planned detail.
"That's what this place is: a study in materials," Chiarello mused, beaming around the restaurant at groups of excited, bejeweled and unmistakably well-heeled diners who had made reservations weeks in advance:
"These are their dining-room tables," the chef said. "They're getting dining-room flavors, but also an experience -- like there's three parties going on all at once."
Coqueta's warmth and intensity, its color scheme evoking wine and hot skies and flamenco gowns which contrasts keenly with the city's gray skies and, just a few yards away, even grayer bay, was all part of the plan.
"This incandescence is what's often missing in a typical San Francisco day," Chiarello explained.
Coqueta inhabits this new futuristic realm in which restaurants are designed to be more than just places where we eat. Until a very few years ago, even the fanciest restaurants were all about quiet elegance and obviously elegant food: prime rib or salmon, say, prepared by well-trained chefs whose names the diners did not know, served amidst near-silence on plain white plates in red-plush booths lit discreetly by chandeliers. But reality TV, Twitter, Instagram and the infinite instant photographability of everything has created restaurants that are not just about what they serve, but how they feel and what they do: restaurants as psychedelic Fantasy Island hyperpowered-homes-away-from-home where meals are rituals and we are royalty and we are chroniclers and we are exclusive club members and every table is a stage and chefs are stars who cook what Mom and lunchroom ladies made us but with duck confit, sea-urchin roe, gallons of butter and organic ramps and white camellia oil and bacon-infused twenty-year-old rum.
Diners these days like to feel smart. They like to feel entertained, involved, engaged.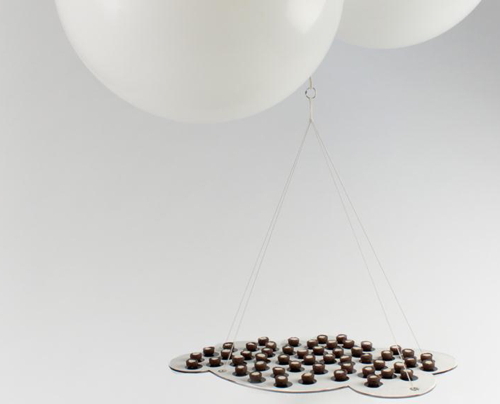 We are seeing this manifest in ever more interactive brick-and-mortar restaurants, pop-ups, food-truck roundups and outfits such as New York City's Pinch Food Design, a theatrical catering brand co-founded by a chef and a set designer whose dishes hang suspended from helium balloons (see above) and poise biodynamically (see below) on metal slides, complete with instructions for spearing and eating.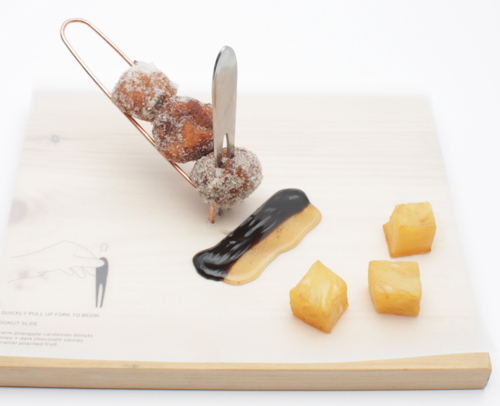 This new culinary realm, Chiarello explained, "fills an experiential void" for urban Americans who are drained by stress and fear and boredom and by having been away from home too long. He traced the arc of recent history through a dining lens: In the '60s and '70s, hippies created alternate realities, making anything seem possible. Corporatization in the '80s made everything faceless. The '90s tech boom made millions of people into millionaires, but it all happened so fast: Then the crash.
"For so many, it felt like there was no safe haven."
Then came the rise of celebrity chefs, the first wave of whom inspired and taught Chiarello.
"Lidia Bastianich took me under her wing, as did others. I'm not the best student, but I'm an avid student. I know how to use my rear-view mirror.
"America is a very emotional place. We spent so much time thinking about how things taste, but our heartstrings are attached to many of those tastes. You remember those dishes your mother used to make, because those dishes included those secret ingredients: love and adoration. Americans have relationships with food because we have relationships with each other. When I cook, I feel the weight of my mother's hand on my shoulder, guiding me."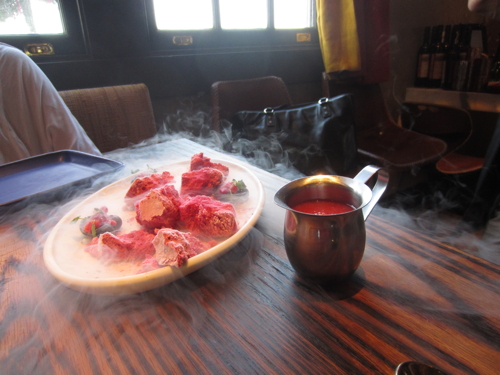 Donut slide and balloon dessert photographs courtesy of Pinch Food Design, used with permission. All other photographs are by Anneli Rufus.